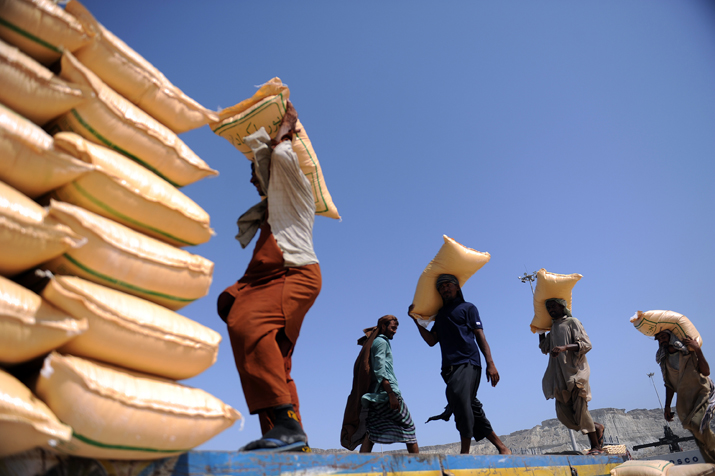 Workers carry feed onto a transport vessel at the Gwadar Port in Pakistan's Baluchistan Province on May 11. The port is a flagship project of the China-Pakistan Economic Corridor with the end of the line connecting to Kashgar in China's Xinjiang Uygur Autonomous Region (XINHUA)
After Chinese President Xi Jinping announced the $46-billion investment of the China-Pakistan Economic Corridor (CPEC) in April this year, a large number of Chinese-funded projects have begun germinating in Pakistan.
Malik Muhammad Rafique Rajwana, Governor of the rich and populous Punjab Province, hoped that "Chinese companies can create more jobs for local people" during an interview with a visiting Chinese media delegation in late November.
ET Solar, a leading Chinese provider of smart solar energy solutions, has set up a branch office in Lahore, Punjab's capital, to tap into the great potential of the emerging market in Pakistan. The company's office is busy preparing for an independent power production project which is scheduled to be launched at the end of this year.
Zhou Xin, one of its solar power professionals, told Beijing Review that the office currently has five staff, two of whom are local residents. "Right now, the Chinese staff outnumbers the Pakistani staff because the locals have not [yet] grasped the technology needed for solar power projects," said Zhou. He said the company will train more local people so that they can operate the facilities by themselves.
Governor Rajwana said that Pakistan's government has no tolerance for corruption and that the Chinese investment will be used efficiently, if it were to be handled by Pakistanis.
(Reporting from Pakistan )
Copyedited by Bryan Michael Galvan
Comments to liuyunyun@bjreview.com