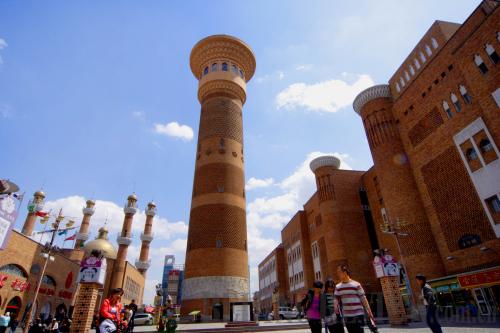 BOOMING MARKET: Pictured here is a major business center in Urumqi, capital city of Xinjiang (GAO CHANGYUE/CFP) 
Xinjiang, found in China's northwestern border area, literally means "new frontier." The name fits the region well—Xinjiang lies far from the prosperous east coast area, and is home to untamed landscape, vast resources and numerous opportunities for growth and expansion. Now, Xinjiang Uygur Autonomous Region has become a new frontier for the country's development strategy.
A massive support package to help Xinjiang achieve leapfrog-like development was unveiled at a central work conference on the region's development—the first of its kind in 60 years—held in Beijing on May 17-19.
At the conference President Hu Jintao said that Xinjiang's development is a necessity to improve people's living standards and realize a moderately prosperous society in the region. Developing Xinjiang is also a strategic choice to deepen the Western Development Strategy and tap new sources of economic growth.
Despite Xinjiang's rapid development in recent years, it has failed to keep up with the rest of the country and has even fallen behind other provinces and regions in west China. In 2009, Xinjiang's gross domestic product (GDP) grew 8.1 percent year on year, but still lower than the country's average which was 8.7 percent. But most central and western provinces or regions saw double-digit growth last year, propelled by the country's 4-trillion-yuan ($586-billion) stimulus package. Meanwhile, Xinjiang's per-capita GDP was only $2,917 last year, compared with the country's average of $3,679. Its urban and rural residents' per-capita annual incomes were also lower than the national level.
These gaps are expected to be gradually bridged. At the conference, Hu set several goals for Xinjiang to achieve in the next five to 10 years. Premier Wen Jiabao also proposed a series of preferential policies to boost Xinjiang, among which was the resource tax reform launched on June 1.
The ambitious goals and the massive support package for Xinjiang have raised the curtain on a new round of development in the vast, less-developed northwestern region.
Tasks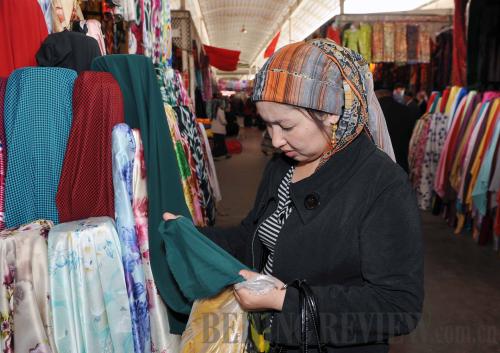 BORDER TRADE: The Kashgar Mid-west Asia International Trading Market, also known as the Grand Bazaar, attracts locals, as well as those from neighboring countries. Adjacent to eight countries, Xinjiang will become a bridgehead of opening up to Mid-west and Central Asia (ZHAO GE) 

At the conference, Hu outlined the tasks Xinjiang should fulfill in the coming decade.

Hu said Xinjiang should push forward its economic, political, cultural and social development. By 2015, its per-capita GDP should catch up with the country's average level and residents' incomes and access to basic public services should reach the average level of China's western regions.

Remarkable improvements should be achieved in Xinjiang's infrastructure facilities, self-development ability, ethnic unity and social stability within five years. The end result, if hopes hold true, will be a moderately prosperous society in Xinjiang by 2020.

Specifically, focus should be first placed on propelling Xinjiang's economic development. Its resource advantage should be transferred to actual economic strength. Industries with local advantages and local characteristics should be propped up. Agricultural production capacity should be increased. An innovative system should be set up and hi-tech industries should be promoted. Xinjiang's tourism industry also deserves a boost. State investment should provide more support to transportation infrastructure facilities and give priority to infrastructure projects that directly benefit local people.

Social development must also be promoted. More funds should be invested in public service sectors and major public welfare projects. Public services should be improved. All levels of education should be developed. A social security system and a social assistance system should be built. Establishment of a new rural pension system should be accelerated. By 2012, a basic medical and public health system, covering both urban and rural residents, should be set up.

The eco-environment and people's living environment should both be improved. The circular economy should be developed, and Xinjiang will be encouraged to cooperate with other regions to open up to the outside world. This will be facilitated through a partner assistance program between relatively developed regions and Xinjiang.

People's living standards should be raised. Assistance funding from the Central Government and partnering regions, and revenue increased from the resource tax reform will mostly be used to improve people's living and production conditions. And resource exploitation should more directly benefit local people. More jobs should be created, more efforts should be taken to alleviate poverty and absolute poverty should be eliminated by 2020. Public services will be improved and local people's cultural life will be enriched.

Hu stressed the importance of the Xinjiang Production and Construction Corps (XPCC), a unique economic and semi-military government organization of about 2.57 million people, in promoting Xinjiang's development. He said support policies will also apply to the XPCC and pledged more government funding to boost its development and improve the social security of its employees.

Policies

To meet these objectives, Wen said the Central Government decided to launch a series of support policies for Xinjiang to accelerate the region's economic and social development. The policies include:

l A pilot reform on resource tax will start in Xinjiang, with crude oil and natural gas being taxed by price rather than volume.

l Qualified enterprises in impoverished areas will be exempted from paying income taxes for two years and be allowed a 50-percent reduction for another three years.

l Xinjiang and the XPCC will enjoy preference in receiving Central Government investment. Fixed assets investment in the region over the next five years (2011-15) will double that of the previous five years.

l Commercial banks will be encouraged to open outlets in remote areas. Joint equity commercial banks and foreign banks will be invited to set up branches in Xinjiang.

- Additional undeveloped land will be approved for construction.

- Access requirements to industries related to resources or with high market demand will be relaxed.

- The scale of natural gas consumption in Xinjiang will also be expanded.

Wen also made specific arrangements for improving Xinjiang's social and economic work.