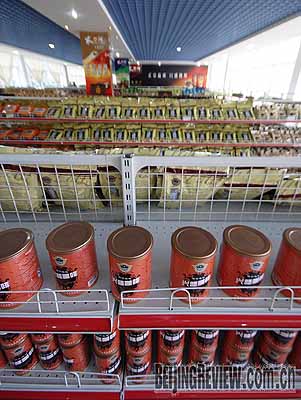 BEST SELLER: Xinglong coffee is very popular in Hainan Island and has become a gift of choice for travelers in the province (WEI YAO)
It would be a great pity if you do not have a sip of the local coffee in Hainan Province. For the best of coffee there, you must go to Xinglong, the most well known coffee growing and processing base on the island.
Xinglong is situated two hours' drive to the south of the east coast of Haikou, the provincial capital. You can smell the fragrance of coffee the minute you arrive there.
Reclaimed by returned overseas Chinese
Xinglong is a vast farmland built in 1951. On October 11 that year, Guangdong Province sent over 700 returned overseas Chinese who had been persecuted by foreign governments to Xinglong and settled them there to live and work on the farmland. In 1960, an anti-Chinese wave in Indonesia forced over 2,000 Chinese there to return to their home country. At the end of the 1970s, the border confrontation between China and Viet Nam forced over 5,000 Vietnamese Chinese to return to China. These people finally settled in the region. In the 50 years after the founding of the People's Republic of China in 1949, Xinlong accommodated more than 10,000 returned overseas Chinese from 21 countries.
You Xiansheng, a civil servant in Xinglong, said when the farmland was first created in 1953, people mainly planted rubber trees, which needed a couple of years to generate profits. Some suggested planting short-term crops such as rice to increase profits. As many returned overseas Chinese were accustomed to drinking coffee, they chose to plant coffee berries, in addition to growing rice.
You explained that the coffee seeds in Xinglong were imported. For many returned overseas Chinese, how to grow coffee was not a problem, but how to cultivate it in the soil of Xinglong became a headache for them.
After two years' research, growers found that while the big coffee beans had high yield, the taste was bad, and that small ones tasted good and were accustomed to grow in the climate of a plateau. The low altitude in Xinglong was not good for the plant. They finally chose to grow middle-sized coffee plants in large areas as the altitude, latitude and climate guaranteed the quality of coffee plants.
At that time, the planting areas of coffee covered over 200 hectares. In order to make sure of the quality of the coffee beans, workers had to pluck the beans one by one the moment it matured. During harvest time, the students of Xinglong used to suspend studying and help to pluck coffee beans.
To date, the planting area in Xinglong has reached 453 hectares. It has formed an industrial chain combining planting, research and development, processing and marketing.
Recognition from leaders
"Xinglong coffee is a top grade in the world. I have tasted many types of coffee from around the world. Xinglong coffee is the best," said Zhou Enlai, the then premier of China, on June 7, 1960, after he drank the coffee from the farm.
Many Chinese leaders, including Liu Shaoqi, Deng Xiaoping and Hu Jintao, had visited Xinglong and praised the taste of its coffee. Gradually, drinking the local coffee has become a routine whenever a guest comes to visit the farm.
Many foreign visitors are also impressed by Xinglong coffee. According to You Xiansheng, in 1959 a German expert said after drinking Xinglong coffee, "Your coffee tastes the best of all the coffee I have ever drunk. I hope you can plant in large quantities. In the near future, I hope I can buy the Xinglong brand of coffee in Germany."
The variety of Xinglong coffee products has also increased year after year. You said in the early period, there was only one type of coffee. But now, there are many types with different medical effects such as those for reducing hyperlipemia.
In great demand
The coffee factory in Xinglong, built in 1952, was the first after new China was founded in 1949, which is a great source of pride for Xinglong residents. Coffee has become a pillar industry there and attracted many visitors.
Technicians of the local coffee factory said they used to dry coffee beans manually, but now they mainly use machines, although the manual drying method is still done. This is because many retired workers from the farm are still fond of coffee that is made with manually dried coffee beans.
In Xinglong, nearly each household has one or two sets of coffee makers, as drinking and serving their guests with coffee have become a tradition in the area. As the coffee produced by Xinglong coffee factory cannot meet the demand of Hainan, the factory is still busy serving the local customers, and this is why people hardly find the authentic Xinglong coffee brand elsewhere.