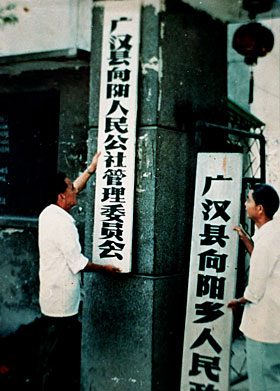 A commune was a system established during the Great Leap Forward in 1958-1960, functioning as both an economic organization and a government institution. Under its regulations farmers had no autonomous rights for their farmland, which stunted rural productivity.
In 1980, Xiangyang County of Guanghan City in Sichuan Province set up a County Government and dropped the name of "People's Commune" from its title. The move prompted the Chinese Government to amend the Constitution at the Fifth Session of the Fifth National People's Congress. The amended Constitution allowed rural county-level-based communes to set up county governments and village committees to take place of the egalitarianism communes, thus separating government functions from rural economic organizations.
An aggregate of more than 56,000 communes was cancelled by June 1985. Xiangyang County was elevated into Xiangyang Town in 1986. Through constant exploration and development during the previous 30 years, it became a strong industrial town, and its per-capita annual income reached a record high of 5,250 yuan (about $772). China's rural economy has experienced an improved development period ever since.
(Source: Xinhua)