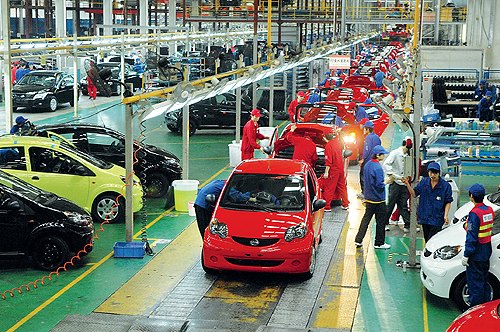 MADE IN CHINA: The production line of the Chinese automaker BYD Co. on December 15, 2009, which aims to sell electric cars to American households (CFP)
Chinese automaker BYD Co. Ltd. repeated its goal of selling electric vehicles in the United States during its third appearance at the North American International Auto Show in Detroit this year. But unlike previous years, BYD gained ground in its efforts to promote electric cars.
BYD is known for billionaire Warren Buffet's endorsement on its battery expertise, as well as being the world's first automaker to begin mass production of electric cars.
"BYD is no longer alone in pursuing its dream of making electric cars," said BYD's CEO Wang Chuanfu. Wang has been at the same show with BYD's electric cars for three consecutive years. According to his observations, global automakers have finally reached some "common ground" on the industry's electric future. Under unprecedented carbon cut pressures, more competitors joined BYD to form this year's highlight: hybrids, electric cars and small-engine cars at the show's Electric Avenue dominated the event.
But the high cost of batteries and a yet-to-be-built network of recharging stations in most countries have limited the spread of electric cars. Many hold that it will take a considerable amount of time to realize large-scale electric car sales, even with subsidies from governments.
Still, Wang said electric cars serve the ultimate goal of developing alternative powers for vehicles and would replace hybrids that, as transitional products, are partly fueled by gas. Based on this vision, BYD now plans to start trial marketing for its e6 crossover electric vehicle in California later in 2010, a year ahead of its original schedule.
But before BYD electric vehicles can be parked in the garages of American households, the company must cut costs and improve the unstable performance of its batteries, making the quality of its products meet U.S. standards and offering feasible solutions to the shortage of recharging facilities in the United States.
The e6's challenge
BYD has been prudent in choosing its car model and timing in order to build American customers' confidence in a Chinese-made electric vehicle.
Unlike its two previous choices, hybrid sedan F3DM and F6DM models, the e6 is a five-seat multi-purpose vehicle powered only by electricity. It blends genres and is a typical family transport vehicle commonly seen in overseas markets. Priced at around $40,000, the e6 will be initially released in Los Angeles.
Still, how many American customers will buy a medium-grade electric vehicle at the price of a BMW or a Lexus? According to Autodata Corp., an auto market intelligence company, hybrid sales only accounted for 2.7 percent of total auto sales in the United States last year, though hybrids have been available for 10 years.
BYD said the five-seat e6 has a top speed of 87 mile per hour and can travel up to 205 miles on a single charge. The 205-mile range is considered "revolutionary," as the 100-mile range has been viewed as the ceiling for electric cars in the past.
"A 205-mile range would be satisfactory for most drivers almost all the time. However, there will still be resistance to the concept until easy recharge facilities are available on the road for much longer trips," wrote Ravi Nagarajan, a private investor and writer on value investing techniques in his blog—The Rational Walk.
Regarding longer trips, BYD has come up with a "Quick Charge" solution that, with specially designed equipment and larger electric cables, will provide up to a 50-percent charge in 10 minutes and a full charge in an hour. This is in contrast with a full charge that would require 7-8 hours connected to a normal household electric outlet.
However, Nagarajan thought it would be "a major hassle" to have to stop every 125 miles after the first 250 miles on a long road trip because it means for a 700-mile trip, the driver has to "quick charge" the battery four times.
"Although the construction of related facilities is even slower in the United States, we will follow this plan and strive to make the e6 available in the market by the end of this year," Li Zhuhang, General Manager of BYD's auto export division, told the Global Entrepreneur magazine.
Li said the company is building a distribution network in Los Angeles. They will eventually extend the e6's distribution to San Francisco, and finally to Seattle, Chicago, New York and Boston. No specifics or timetables have been announced.
In addition to a shortage of recharging facilities, the e6 is under strict scrutiny based on its security and quality. BYD has yet to complete certain tests, which could take several years to finish.
Despite widespread skepticism, Li said the e6 meets the laws and regulations of the U.S. market. BYD is confident the vehicle will pass U.S. crash safety tests because the Chinese automaker designed the e6 using the strictest standards it could find in China, the United States and Europe. The company designated a special team in Shenzhen to test their products in accordance with U.S. standards on certain technologies.
Battery-powered ambition
Like many Chinese manufacturers, battery maker BYD has successfully slashed production costs and overcome its Japanese rivals by creatively replacing the latter's capital-intensive, fully automated production with labor-intensive, "man plus machine" semi-automatic production.
While BYD began to apply this approach to the production of more sophisticated cars and battery packs designed for electric vehicles, the method produced less than desired results.
"The current obstacles are mainly technical," Li said. A battery pack, usually comprising 100-200 cells, demands performance consistency of all cells. The worst cell will determine the efficiency of one single pack.
According to a report released during the auto show by the Boston Consulting Group, it will be difficult for electric vehicles to attract more customers if no breakthrough takes place in battery technologies. Costs of electric cars will remain high and only a small number of people will be able to afford an electric car, the report said. Pure electric cars would account for 2.8 percent of the global auto market, while hybrids and range-extended electric cars accounted for 23 percent by 2020, according to the report.
For similar reasons, BYD postponed plans to sell its F3DM hybrid to individual buyers in the domestic market. While U.S. sales of the world's most popular hybrid, Toyota's Prius, reached 75,000 in the first seven months of 2009, BYD has sold a little more than 100 F3DM and those were only purchased by governments, enterprises and organizations at home since its debut at the end of 2008.
Wang admitted production costs for batteries in BYD's electric cars still remain high during the Detroit auto show. But costs are expected to decrease, as production multiplies and more stations are built to use BYD's batteries for storage, he said.
"The advantage of electric vehicles will increase if gasoline prices continue to increase in the future, [assuming electric costs remain stable]," Wang said. "It's widely believed if oil prices exceed $120 per barrel, customers will have to turn to electric cars for the sake of saving on transportation expenses."