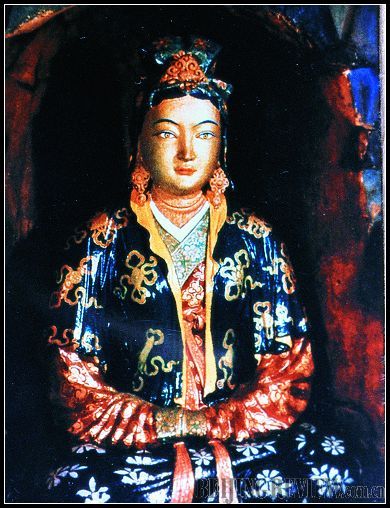 Statues in the Potala Palace: Painted statue of Princess Wencheng. According to the Statistics on Tibetan Kings, Princess Wencheng took to Tibet a large dowry, including a life-sized statue of Sakyamuni at the age of 12, much jewelry, 360 volumes of Buddhist classics and over 60 kinds of books on architecture and technical subjects, medical recipes and implements which could cure 400-odd kinds of diseases as well as the seeds of crops and vegetables. After entering Tibet, Princess Wencheng and people who went with her taught Tibetan people to plough the land and plant crops; to build a water mill to grind the highland barley and cereal grains; and to make wine and build houses with advanced techniques. Moreover, the princess and handmaidens also instructed the Tibetan women to weave and embroider. The princess vigorously promoted Tibet's economic and cultural development.
Immediately after Tang Emperor Gaozong was enthroned in 649, Songtsan Gambo wrote to Tang Prime Minister Zhangsun Wuji: "Since the emperor was just enthroned, if any official tried to rebel, I would send forces to suppress him." He also presented 15 kinds of gold, silver and jewels and asked the prime minister to put them in front of the coffin of Emperor Taizong. Emperor Gaozong conferred the titles of "Fuma (princess's husband) Commandant" and "King of Xihai Prefecture" upon Songtsan Gambo. Songtsan Gambo and successive Tibetan rulers regarded themselves as a nephew of Tang Dynasty emperor. Thus, the relationship between Han and Tibetan ethnic groups became closer.
Prince Wencheng was learned and versatile. In order to promote Buddhism in Tibet, she organized craftsmen to build the Ramoche Monastery on a large scale. Princess Wencheng was deeply loved by the Tibetan people. A Tibetan historian gave her a Tibetan name Coyi Bamo (Lotus), meaning beautiful and pure. Lots of touching stories and songs concerning her circulated in public. In Tibetan opera, the traditional play entitled Princess Wencheng honors this outstanding woman.
Princess Wencheng lived for close to 40 years in Tibet. She had been treated with great respect and loved by the Tibetan people. She became ill and died in 680 (1978)