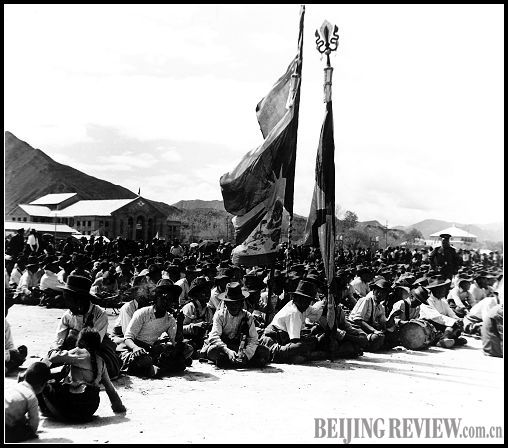 The former armed troops of the local government of Tibet were called the Tibetan army for short. In 1793, when Qing General Fukang'an went to expel the Gurkha invaders out of Tibet, he proposed to the Qing court that it was necessary to set up a local standing army in Tibet to defend the border. His proposal was approved by the Qing emperor.
Then, a local army was set up in Tibet; it was the Tibetan army.
For 100 years, however, Britain attempted to tear Tibet away from China and managed to place pro-British elements to control the Tibetan army. In 1917, the Tibetan army marched eastward and invaded the border area of Sichuan and Xikang provinces on a large scale; in 1918, the Tibetan forces bloodily put down protests by people in Trido Zong (present-day Dengqen County) who had filed a petition against excessive corvée labor and taxes; in 1947, the Tibetan army massacred Gyichacang of the Sera Monastery and monks of the Razheng Monastery; in 1949, the Tibetan army besieged the government office of the Republic of China in Lhasa and other institutions, and closed down the radio station and schools in Lhasa.
In September 1950, the People's Liberation Army marched into Tibet. The pro-British reactionaries in the local government of Tibet sent the Tibetan army to fight the PLA at Qamdo. As a result, its main force was wiped out. All officers and soldiers of the 9th Deboin, led by Dege Galsang Wangdui, rose up and were reorganized into the PLA stationed in Qamdo, and participated in economic construction, thus making a beneficial contribution. In March 1959, other elements of the Tibetan army were all wiped out after they took part in armed rebellion