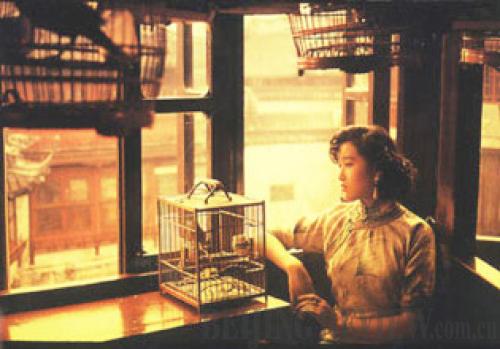 A still scene from Old Dream on the Sea
Old Dream on the Sea
Year: 1993
Director: Chen Yifei
Starring: Dong Xian
Plot Synopsis: The story begins on a dark night in Shanghai in 1842. It involves the prosperity and beauty of the city of Shanghai, as well as the integration of different cultures with various languages, fashions and values. The heroine is a mysterious beauty in gorgeous cheongsam, closely followed in the film by Chen Yifei himself. To some extent, the woman represents Shanghai's elegance and glamor in that time. Chen uses the film to contrast two worlds: old Shanghai and Shanghai in the 20th century. Thus, the film expresses the culture and civilization of Shanghai in an aesthetic way with beauty as a metaphor.
Behind the Scenes: As painter-turned-director Chen Yifei's maiden work, the film shows his outstanding humanistic solicitude and aesthetic ability with exquisite scenes. In fact, the original creative motivation of this film was only to depict the humanistic and cultural background for his series of five paintings under the same name. However, the film finally became a poetic film - providing not only some image materials for his paintings, but also an aesthetic and dramatic interpretation of Shanghai in different times.
Highlights:
1. Enjoy the aesthetic and painting-like scenes in single-shot shown in the film, depicting an exquisite Shanghai and its lifestyle.
2. Dream the "daydream" presented in the film and revisit Shanghai in that time.