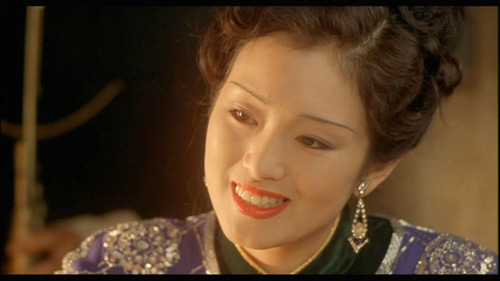 Gong Li starred as Bijou, a nightclub singer, in Zhang Yimou's Shanghai Triad
Shanghai Triad
Year: 1995
Director: Zhang Yimou
Screenwriter: Bi Feiyu
Starring: Wang Xiaoxiao, Gong Li, Li Baotian, Li Xuejian, Sun Chun, and Fu Biao
Production: Alpha Films, La Sept Cinema, Shanghai Film Studios, Union Generale Cinematographique
Plot Synopsis: A country boy named Shui Sheng (Wang Xiaoxiao) is brought to 1930s Shanghai by his uncle, who wants him to become a member of the powerful gang ruled by manipulative Tang (Li Baotian). Thus, it is arranged for him to serve Tang's capricious mistress Bijou (Gong Li), a nightclub singer whom the boss proclaims "the Queen of Shanghai."
After a rival gang's unsuccessful attempt on Tang's life, he retreats to a small, remote island, taking both Bijou and Shui Sheng with him and thinking of revenge.
The film's original Chinese title, Row, Row, Row to Grandmother's Bridge, is a line in Tang's favorite song performed by Bijou. Moreover, this drama's main ideas focus more on the boy's coming of age and Bijou's disillusionment than on the Shanghai gang wars.
Behind the Scenes: Shanghai Triad was an ambitious attempt by Zhang Yimou to make a commercial film. However, it not only won applause, but also triggered arguments. Some praised the film's gripping portrait of mob power plays and lifestyles in 1930s Shanghai, while others argued that the choice of the boy as the film's main protagonist was improper. Moreover, compared with other actors in the film, the performance by starring actress Gong Li didn't get enough affirmation from audiences.
Highlights:
1. It has been considered the last and least successful collaboration between Zhang Yimou and Gong Li (though Gong worked with Zhang again in 2006 for Curse of the Golden Flowers).
2. The film's technical work was well done, as it won the Technical Grand Prize at the 1995 Cannes Film Festival.