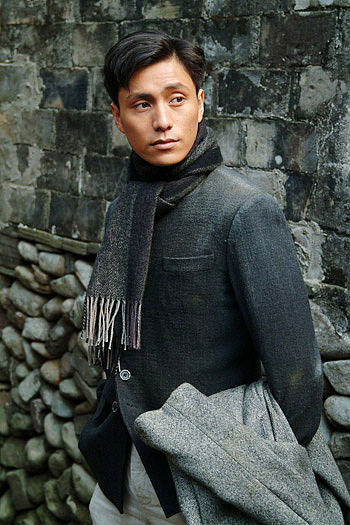 Chen Kun in National Anthem
National Anthem
Year: 1999
Director: Wu Ziniu
Screenwriters: Fan Zhengming, Su Shuyang, Zhang Yiping
Starring: He Zhengjun, Chen Kun, Kong Wei, Fu Heng, Yi Chunde, Zheng Hong
Production: Xiaoxiang Productions (China) Ltd.
Plot Synopsis: This is the first film to address the history surrounding the creation of the song March of the Volunteers, which was designated as China's national anthem after 1949. Before the outbreak of the War of Resistance Against Japan (1937-1945), the Japanese first invaded China's northeast in 1931, occupying the area and founded the puppet regime commonly known as Manchuria. As Manchurian refugees fled to Shanghai, playwright Tian Han and young composer Nie Er were inspired to write March of the Volunteers to recruit Chinese to fight for their country's freedom.
Behind the Scenes: In order to express their respect for Tian Han and Nie Er, the screenwriters took three years to write the screenplay of this film and revised it seven times. According to director Wu Ziniu, March of the Volunteers was originally written as the theme song for the 1935 patriotic film Sons and Daughters in a Time of Storm, which was shot in Shanghai. Thus, "to some extent, the national anthem was first sung in Shanghai," he said. Some important scenes from National Anthem were therefore shot in Shanghai, revisiting the history of that time. The old record that Tian Han listens to in a Kuomintang jail in the film is an original, which is a cultural relic as one of only two copies in China.
Highlights:
1. The patriotism in the Chinese national anthem and the film.
2. The patriotic spirit and passion held by Chinese moviemakers in that era.