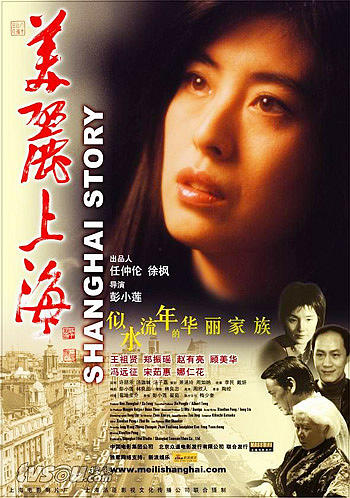 Movie poster from Shanghai Story
Shanghai Story
Year: 2004
Director: Peng Xiaolian
Screenwriter: Peng Xiaolian
Starring: Joey Wang, Josephine Koo, Feng Yuanzheng, Zheng Zhenyao, Zhao Youliang
Production: Shanghai Film Group Corporation, Tomson Films Co. Ltd. (Shanghai)
Plot Synopsis: The film tells a story about the rise and fall of a once wealthy and capitalist family in Shanghai. After the father's unjust death during the "Cultural Revolution" (1966-1976), the family unravels. From then on, the four children in this family follow paths to different lives and destinies.
Behind the Scenes: This film was nominated in several categories at the 2004 Golden Rooster Awards, the top film awards in China, and surprisingly won nearly all major categories including best picture, director, actress and supporting actor. Moreover, the producer of this film is Hsu Feng, who won the Palme d'Or at the 1993 Cannes International Film Festival for Farewell My Concubine and received the Profession Producer Award at the 51st Cannes International Film Festival, the only Chinese female moviemaker to have received this laurel.
Highlights:
1. Beautiful Shanghai portrayed by beautiful women: The team behind the film includes many outstanding and beautiful female filmmakers, from director and writer Peng Xiaolian and actress Joey Wang to art designer Shirley Chan, who has worked on more than 100 films including A Chinese Ghost Story (1987) and Once a Thief (1997), and film editor Zhai Ru, who was involved with Hero (2002) directed by Zhang Yimou.
2. Support from the wonderful men: Actor Zhao Youliang was president of the National Theatre of China, while Feng Yuanzheng is a veteran dramatic actor with Beijing People's Art Theatre. Cinematographer Lin Liangzhong was involved in Pushing Hands (1991), The Wedding Banquet (1993) and Eat Drink Man Woman (1994) as a good partner of the famous director Ang Lee.