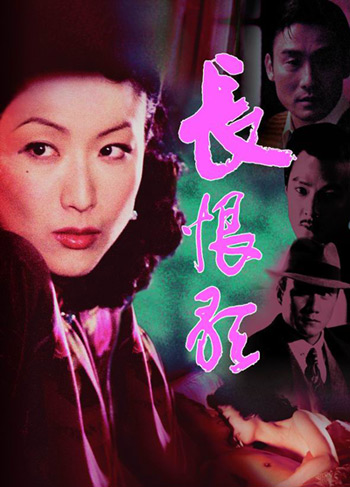 Movie poster from Everlasting Regret
Everlasting Regret
Year: 2005
Director: Stanley Kwan
Novel: Wang Anyi
Screenplay: Elmond Yeung
Starring: Sammi Cheng Sau-Man, Tony Leung Ka-Fai, Hu Jun, Daniel Wu, Huang Jue, Su Yan, Huang Yi
Production: JEC Entertainment Ltd., Shanghai Film Studios
Plot Synopsis: The film is based on Changhen Ge, a novel by the famous Chinese female writer Wang Anyi, telling a story about the turbulent life of a Shanghai woman in 20th-century Shanghai. After enjoying temporary flashy illusions, the woman falls into despair, suffering and everlasting regret.
Behind the Scenes: Wang Anyi said, "When writing about Shanghai, Shanghai women are a good subject." In the novel, Wang finely drew Shanghai's particular civic culture and alley culture, and vividly depicted the tragic destiny of a civilian Shanghai woman who lost her youth, beauty and possible happiness to a Vanity Fair-type lifestyle. When casting the main role, Stanley Kwan had to choose between superstar Maggie Cheung Man-Yuk and Sammi Cheng Sau-Man. He listened to Wang's suggestion, as she considered the heroine in the story to be fair, but not as stunning a beauty as Maggie Cheung Man-Yuk. Thus, Kwan cast Sammi Cheng Sau-Man as the heroine.
Highlights:
1. An old Shanghai presented by the famous Hong Kong director Stanley Kwan
2. "Shanghai Lady" performed by singer-turned-actress Sammi Cheng Sau-Man deserves audiences' attention.