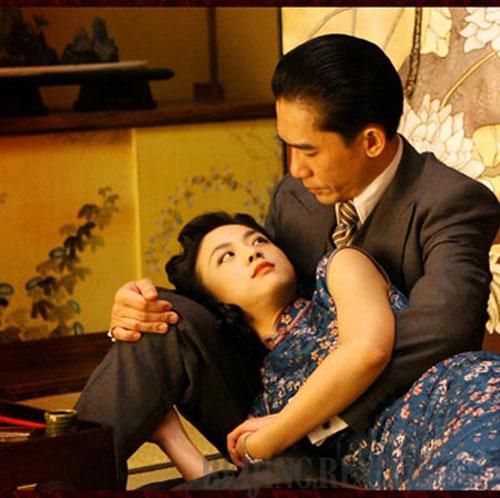 A still scene from Lust, Caution
Lust, Caution
Year: 2007
Director: Ang Lee
Original Story: Eileen Chang
Screenplay: Hui-Ling Wang, James Schamus
Starring: Tony Leung Chiu-Wai, Tang Wei, Joan Chen, Leehom Wang, He Saifei
Plot Synopsis: Lust, Caution is an espionage thriller set in World War II-era Shanghai, based on the short story of the same name published in 1979 by Eileen Chang. The story begins in Hong Kong in 1938 and continues in Shanghai in 1942, when it was invaded and occupied by the Japanese Army and manipulated by the puppet government led by Wang Jingwei. The film centers around a group of Chinese university students plotting to assassinate a high-ranking special agent of the puppet government by using an attractive young woman to lure him into a trap. The situation becomes more complicated, however, when the woman falls in love with him.
Behind the Scenes: Ang Lee has said that the most intractable issues while shooting were not only how to properly adapt the original novel, but also how to recreate scenes from that era. Lee and his team spent about 20 million yuan (about $2.96 million) rebuilding West Nanjing Road as it looked in those years and took four months to pave one 800-meter-long street and construct 13 temporary buildings, including the famous Ping' an Movie House and the coffee shops, leatherware stores and boutiques at that time. Furthermore, the art director of this film is Lai Pan, who taught Academy Award winner Tim Yip. Thus, the film has exquisite art design.
Highlights:
1. Recreates scenes from old Shanghai during the 1930s and 1940s and leads audiences to revisit the history of Shanghai in 1942
2. Viewers will enjoy the 27 beautiful and exquisite cheongsams the heroine (Tang Wei) wears in the film.