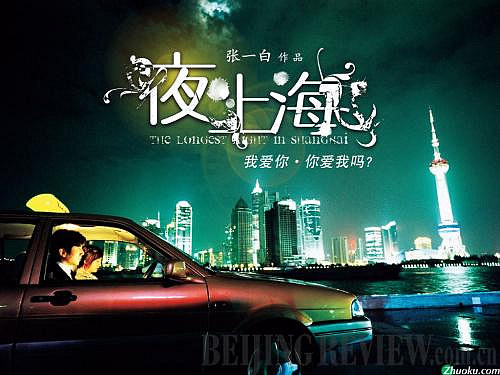 Movie poster from The Longest Night in Shanghai
The Longest Night in Shanghai
Year: 2007
Director: Zhang Yibai
Screenplay: Yuji Yamamura, Zhang Yibai
Starring: Vicki Zhao, Masahiro Motoki, Dylan Kuo
Production: Avex Entertainment, Movie-Eye Entertainment, Shanghai Film Studios, Yahoo Japan
Plot Synopsis: This Shanghai love story, produced by both Chinese and Japanese moviemakers, is a rare collaboration between China and Japan. One night in Shanghai, a female taxi driver (Vicki Zhao) meets a talented hair stylist from Japan (Masahiro Motoki). Though there are language and cultural barriers between them, they still frankly exchange the deep thoughts and pains in their hearts, and finally fall in love with each other.
Behind the Scenes: The film won the Press Prize-Best Box Office to Be Film and Press Prize-Most Attractive Actress (Vicki Zhao) at the 10th Shanghai International Film Festival in 2007. As these two prizes are awarded by film audiences, not the film festival committee, they meant a lot to both the Chinese and Japanese filmmakers.
Highlights:
1. The director is good at using cinematography to present romantic and aesthetic scenes, giving the audience exquisite visual enjoyment.
2. The exchange of performing skills between actors from China and Japan and their wonderful cooperative performances.