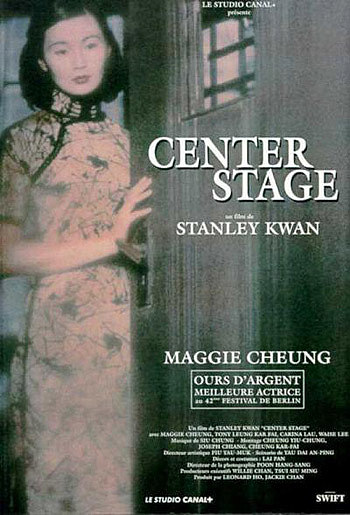 Movie poster from Center Stage
Center Stage
Year: 1992
Director: Stanley Kwan
Screenwriter: Peggy Chiu
Starring: Maggie Cheung Man-Yuk, Han Chin, Tony Leung Ka-Fai, Carina Lau Ka-Ling, Waise Lee
Production: Golden Harvest Productions
Plot Synopsis: The film (also known as Yuen Ling-yuk) is based on the true story of Yuen Ling-yuk's tragic life as China's first prima donna of film. It chronicles Yuen's rise to fame as a movie star in Shanghai during the 1930s: She began her acting career when she was 16 years old, appearing in 29 films before she committed suicide at age 24. She had two unhappy marriages in her short life: Her first husband saw her as a ready source of money, while her second husband treated her like a patient.
Behind the Scenes: By using a novel multi-layered approach with archive footage, the dramatization of scenes from Yuen's life and films and contemporary interviews featuring her surviving collaborators as well as the film's own actors, Kwan aptly explores both the reality and fiction surrounding Yuen's life. Maggie Cheung won Best Actress at the 1992 Berlin International Film Festival and 1993 Hong Kong Film Awards for her excellent portrayal of Yuen Ling-yuk in this film, becoming the first Chinese actor to win a major European film award.
Highlights:
1. Experience Maggie Cheung's outstanding performance while appreciating the elegance and sexiness of Asian women and their beauty and sorrow shown in the film.
2. Enjoy the delicate atmosphere and exquisite portrayal of characters in Kwan's film.
3. Revisit old Shanghai and become familiar with its beauty and spirit.
4. Discover the passion and professionalism of Chinese moviemakers in that time as represented in the film.