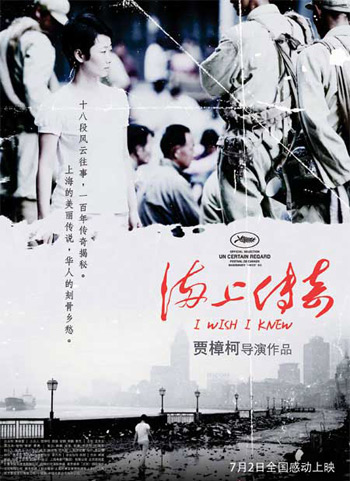 Movie poster from I Wish I Knew
I Wish I Knew
Year: 2010
Director: Jia Zhangke
Presented By: Shanghai Film Group Corporation, Xstream Pictures, NCU Group Ltd., Star Art Vision and Bojie Media
Plot Synopsis: Hai Shang Chuan Qi (I Wish I Knew) is the latest documentary/fiction hybrid by Jia Zhangke. The film explores the fast-changing history of Shanghai from the 1930s to the present. Having chosen from almost 100 people, Jia interviews 18 who have been deeply involved with Shanghai at different times.
As a port city, Shanghai has hosted all kinds of people – revolutionaries, capitalists, politicians, soldiers, artists and gangsters – and their stories. Thus, the film is structured like a novel, with 18 chapters under one theme.
Behind the Scenes: Jia spent three years researching and preparing the film, then almost another whole year shooting and producing it. He and his team edited almost 240 hours of footage into 138 minutes.
As for taking part in the 2010 Cannes Film Festival, Jia said, "I don't expect to win, but I've never wanted to win more than this time." In his view, the most affecting part in this film is the story of Zhang Xinyi, great granddaughter of official and military general Zeng Guofan (1811-1872). "Listen to the Shanghai love story she tells," Jia said. "It reads like Jane Eyre or the stories written by Eileen Chang."
Highlights:
1. An oral history of Shanghai, drawn from interviews with a wide range of people.
2. Interviewees with high reputations or outstanding family backgrounds, including youth writer Han Han, artist Chen Danqing, Taiwan director Hou Hisao-Hsien (Flowers of Shanghai), and the daughter of Du Yuesheng, once known as Shanghai's 'Godfather.'