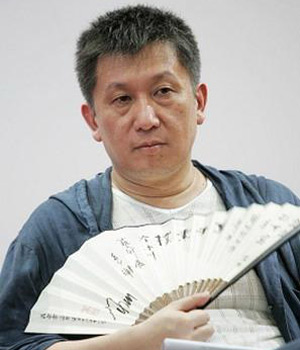 Sun Ganlu (FILE PHOTO)
The book Flowing Life in Shanghai, written by Sun Ganlu, reads like a diary, with stories, poems, essays and notes on daily life. In Sun's eyes, the book captures an era by chronicling the daily lives of so-called cultural celebrities in Shanghai. As a native-born Shanghainese, Sun demonstrates his observation and understanding of Shanghai in his book. As he said, "To some extent, Shanghai is my whole world."
As a writer, Sun wants to explore more than just ordinary life in Shanghai through his work. "I do not have a strong consciousness on regional identification," he said.
His parents came from east China's Shandong Province and settled in Shanghai in 1949, following in the footsteps of the Chinese People's Liberation Army. Thus, Sun was born into a northerner's family in Shanghai, but grew up surrounded by Shanghai flavor as his schoolmates and neighbors were locals; he speaks Shandong dialect at home, and then switches to Shanghai dialect whenever he goes out. Moreover, he never stresses his Shanghai identity when he goes along with his northern friends in Beijing, and vice versa.
"To some extent, Shanghai is an 'immigrant city'—a melting pot with people from different places in different times," Sun said. "Therefore, people with different cultural backgrounds will have different feelings about and interpretations of the city."
Shanghai, in his eyes, is not a city that is easily summed up in a tourist guidebook, one that can be properly interpreted through longitude and latitude, weather conditions or administrative maps. Rather, different people with various lives shape the real Shanghai.
From a historical point of view, Shanghai has continually developed and enlarged its city scale since it opened up its port in the 1840s. Having been a semi-colonial foreign settlement, a treaty port and a visa-free metropolis, Shanghai could allow various people to stay long term.
A local joke says that people in Shanghai now speak English in the inner city center, Mandarin in central Shanghai and Shanghai dialect on the outer rim of the city. Apparently, the composition and distribution of the Shanghai population has gradually changed with the development of the city's economy, society and culture.
"Although it is an international metropolis, today's Shanghai is still developing," Sun said. "When I went to Tokyo for the first time and stood on the Gran Tokyo Towers next to City Hall to overlook the whole city, I could not see its boundary, which seemed to reach all the way to the horizon. Today's Shanghai is just like that."
One of Sun's German friends has jokingly said that in the past, Chinese went abroad to see rare shows and today they go for shopping—maybe tomorrow they will go to visit backward areas. "Twenty years ago, Chinese visitors would be shocked by foreign cities' size and their modern facilities. But now wherever they go, they aren't shocked in that way anymore," Sun told Beijing Review. "Admittedly, the change in our city is likely a miracle of development. And in fact, such changes happen every day in every corner of this world.
"However, regardless of the development in politics, economy and culture, just in terms of city ecology, I personally think that Shanghai was a livable city with the best population ratio and environment between the late 1970s and early 1980s," he said. "Now it is a bit too crowded and noisy."
Shanghai has negative native population growth, but at the same time has been setting new records for overall population growth in recent years. "This is the result of unbalanced regional development caused by the urbanization process," Sun said.
On one hand, big cities offer better living resources such as healthcare and education as well as richer cultural offerings. People move to cities to make their fortune and change their lives. On the other hand, there are drawbacks such as the higher cost of living.
However, in Sun's mind, this is the only way a city can develop. After all, there is never a perfect solution. As a citizen, everyone hopes to have more living space, but from a historical observer's point of view, this process can't be avoided as no one is entitled to turn down outsiders who want to come to the city.
"Anyway, the 2010 World Expo is a chance not only for Shanghai but also for China," Sun said.
Historically, when travel was expensive and difficult, the Expo was like an international bazaar that presented innovations from all over the world, sharing them in order to promote the development of human society.
With the rapid development of technology and communications over the past 100 years, the function of the Expo has changed, but it still has positive meaning for developing countries like China. Through this Expo in Shanghai, Chinese people can conveniently and directly learn about the rest of the world without ever leaving home.