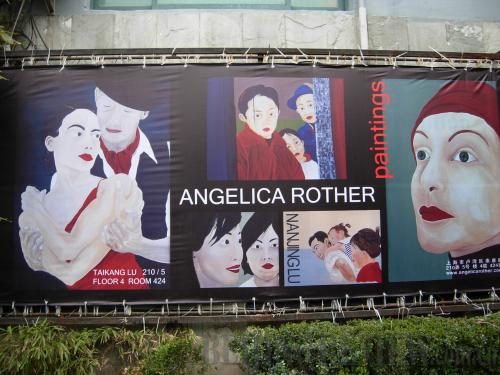 MODERN DECORATION: Posters hanging on the walls in Lane 210 of Taikang Road in Shanghai (ZHANG JING)
Located in downtown Shanghai, Lane 210 on Taikang Road is only three meters wide and 420 meters long. Since it was first built in 1930, artists have flocked here to study at the Xinhua Art School.
Lane 210 is also home to Tianzifang, the number one creative industry zone in Shanghai, China's biggest city. In 2001, painter Huang Yongyu renamed one of the alleys off Lane 210 Tianzifang (fang in Chinese means lane) in commemoration of ancient painter Tian Zifang.
Tianzifang is often compared with Dashanzi Art Zone in Beijing, which is a thriving artistic community consisting of 50-year-old decommissioned military factories of unique architectural style.
But unlike Dashanzi, Tianzifang is surrounded by a community full of unique "Shanghai style." The shops here were once a place where old Shanghai people enjoyed their daily lives. Although Tianzifang has experienced great restoration, two thirds of its original residents still live here. It is a creative way to implement the city's reconstruction policy, perfectly integrating history with today, combining the primitive with the artistic, bridging China with the world.
A man
Some people view the formation of Tianzifang as a result of Shanghai's rapid development, but it is also a kind of coincidence. To a large extent, the coincidence is closely related to Wu Meisen, chief planning director of Tianzifang, who is in charge of refurbishing the old buildings and warehouses in the lane to make the city's first artistic street.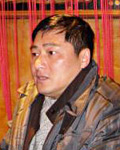 I HAVE A DREAM: Wu Meisen, chief planning director of Tianzifang (ZHANG JING)
Middle-aged Wu used to work for the Luwan District Workers' Club in Shanghai before moving to Canada in the 1980s.  
During his stay there, Wu was impressed by Western artists' practice of renovating former factories into art zones. When he returned to Shanghai, Wu chose to be a businessman, running a restaurant with a mini pottery bar inside. The restaurant became a salon attracting large numbers of artists. It was the first of its kind in Shanghai at the time.
In 1998, the Luwan District government began to renovate the small food machinery factories that were built in Lane 210 in the 1970s. This was an opportunity for Wu to realize his dream. He immediately drew up a long-term tenancy contract with the parent company of the old factories.
Together with the late world-renowned painter Chen Yifei and several other artists and fashion designers who had set up studios in the old factory workshops in Taikang Road's Lane 210, Wu Meisen led the area's first act of transformation.
A lane
Although the new lane of Tianzifang enjoyed popularity for some time, it faced the threat of demolition in the wave of reform.
Wu said it was thus inevitable that the creative zone would expand into neighboring lanes to enlarge its space and enhance its influence. Wu started looking at small stone houses called shikumen, or "stone gate."  These two- and three-story houses, densely packed in narrow lanes, reflect typical Shanghai architectural style.
The shikumen are small but have a long history, having been constructed by factory staff and middle- and lower-class workers in the 1920s. Their architectural style and primitive nature had remained almost completely intact. More and more tourists were attracted by these "living museums" of old Shanghai culture, making it an attractive area for investment.
Wu made a great effort to help local homes seeking tenants. The ground floor and upstairs of various homes were rented out gradually and transformed into art galleries, design studios, boutiques, cafés and restaurants.
Xie Chunyan, a friend of Wu, has a studio in the lane. Xie, a famous painter, said that the old factories on Taikang Road and the shikumen are considered by Shanghai natives to be xiazhijiao, or shabby places. But for an insightful businessman like Wu, xiazhijiao are a paradise with great hope and potential for further exploration.
Today, Tianzifang is considered a role model in various fields including taxation, employment, old building protection and urban renovation, leading the way with its profound humanity and primitive charisma.