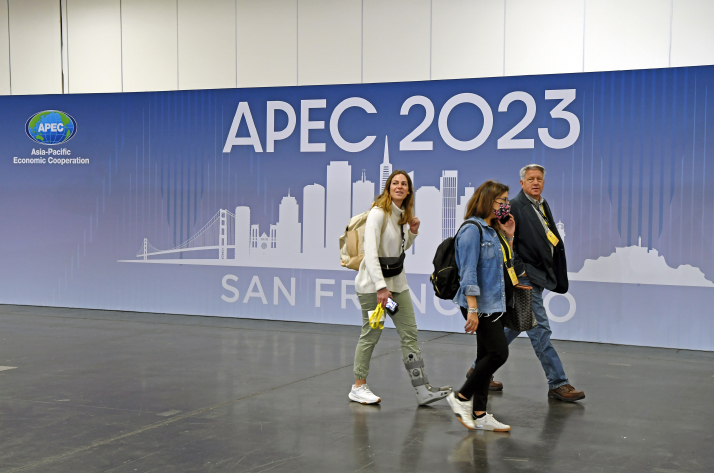 Journalists walk past a poster for APEC 2023 at the international media center of the event in San Fransisco, the U.S., on November 12
(XINHUA)
In January 1949, on the eve of the founding of the People's Republic of China, Mao Zedong, in a conversation with Anastas Mikoyan, a member of the Political Bureau of the Central Committee of the Communist Party of the Soviet Union, described China's foreign policy as "cleaning the house before inviting guests."
"If we compare China to a household, its house is far too messy, full of hay, dust, fleas, bedbugs, cooties, and all kinds of rubbish," Mao said. "After the country is liberated, we must do some serious cleaning. We won't invite guests until the house is clean and tidy and everything is in its place..."
The city of San Francisco in California adopted a "cleaning the house before inviting guests" tactic to welcome attendees of the 30th Asia-Pacific Economic Cooperation (APEC) Economic Leaders' Meeting. The city underwent a cleanup in preparation and streets once occupied by homeless encampments were cleaned and fenced off, some with planter boxes adorned with wildflowers.
APEC, founded in 1989 and comprising 21 member economies today, is one of the most important multilateral cooperation mechanisms in the world, and the economic leaders' meeting provides a crucial platform to discuss international and regional issues, coordinate policies and exchange ideas, Liu Chenyang, Director of the APEC Study Center of Nankai University in Tianjin, told Beijing Review.
"The more complex the international situation, the more prominent the role of the APEC platform," Liu said, adding it is worth paying attention to the discussions among APEC economies on issues such as mitigating the influence of geopolitical factors, building consensus, and jointly maintaining regional peace and stability.
At the invitation of U.S. President Joe Biden, Chinese President Xi Jinping traveled to the United States from November 14 to 17 for a China-U.S. summit and the APEC gathering.
China attaches great importance to these meetings as an opportunity to cool down tense Sino-American relations, to bring certainty to a turbulent world and to ensure that the Asia-Pacific region will continue to be an engine of growth, Huo Jianguo, Vice Chairman of the China Society for World Trade Organization Studies in Beijing, told English-language Chinese newspaper Global Times.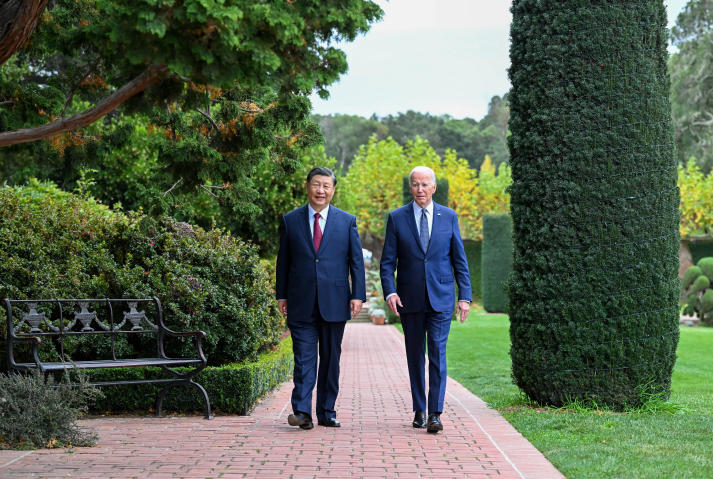 Chinese President Xi Jinping talks with U.S. President Joe Biden at Filoli Estate in California state on November 15
(XINHUA)
Regional prosperity
The Asia-Pacific region is the most economically prosperous region globally, remaining on track to contribute about two thirds of global growth in 2023, according to the International Monetary Fund (IMF) in its October report on the economic outlook for Asia and the Pacific.
The negative impact of the COVID-19 pandemic on regional economies is gradually fading, with recovery seen in both consumption and investment. Foreign trade is also showing increasing dynamism, Xu Xiujun, a researcher with the Institute of World Economics and Politics of the Chinese Academy of Social Sciences, told Beijing Review.
"The region's momentum in 2023 is expected not only to reverse last year's downward trend, but also to make the Asia Pacific the only major region in the world to achieve higher economic growth than last year," Xu added.
China plays a pivotal role in achieving this, according to a report by the Asian Development Bank titled Asian Economic Integration Report 2023. It said Asia's economic recovery in the first half of 2023 is driven particularly by China, which accounted for 64.2 percent of total regional growth.
China has enhanced its economic and trade collaboration with the other 20 APEC member economies in recent years. In 2022, the combined import and export volume between China and APEC partners exceeded $3.73 trillion, representing nearly 60 percent of China's foreign trade volume, according to the Chinese Ministry of Commerce.
Moreover, more than 73 percent of China's outbound investments were directed toward other APEC economies. Eight APEC members are among China's top 10 trading partners, while China is the largest trading partner for 13 of APEC economies.
Recently, the IMF upgraded its GDP growth forecast for China and now expects China's economy to grow 5.4 percent this year, up from its previous forecast of 5 percent in October.
However, it also warned of slower growth in China's economy next year, predicting that its GDP will expand 4.6 percent in 2024 due to weakness in the property sector and subdued export demand. The World Bank maintained its forecast for China's 2023 economic growth at 5.1 percent, in line with its previous estimate in April, but trimmed its 2024 forecast to 4.4 percent from 4.8 percent for similar reasons.
GDP is important because it serves as a measure of the size and health of an economy. Policymakers look to GDP when deciding on interest rates, taxes and trade policy.
Kristalina Georgieva, Managing Director of the IMF, said macroeconomic policies "have been appropriate as a whole in China, though there is still room to reorient public spending toward social protection and a need to expedite market-based restructuring of troubled real estate developers," while addressing the International Finance Forum 20th Anniversary and Annual Meeting 2023 via video link on October 28.
"Housing market pressures will continue to weigh on the economy for some time to come," Zhou Maohua, a macro economist with China Everbright Bank, warned. He also listed headwinds that would cast a shadow over the economic growth outlook, including uncertainties in global demand, geopolitical conflicts and fluctuations in the global market that are likely to disrupt China's consumer and business expectations.
While the Asia-Pacific region is expected to see a growth of 3.3 percent this year, up from 2.6 percent in 2022, "the legacy of the pandemic, inflation, higher debt, climate change, trade protectionism, geopolitical tensions and economic fragmentation continue to overshadow the [region's economic] outlook," the APEC Policy Support Unit said in a report.
Full of anticipation
The Sixth China International Import Expo, held in Shanghai from November 5 to 10, saw the largest American delegation since the event's inception in 2018. It brought with it more than 200 companies and exhibitors, 17 of which cofounded the first-ever U.S. Food and Agriculture Pavilion at the expo.
This demonstrated the country's "interest in a more stable and productive relationship with China," U.S. Ambassador to China Nicholas Burns said during the expo. "We felt it was very important for the United States to be present in Shanghai for economic reasons and reasons to do with our wish to have a productive relationship with China."
Eric Zheng, President of the American Chamber of Commerce in Shanghai, said American enterprises have always regarded China as an important market. "Despite the supply chain challenges over the past few years, they still choose to develop in China and look forward to success in China in the long run," he said, adding that enterprises have "adjusted to try to strike a balance between resilience and efficiency."
Xi and Biden on November 15 had a candid and in-depth exchange of views on strategic and overarching issues critical to the direction of China-U.S. relations and on major issues affecting world peace and development, at Filoli Estate, a country house approximately 40 km south of San Francisco.
Xi said the two countries have broad common interests in a wide range of areas, including traditional areas such as the economy, trade and agriculture, as well as emerging areas such as climate change and artificial intelligence (AI).
"The world's economy could surely benefit from a U.S.-China détente," American news agency Associated Press reported on the same day, saying the two together produce more than 40 percent of the world's goods and services and "such a rare high-level meeting can have global consequences."
It is important to fully utilize the restored and new mechanisms in foreign policy, economy, finance, commerce, agriculture and other fields, and carry out cooperation in such areas as counternarcotics, judicial and law enforcement affairs, AI, and science and technology, Xi added.
San Francisco is the first U.S. city ever reached directly by a Chinese commercial flight. On January 7, 1981, a large Boeing airliner flew across the Pacific Ocean, becoming the first flight between China and the U.S., connecting Beijing, Shanghai, San Francisco and New York City.
Earlier in November, Air China and United Airlines successively resumed direct flights between Beijing and San Francisco, which had been suspended since February 2020 due to the COVID-19 pandemic, signaling improved exchange between the two sides.
During their summit, the two heads of state also agreed to commit to working toward a significant further increase in scheduled passenger flights early next year.
Xi's visit to San Francisco marked his return to the U.S. after six-plus years as well as signified another face-to-face meeting between the two leaders following last year's handshake in the lead-up to the Group of 20 summit in Bali, Indonesia.
"It is incumbent upon both countries and their leaders to find a pathway forward to reduce tensions and to make it worthwhile for the citizenry in both countries to benefit from the engagement between the two governments," Dennis Simon, a distinguished fellow of the Institute for China-America Studies, told Xinhua News Agency.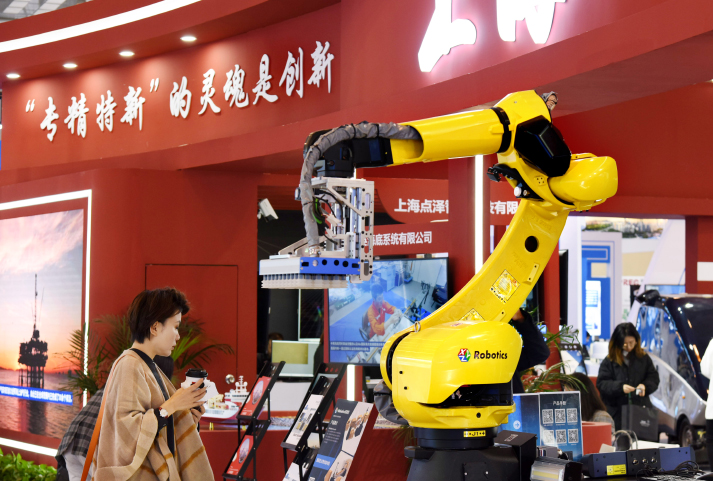 People visit the 12th APEC Small and Medium Enterprises Technology Conference and Fair in Qingdao, Shandong Province, on November 10 (XINHUA)
Hezuo matters
The latest tensions in the Gaza Strip between the Palestinians and Israelis "not only serve as a reminder to Americans that China is not a threat to America or world peace, but also offers an opportunity for Washington and Beijing to work together on common global challenges, including the conflict in the Middle East," according to an opinion piece published in Washington-based newspaper The Hill.
British sociologist Martin Albrow, a fellow of the British Academy of Social Sciences and a pioneer in the study of globalization in the West, once discussed cooperation or hezuo in standard Chinese in his book, China and the Shared Human Future: Exploring Common Values and Goals.
The first word he, in oracle bone script, the earliest known form of Chinese writing, looks like a food container with the lid on top and the vessel below. Its original meaning is "to close," implying that the lid and jar fit well together and remain in harmony.
In the "lesser seal" character, a style of calligraphy adopted in the Qin Dynasty (221-207 B.C.), the left side of zuo looks like a standing person and the right side means "sudden." The original meaning of the word thus suggests that a person stands up suddenly, with the implication of rising or flourishing, or taking immediate action.
"In short, the combination of he and zuo refers to social interactions characterized by harmonious relationships that serve the purpose of allowing all to flourish," Albrow said.
The problems facing human society cannot be solved without cooperation between major countries, Xi said, adding that China and the U.S. should lead by example, step up coordination and cooperation on international and regional issues, and provide more public goods to the world.
Both sides should keep their initiatives open to each other or coordinate and link them for synergy, Xi added.
Such expectations are also justified given the litany of problems facing the global economy and the crucial role played by China and the U.S. In October, the IMF said China and the U.S. together will contribute more than 30 percent of global growth over the next five years.
(Print Edition Title: Regional and Global Recovery)
Copyedited by Elsbeth van Paridon
Comments to mamm@cicgamericas.com