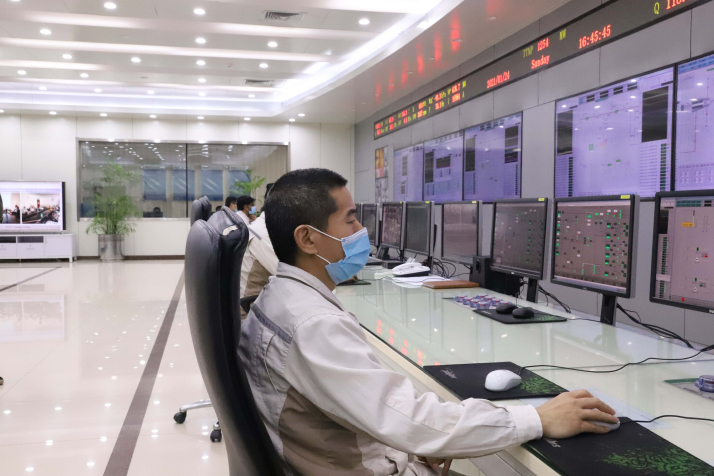 Engineers work in the control room of the Sahiwal power station in Sahiwal, Punjab Province, Pakistan, on January 24, 2021. The power station is a major project under the China-Pakistan Economic Corridor (XINHUA)
As the spillover effects of the Ukraine crisis continue to spread and world peace and development are facing new challenges, State Councilor and Foreign Minister Wang Yi made a visit to Pakistan, Afghanistan, India and Nepal in March, aiming to enhance mutual trust and consolidate traditional friendship and cooperation.
During a media briefing on March 28, Wang said China and its South Asian neighboring countries support one another on issues concerning their respective core interests and major concerns, and that they are willing to jointly promote prosperity in the region, improve the people's wellbeing, and maintain a sound environment for regional security and development.
Currently, high-level interactions, infrastructure connectivity, personnel exchanges, and economic and trade cooperation between China and some South Asian countries are less dynamic than expected, according to Hu Shisheng, Director of the Institute for South Asian Studies at the China Institutes of Contemporary International Relations. Therefore, this visit can be viewed as an effort to consolidate China's circle of friends in the region, he said.
Positive interaction
Wang is the highest-level Chinese official to visit India since the border clashes between the two countries in 2020. His journey therefore has attracted much attention.
During a three-hour talk with Indian External Affairs Minister Subrahmanyam Jaishankar on March 25, Wang called on the two countries, as mature and rational neighbors, not to let the border issue define or hinder the overall development of bilateral relations. He said China and India should help each other succeed, rather than engage in attrition; support each other, rather than exclude each other.
Jaishankar said India is ready to strengthen communication with China and enhance mutual trust, so as to get the bilateral relations out of the trough as soon as possible, and continuously push for pragmatic cooperation between the two countries.
"India has recently sought to improve ties with China, out of its practical need," Lin Minwang, a professor and assistant dean at Fudan University's Institute of International Studies, said.
According to Lin, on one hand, as the U.S. Joe Biden administration has been distracted by the recent Ukraine crisis, it may fail to sufficiently invest in its Indo-Pacific strategy in the future. On the other hand, India holds a similar standing with China on promoting the peaceful settlement of the Ukraine crisis, while both are under pressure from the U.S. to impose sanctions against Russia.
"Improvement of Sino-Indian relations is possible, but the process would be gradual," Lin concluded.
Constructive role
On March 24, Wang landed in Afghanistan, becoming the highest-ranking representative of the Chinese Government to visit the country since the Taliban returned to power.
According to Wang, his trip had three main objectives: renewing the traditional friendship between the two peoples, obtaining firsthand information on Afghanistan, and promoting mutual understanding and building a foundation of mutual trust through face-to-face exchanges.
Experts also saw this visit as preparation for the third foreign ministers' meeting of Afghanistan's neighboring countries, which took place in Tunxi, Anhui Province, on March 30-31.
While pledging not to allow any forces to use the Afghan territory to engage in activities that undermine China, Acting Deputy Prime Minister Mullah Abdul Ghani Baradar also told Wang that his country is ready to use its unique geographical advantages to participate in Belt and Road cooperation, and serve as a bridge for regional infrastructure connectivity.
Stability in Afghanistan is important for the entire region, Hu said. Coordinating assistance efforts for the Taliban to enhance its governance capabilities may be an effective way to sustain the long-term development of the region, according to him.
Gathering of friends
During his visit to Pakistan, Wang attended the 48th Session of the Council of Foreign Ministers of the Organization of Islamic Cooperation (OIC) on March 22. The OIC is the second largest international organization, after the UN, with 57 member states across Asia, Europe, Africa and South America.
This was the first time for a Chinese foreign minister to participate in the OIC meeting. It "demonstrates the sincere desire of China and the Islamic world to strengthen exchange and cooperation, and will surely lift our relations to a new level," Wang said.
During the meeting, in addition to reiterating that China and Islamic countries would continue to work in solidarity in the fight against COVID-19, all sides also agreed to advance high-standard cooperation under the Belt and Road Initiative, and strengthen communication and coordination on
implementing the China-proposed Global Development Initiative.
Ties between China and Islamic countries have been enhanced in recent years. To date, 54 nations of the group have signed Belt and Road cooperation documents with China, and approximately 600 large projects worth a total of $400 billion have been launched as a result. China has provided over 1 billion doses of COVID-19 vaccines, and other anti-pandemic supplies, to 50 Islamic countries.
Moreover, China and the Gulf Cooperation Council, which consists of six Islamic countries—Bahrain, Kuwait, Oman, Qatar, Saudi Arabia, and the United Arab Emirates—have agreed to accelerate their negotiations on a free trade agreement to enhance energy and commercial links. Moreover, Saudi Arabia is also reportedly considering accepting the Chinese yuan instead of the U.S. dollar to settle some of its oil trade with China.
Wang's presence in the OIC meeting is viewed as proof that Islamic countries have not been swayed by the disinformation and false rumors instigated by the U.S. and other Western countries about China's Xinjiang Uygur Autonomous Region.
"Based on their longstanding ties, most Muslim countries have found China to be trustworthy, reliable and responsible. The disinformation about Xinjiang, cooked up by the West, cannot fool them. China has invited many Muslim countries to send delegations to witness the development and improvement of people's lives in Xinjiang," Qiu Wenping, an expert on Islamic studies and a professor at Fudan University, said.
In addition, China has also invited the OIC to send representatives to Xinjiang to undertake an assessment. In 2019, the OIC released a resolution that said it "commends the efforts of China in providing care to its Muslim citizens and looks forward to further cooperation with China." Nevertheless, this document has been overlooked by U.S. mainstream media outlets.
(Print Edition Title: Spring Diplomacy)
Copyedited by G.P. Wilson
Comments to wenqing@cicgamericas.com