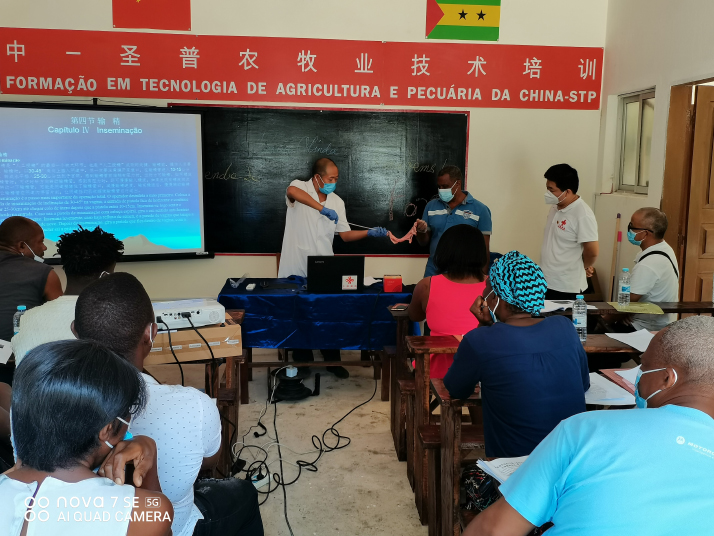 Zou Rui conducts technical training at the Agricultural Technology Demonstration Training Base in Nova Olinda Town on July 23 (COURTESY PHOTO)
Jojimon Santos, 26, is a young pig farmer in Sao Tome and Principe who has been living with his uncle after the early death of his parents. Three years ago, an opportunity led him to forge an indissoluble bond with Chinese experts.
At that time, a team of experts for the second phase of China's agricultural and livestock technical project in Sao Tome and Principe was working on a project in the region. Zou Rui, an animal husbandry expert in the group, was very impressed with Santos after they met.
"I sympathized with him after hearing the story of his life. I taught him farming techniques, so that he could make a living in the future," Zou said. Having working together for sometime, Santos began to see Zou as a family member. Once, he invited the Chinese expert to his home to try his family's corn.
"I was moved by the invitation. This is the reason we are here: not just to improve the skills of the local people, but also to talk to them and to give them more care," Zou said.
This is the spirit with which Zou and the seven experts in the group have been carrying out their work in the country.
Mapping the field
For many Chinese agricultural experts, Africa is a relatively unfamiliar place, but not for 46-year-old Zou, given that he has spent seven years in the continent. He participated in the first and second phases of the China-Nigeria South-South agricultural cooperation project in 2005 and 2010, respectively.
In order to understand the development of local animal husbandry, Zou and other experts went into the village communities to carry out field research through discussion and consultation.
"We learned that there was a serious lack of local feed, and most of demand was met by imports. This is because the cost of growing feed ingredients such as corn and beans locally would be higher than imports, so larger farms directly imported feed, and some individual farmers had to use local breadfruit, taro and bananas as feed," Zou said.
In addition to feed, the lack of breeding technology and talent was also an important factor limiting the development of the livestock industry.
To help local farmers improve their breeding technology, the expert team selected chick hatching and rearing as the starting point. They set up a technology demonstration site in Nova Olinda Town.
In addition, Zou also prepared a series of research reports for local agricultural technicians, which laid a solid foundation for the pilot demonstration and technical training to follow.
"The demonstration included all steps of rearing such as purchase of breeding eggs, disinfection and identification of male and female chicks. We helped local farmers hatch a total of 26 batches of chicks, with a total of 100,900 breeding eggs. We have already reared six batches of brood chicken with the amount of 9,086 and the average survival rate was 96.8 percent," Zou said.
"After more than three years of demonstration and technical training, the operation and management skills of local farmers have gradually improved, and the industry has now entered a virtuous circle, with more and more ordinary people enthusiast about farming," Zou said.
Simão Vicente Simon, a farmer, is Zou's technical partner. He has been working with Zou for more than two years, and after continuous learning, he has now mastered key technologies of chick hatching, chick gender identification, chick and pig rearing and management.
"Simon told us that we gave him a way to get out of poverty and become rich," Zou said.
Meanwhile, Chinese technology has received great attention from the local government. The agricultural officials have visited the demonstration site several times and gave full recognition to the contribution made by the Chinese agricultural experts.
"We need technical experts like Mr. Zou. I hope he will stay here to start a livestock farm. We will provide the site for free and welcome him to drive the development of the local livestock industry," Francisco Ramos, Minister of Agriculture, Fisheries, and Rural Development of Sao Tome and Principe, said.
Zou said the government is particularly optimistic about the development prospects of the poultry industry and attaches great importance to the promotion of poultry hatching and popularization, with a plan to hatch 27,000 chicks in 2021.
"Several incubators currently in use are old and require frequent maintenance. With the support of China's agricultural technical cooperation projects, two incubators purchased in China are currently on their way to Sao Tome and Principe, which will help with local poultry hatching," noted Zou.
In addition to the chick hatching project, Zou also trained more than 300 people and carried out demonstrations on pig breeding. The training and demonstrations have brought new ideas to local counterparts and made new contributions to the development of local livestock industry.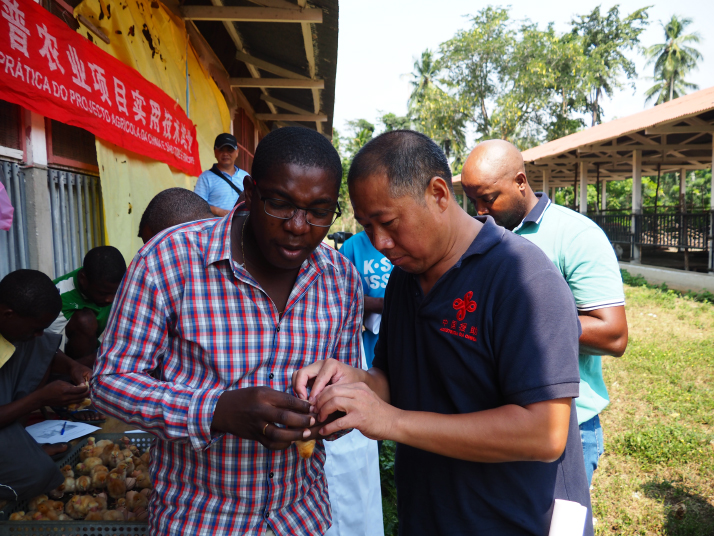 Zou Rui teaches a local farmer to identify chick gender at the Agricultural Technology Demonstration Training Base in Nova Olinda Town on June 12, 2018 (COURTESY PHOTO)
Dedication and perseverance
Life in a foreign land is full of heartache and hardship. For Zou, the biggest regret is being away from his family.
"During my nearly seven years in Africa, the burden of caring for the family fell on my wife's shoulders. But in every phone call we've had, I've never heard a single complaint from her. She takes the responsibility that originally belonged to me," Zou said.
In 2010, when Zou was participating in the second phase of the South-South agricultural cooperation project in Nigeria, his 8-year-old son wrote him an email.
"I heard from my mom that you are working in Africa, and it's very hot there. You should take care of your health over there, and don't get heatstroke. When I saw you on the Internet, I wanted you to come back immediately. But you still have to continue to work to complete the mission given to you by the country," Zou's son wrote.
Since the outbreak of COVID-19, Zou and other experts have stayed on the ground to ensure the continuity of the project. During this period, his main goal was to do a good job amid the epidemic prevention and control.
"I feel honored and proud to participate in this aid project and to be able to contribute to the development of the livestock industry here and to the friendship between China and Africa," Zou said.
(Print Edition Title: Living Off Livestock)
Comments to likzh@chinafrica.cn