Co-author and co-director Zhang Yong (second right) with some characters of his documentary Africans in Yiwu during a visit to the Exhibition and Trade Center of African Products in Yiwu in 2016 (COURTESY)
Egyptian Ammar Ashour made the courageous choice at the age of 19 to travel to China to try his fortunes in 2008, a year after his father died. He took on the responsibility to provide for his entire family as the eldest of his siblings. He earned his bachelor's degree from Zhejiang Normal University (ZNU) and began doing business in Yiwu, Zhejiang Province, the world's largest small goods market. His perseverance paid off in the end. His three younger siblings are currently pursuing their education in China with his support, while the rest of his family lives well in Egypt.
Ashour is one of 24 protagonists in a new book released in June, Africans in China, Stories of Intercultural Communication, an adaptation of the 2018 documentary Africans in Yiwu. Divided into six chapters, each addressing a separate theme, the book covers a wide range of topics in the daily life of China's second-largest African community in Yiwu and its surrounding area, from social and professional life, cross-cultural marriage and education to food and art. Lead author of the book and lead director of the documentary Zhang Yong aims to bring Africans closer to the Chinese public, which he says still has a limited understanding of the African continent and its people. "With this book, we hope to help our readers to shrug off stereotypes by revealing the different facets of African expatriate life in China, from laughter to tears."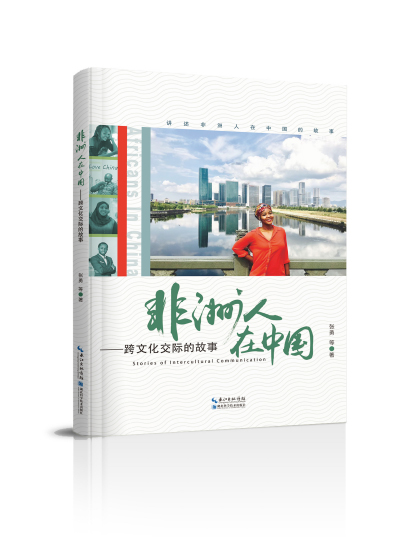 The recently published book Africans in China deals mainly with intercultural communication (COURTESY)
From documentary to book
A few anecdotes sparked Zhang's growing interest in the "Africans in China" theme. He was surprised to hear piracy mentioned out of nowhere in a chat with a Nigerian friend about Somalia. He did not expect such an impression to be had of an African. During a field study on the Tanzania-Zambia railroad, Zhang was impressed by the enthusiasm of Tanzanian children, in contrast to the restraint of Zambian children on the other side of the border, who were shy in front of strangers.
These experiences have changed his knowledge of Africa and made him impressed with the continent's intercultural diversity. "African countries are different from each other in terms of culture and tradition. Why are they still perceived as homogeneous by the majority of Chinese?"
After receiving his Ph.D. from the Beijing Film Academy in 2015, Zhang explored the realm of African television and cinema at the Institute for African Studies of ZNU before moving to Zhejiang University in Hangzhou, which is located roughly 140 km from Yiwu. This geographical proximity has allowed him to come into contact with many African nationals and get a glimpse into their real lives. "Yiwu is home to thousands of African traders who have left their countries to build a better life in China. Their stories, full of positive energy, need to be documented in an objective way," he noted. That inspired him to produce the documentary Africans in Yiwu, which he and his team made between 2016 and 2017.
While his book is based on it, it is far from a mere reproduction of scripts, interviews and song lyrics. To make it easier for readers to understand, Zhang opted for a first-person narration, unlike the documentary, which adopts the format of direct cinema and the absence of voice over. Instead of simply describing the scenes filmed, the lead author draws up portraits of the participants, outlining their personal backgrounds. He did not fail to analyze in depth the origins of certain social and cultural phenomena. Compared to the documentary, which is limited by its length, this strategic adaptation has more room to maneuver to better highlight the feelings and dreams of the African community.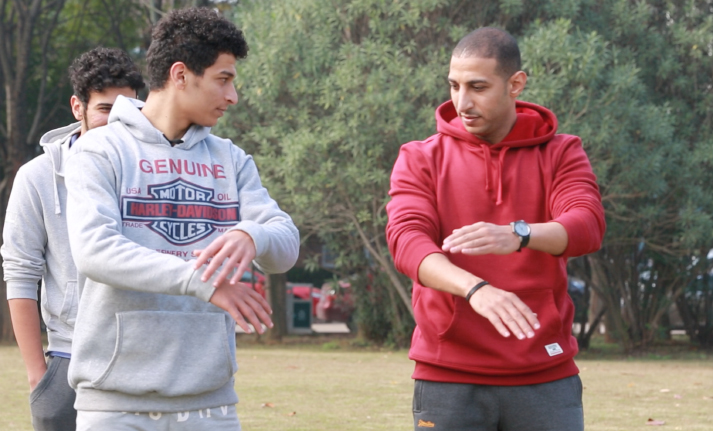 Ammar Ashour (right) and his younger brothers learn Taijiquan (COURTESY)
Intercultural communication
As the subtitle of his book indicates, the lead author hopes to counteract the stereotyping of Africa by some media. Hu Zhifeng, Vice President of the Beijing Film Academy, believes it is relevant. "The thoughts in the book will help change people's way of thinking and promote the art of cross-cultural communication," he said.
The documentary has already gained a lot of fans among the audience. Chinese viewer Sun Danyang, who lives in Hebei Province, was deeply touched by the spirit of perseverance of characters in the documentary. "The film made me identify more with the African people. I now empathize with them. The different cultures should not be appreciated according to our imagination, but really as they are."
For Somali Abduqadir Mohamed Said, a student in Zhejiang, the first of the six episodes of the documentary that is devoted to the academic training of African students accurately illustrates their reality in China. According to him, the three characters, students of advanced, intermediate and beginner levels in Chinese, are truly representative. "I see them as role models because they symbolize the future of Sino-African relations."
Through his productions, Zhang has shown sincerity and good faith to enhance mutual understanding through "empathetic" narration and communication. Li Anshan, professor emeritus of the Center for African Studies at Peking University, agrees, "Intercultural communication is the exchange between people. Zhang's book shows all aspects of the daily life of Africans in China by shaking up the stereotypes." He added that the human warmth of their stories counters the coldness of all existing theories.
(Printed Edition Title: Bridging the Gap)
Comments to lixiaoyu@chinafrica.cn