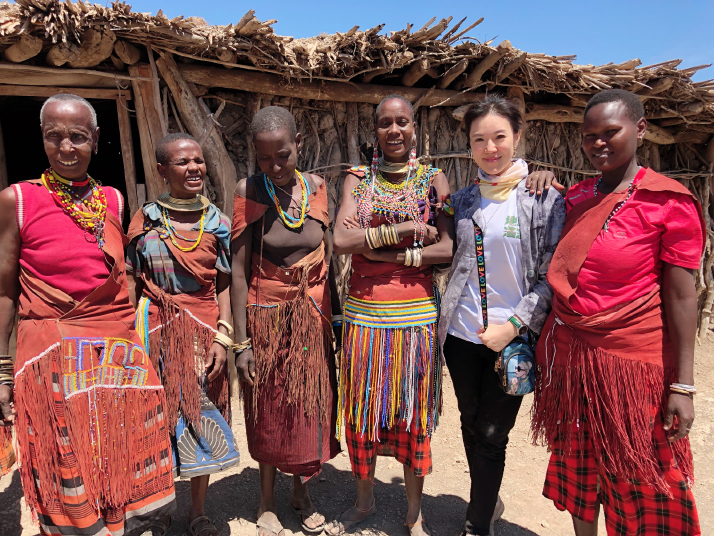 Li Kunruonan visits the Datoga tribe in Tanzania in August 2019 (COURTESY)
Migeto Zakaria Athumani, a Tanzanian student at the Minzu University of China, was overjoyed when he heard a Chinese speaker talk about East African food at the China-Africa Cultural Salon in Beijing on June 6. What deeply touched him was that the speaker knew East African customs inside out and had mastered the native language, Swahili.
For him, the fact that the speaker was willing to devote several years to learning Swahili shows respect and appreciation for the East African culture. That's what motivates the speaker, Li Kunruonan, a 39-year-old teacher of Swahili at the Communication University of China (CUC).
Moving memories
Li is passionate about African culture and has been to East and Southern Africa a dozen times for work and travel. These unique experiences were marked by numerous contacts with the local population. The kindness and hospitality she has always been shown by the Africans have created a love for the continent and its people in her heart.
She still remembers the warm welcome she received from a Tanzanian family in Dar es Salaam over a decade ago in 2008. "Their home was modestly furnished. They ate in a simple way every day. But they prepared a meal as hearty as the New Year's Eve meal when I arrived," she told ChinAfrica with emotion.
On another occasion, she went to Zanzibar to meet the poet Haji Gora Haji, who passed away in June this year, to hear his testimony on Tanzanian literature in 2015. Before their second meeting, Haji asked, despite his poor health, to meet her near her home out of concern for her safety. She was moved to tears by his friendly gestures.
According to her, language plays an undeniable role in deepening friendships between people. "When I speak with Tanzanians in Swahili, I feel closer to them. In English, communication would be less direct and therefore less natural. It would be more difficult to create a feeling of closeness between us," she said, relishing the chance to learn this un-commonly taught language in China.
In fact, Swahili is spoken by about 150 million people worldwide and serves as a national language of Kenya and Tanzania. It is also one of the working languages of the African Union.
Exchange program
Fascinated by African cultures since her childhood, Li decided to embark on this linguistic adventure in 2000 at the CUC, which is now one of the only six universities in China to offer such training. Through intensive practice under the guidance of her teacher, Li acquired strong language skills and ranked first among the 24 students in her class. In 2004, after graduating with her bachelor's degree, she became a Swahili teacher at her university.
Having never set foot on the African continent at the time, Li dreamed of exploring this "mysterious and fascinating" land.
Since the CUC encouraged students to study abroad for one or two semesters during their academic career, she wanted to take the opportunity to establish an exchange program with the University of Dar es Salaam in Tanzania. She still remembers how many emails she wrote to get the green light. She didn't hesitate to make international calls at her own expense to expedite the process.
Her efforts finally paid off. In 2008, she was able to bring her students to Tanzania for one semester of study in Swahili, the first for her department. Since then, she has returned a dozen times. She has taken advantage of these visits to develop teaching materials that were sorely needed. For example, she created a Swahili reading book for Chinese learners and two Chinese-Swahili textbooks for Kenyan learners at the Confucius Institute at the University of Nairobi. On top of that, her Chinese-Swahili-English dictionary project has also been successful.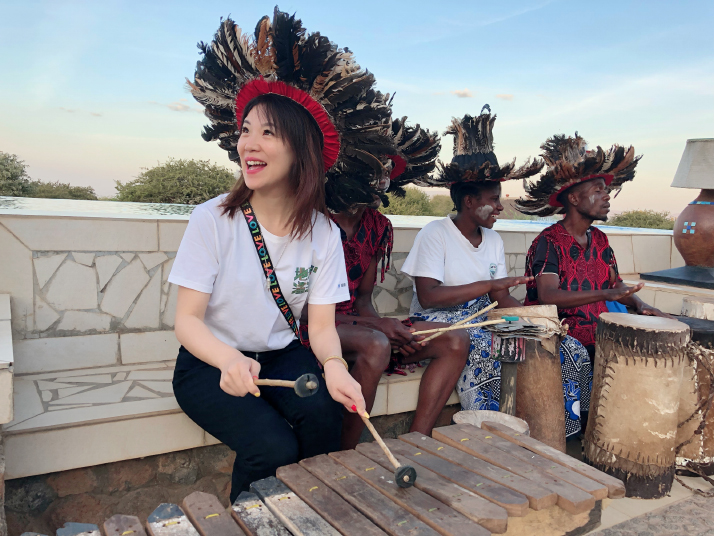 Li Kunruonan participates in a local culture promotion project with the Tanzania Tourism Board in August 2019 (COURTESY)
Field studies
In the course of writing her various books, she became fascinated with East African folk literature presented in epics, stories, legends and other forms.
In general, local researchers tend to focus on Western literature to the detriment of folk literature. She selected the idea as the research topic for her Ph.D. at Peking University, which she has been pursuing since 2014 in parallel with her teaching work.
Her research is all the more delicate because it is a novel approach to study. Almost all Chinese researchers in this field rely on existing English-language materials only.
With her expertise in Swahili, Li was able to conduct field studies and collect first-hand information. This made her the first person in China to conduct comprehensive research on this topic.
Yet there are no roses without thorns. The documents collected, many of which were written in proto-Swahili, are difficult to decipher even for local experts, let alone translating them into Chinese. She plans to bring her research to a responsible and convincing conclusion this year despite all these challenges.
For Li, Africa is not all about war, poverty and disease. She is eager to help eliminate these stereotypes that are damaging to the continent's reputation.
Last year, she began teaching a course about East African cultures that was open to all students at her university. The project was so well received that all 95 seats in the classroom were filled. During her classes, she strives to immerse the audience in the customs and traditions of East African countries, using photos, food products and costumes that she has brought back from Africa. She has taken the initiative to invite expert speakers via video links to give her students a more complete overview.
"It gives me great pleasure to see many young Chinese taking an increasing interest in Africa. I hope that my classes can serve as a cultural bridge and help people appreciate the values of traditional African cultures.
(Print Edition Title: A Passion Without Borders)
Comments to lixiaoyu@chinafrica.cn