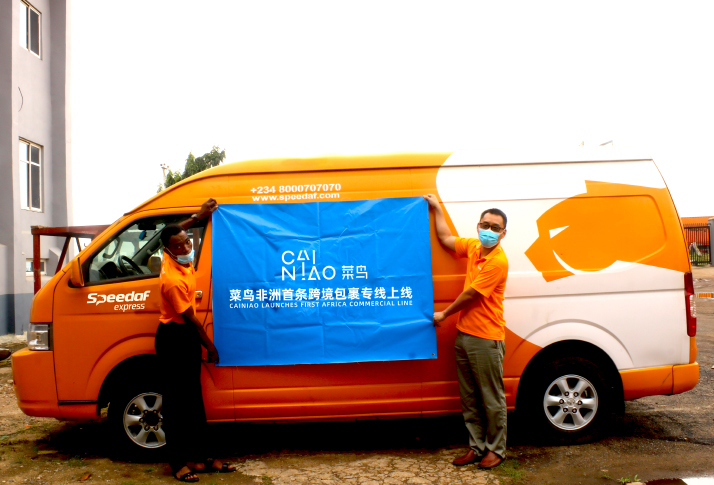 Cainiao has launched its first direct air cargo line between China and Africa (COURTESY)
Founded in 2013, Cainiao Smart Logistics Network, the Alibaba Group logistics branch, has cut the delivery time of products from China to Africa to only 20 days from 60 as has been.
The logistics firm announced on June 24 the launch of its first air cargo service between China and Africa with more than six flights per week from China's Hong Kong Special Administrative Region to Nigeria's economic center of Lagos where Cainiao's local partners take over and make the local delivery.
The company aims to reduce the time required for normal delivery service between China and Nigeria to about 20 days, instead of the 60 days or so it used to take by eliminating transit through the Middle East.
As one of Cainiao's key emerging markets, Africa has seen increasing demand from local consumers purchasing items from China. Data from the China-Africa Research Initiative shows that in 2019, Nigeria was the largest buyer of Chinese products, followed by South Africa and Egypt. The company saw a 163-percent growth in parcel volume from China-Africa cross-border e-commerce in May, compared to the same period the previous year.
"The cargo service is an expansion of Cainiao's global cross-border parcel network and demonstrates our ability to leverage partnerships to aggregate resources to mitigate disruption while enhancing overall logistics efficiency," William Xiong, Cainiao`s Chief Strategist and General Manager of Export Logistics, told ChinAfrica.
Faster delivery
Chinese products are popular in the African market, but logistics delays have always been an impediment for consumption. According to a survey recently conducted in Nigeria, customers who bought Chinese products on cross-border e-commerce platforms had to wait as long as 30 days or even more than 60 days before they received their goods.
In the past, these goods often had to stop in several countries on their way, which was extremely time-consuming in terms of customs clearance and collection of the goods.
Therefore, the new freight line reduces the time of goods transit, transportation, distribution and shipment, provides cross-border Chinese traders with services including product collection, international transportation, customs clearance and terminal distribution as well as logistics follow-up and after-sales service.
Working with local logistics partners, Cainiao offers African consumers efficient door-to-door delivery. In addition, last-mile delivery can save 5-10 days on overall lead times with goods being shipped to customers as early as the second day after customs clearance. The delivery time also takes into account the potential delay, caused by late pickup by customers at post offices.
Africa is experiencing a boom in demand from local consumers who intend to buy Chinese products such as wigs, smartphones, cosmetics, among others.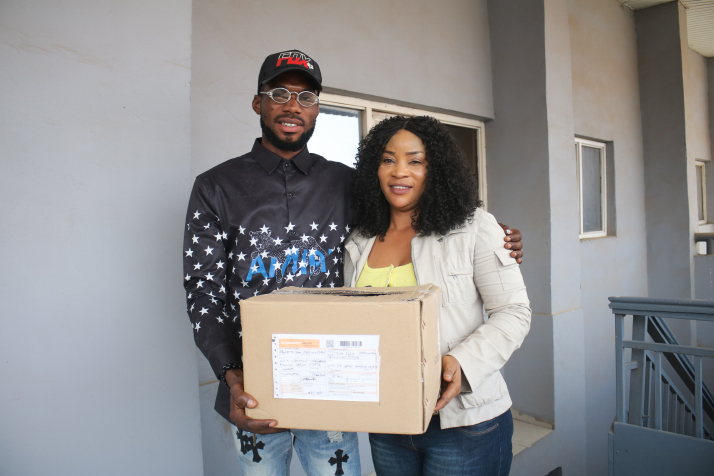 Receiving a parcel shipped through Cainiao's new freight line in Nigeria (COURTESY)
More exchanges
The launch of the air cargo line will support the increase in trade volume and the growth of e-commerce in Africa, according to insiders.
The African Continental Free Trade Area was officially launched in January this year, promising a vast market of more than 1.2 billion people and a combined GDP of $2.5 trillion.
According to data released by China's General Administration of Customs, two-way trade between China and Africa increased by nearly 27 percent in the first quarter of 2021 to over $52 billion. For the past eleven consecutive years, China has been Africa's largest trading partner, and its contribution to the continent's economic growth has exceeded 20 percent.
A direct link connecting China and the continent will help tap into an already booming African e-commerce market. Each year, more than 6 million packages are shipped between China and Africa, and the market shares of online shopping on both sides cannot be underestimated. According to Cainiao's data, of the many countries in Africa where online shopping is popular, the one that receives the most packages is Morocco, followed by Nigeria, Mauritius, South Africa and Ghana.
However, Malawi, Niger, Sierra Leone and Seychelles are slowly catching up and are currently the fastest-growing economies in Africa in terms of Chinese products consumption.
This momentum has been further encouraged by the e-WTP (Electronic World Trade Platform) project. In March 2016, Jack Ma, Founder of Alibaba Group, called on the world to establish an e-WTP with the goal of helping global SMEs (especially those in developing countries), youth and women to participate in global trade and benefit from the growth of the digital economy.
In October 2018, the Rwandan Government announced the establishment of Africa's first e-WTP project with Alibaba in Kigali. The following year, Ethiopia and Alibaba signed a contract to jointly develop the same project.
Cross-border e-commerce and two-way trade are growing rapidly, so the logistics market has huge potential, said Xiong. According to data released by Statista, a Germany-based company specializing in market and consumer data, the African e-commerce market is expected to reach $34.6 billion by 2024, growing at an average annual growth rate of over 17 percent.
"Together with our local logistics partners, we strive to provide African consumers with efficient door-to-door delivery services, with the aim of expanding full-chain delivery services to more African countries in the near future," Xiong told ChinAfrica.
Cross-border parcel delivery can now cover all parts of Nigeria and is expected to expand to other African countries such as Morocco, Ghana, Kenya, Egypt and South Africa this year.
Currently, Cainiao is one of the four new global players in cross-border logistics, surpassing USA's FedEx and Germany's DHL and ranking just behind UPS of the USA. Its cross-border parcel network covers more than 200 cities across China where the company has established more than 50 collection warehouses in major cities. In March, its average daily cross-border parcel volume exceeded 5 million pieces.
(Print Edition Title: Speed Delivery)
Comments to glj@chinafrica.cn