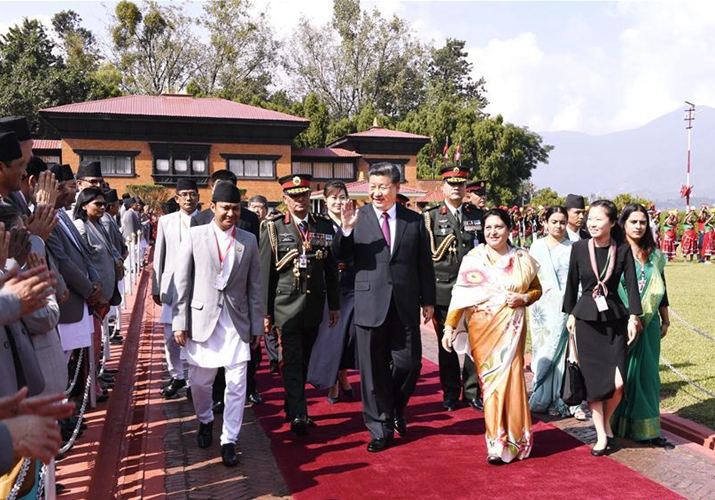 Nepali President Bidya Devi Bhandari hosts a grand farewell ceremony for Chinese President Xi Jinping at the airport in Kathmandu, Nepal, October 13, 2019 (XINHUA)
Chinese President Xi Jinping returned to Beijing in the evening on October 13 after his second informal meeting with Indian Prime Minister Narendra Modi in India and a state visit to Nepal.
Xi's entourage, including Ding Xuexiang, member of the Political Bureau of the Communist Party of China (CPC) Central Committee, member of the Secretariat of the CPC Central Committee, and Director of the General Office of the CPC Central Committee; Yang Jiechi, member of the Political Bureau of the CPC Central Committee and Director of the Office of the Foreign Affairs Commission of the CPC Central Committee; State Councilor and Foreign Minister Wang Yi; and He Lifeng, Vice Chairman of the National Committee of the Chinese People's Political Consultative Conference and head of the National Development and Reform Commission, also returned to Beijing on the same plane.
As Xi and his entourage were leaving Kathmandu in the noon on October 13 local time, people of Nepal flocked to both sides of a road leading to the airport, waving flags and playing music to see the Chinese guests off.
Nepali President Bidya Devi Bhandari hosted a grand farewell ceremony for Xi at the airport. Nepali Vice President Nanda Bahadur Pun, Prime Minister K.P. Sharma Oli, Chairman of the National Assembly Ganesh Prasad Timilsina, cabinet members and senior army generals also attended the ceremony, which featured a 21-gun salute and the playing of national anthems of China and Nepal.
Calling his visit to Nepal a "very successful" one, Xi told Bhandari that upon his arrival, he had been warmly welcomed by the Nepali Government and people.
Xi said he was convinced that the China-Nepal friendship enjoyed lasting popularity among the two peoples and will be unbreakable.
Expressing his appreciation for the arrangements made by the Nepali president, government and people, Xi said he was very satisfied with the visit that had resulted in the upgrading of bilateral relations.
He called for joint efforts to further develop the friendly relations between the two countries.
Bhandari said Xi's successful and fruitful visit has become a milestone in the history of bilateral ties.
The Nepal-China relationship has entered a new era and stepped on a new height, Bhandari said, adding that Nepal will resolutely work with China to promote friendly and good neighborly relations and strategic cooperative partnership.