Standing among the numerous aircraft at the National Museum of the U.S. Air Force, there is a window displaying 80 goblets, the majority turned upside down, that easily arouse visitors' curiosity.
The goblets represent 80 airmen who launched the first U.S. airstrike on Tokyo, Japan, in 1942. Planned and led by Lieutenant Colonel James Doolittle, the airstrike known as the Doolittle Raid, provided an important boost to U.S. morale during World War II.
"It's such an inspirational story for our military, everybody in the air force and lots of people elsewhere know the story," said Dr. Douglas Lantry, the museum's curator and historian.
The surviving pilots made a tradition of getting together once a year to celebrate their friendship and accomplishments. When one of them passed away, his goblet would be turned over and the remaining pilots would drink a toast to him, explained Lantry. The last survivor, Lieutenant Colonel Dick Cole, passed away in April. The only goblet remaining upright will soon be turned over at a ceremony sometime in the future.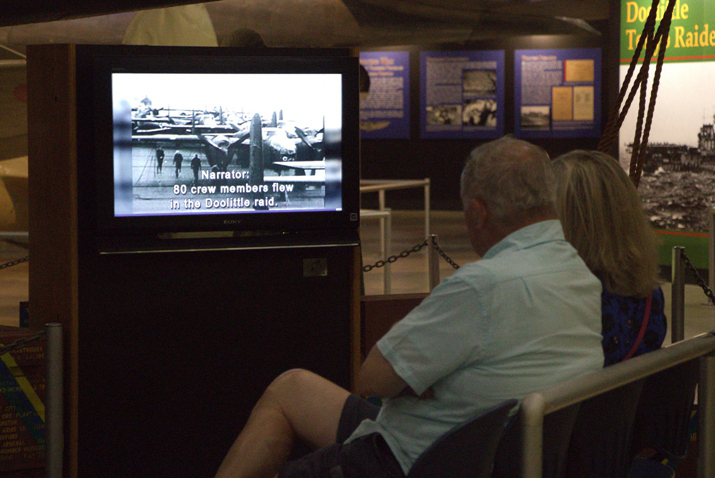 Visitors watch a video of the 1942 Doolittle Raid at the National Museum of the U.S. Air Force in Dayton, Ohio, on July 24 (ZHAO WEI)
But the story of how they survived and were rescued was once less known in the U.S., according to Lantry. "For many years, the story was about the military part. But the full story of sacrifice and cooperation is a newer part that has been emphasized in the past couple of decades," he said.
After the raid, every single one of the 16 aircraft crashed, either in the mountains or the beaches in China, with one of them ending up in the Soviet Union. All these airmen parachuted out of their aircraft in the dead of night. When they hit the ground, all they could do was hide or try to find a farm or some shelter and avoid the Japanese military, according to Lantry.
The airmen were hidden, fed, transported and given medical care and anything else they needed by the Chinese side. Of the 80, 64 made it into friendly territory and continued the fight.
"But there was a very heavy cost to pay," said Lantry. In retaliation for the help offered to the U.S. airmen, the Japanese killed an estimated 250,000 Chinese people, according to him.
"This is the legacy of sacrifice in friendship," said Lantry. "These people were risking their lives to help the airmen and yet they did it because they shared the same goals and the same courage."
This element of the story about the Chinese helping the U.S. pilots is a big part of why it's so inspirational, Lantry said, adding, "It's a worthy part of the story. It makes the story full and complete."
(Reporting from Dayton, Ohio. Video by Zhao Wei)
Copyedited by Rebeca Toledo
Comments to yushujun@bjreview.com