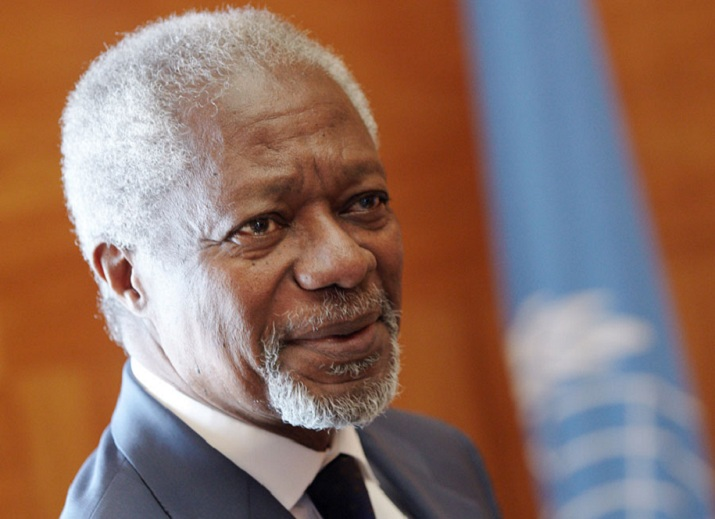 The Joint Special Envoy for Syria, Kofi Annan waits before a meeting at the United Nations European headquarters in Geneva on May 8, 2012 (AGENCIES)
He tried to prevent the Iraq war, but failed.
He tried to make multilateralism the norm in international dispute resolution, but to little avail.
He tried to reform the United Nations and give it relevance in the present-day world, but again wit limited success.
Former United Nations Secretary General Kofi Annan passed away with plenty of regrets. Yet, for his dedication to world peace, particularly what he contributed to UN peace-keeping in turbulent times, he has been lauded.
Although his stint as the UN's top diplomat had controversies, that no doubt had to do with the inherent constraints of the UN as an international political institution with limited authority over issues of critical significance. In that sense, Annan's helplessness was reminiscent of that of the UN's. Few people in that position could claim an impeccable record.
The UN, at the core of the post-war international political arrangement, is supposed to serve as the ultimate forum for the discourse and resolution of international affairs. But the consensus on which it was built decades back is seriously undermined today by divisions that have reached levels no individual politician can substantially influence or bridge.
The Donald Trump administration of the United States, with its "America First" policy, is dealing a heavy blow to the limited achievements the international community has made in institutionalizing multilateral mechanisms. While contradictions among UN Security Council members are seriously undermining the UN's capability for decision-making over key international concerns, rendering it ineffective when it is badly needed.
The outcomes are detrimental to the UN itself, raising questions about the effectiveness, if not relevance, of what should be an indispensable institution.
It is dangerous to allow the present state of affairs to persist, because that will inevitably lead to the marginalization of the UN.
The world is undergoing major developments, transformation and adjustment, but peace and security remain the call of the times, the UN must adapt so it can fulfill its intended role as a forum for multilateralism.
To prevent the UN from being sidelined, it is imperative to carry Annan's legacy forward, making the UN slimmer, and more efficient, and more heeding of its smaller members thus making it more relevant.
(China Daily August 19, 2018)