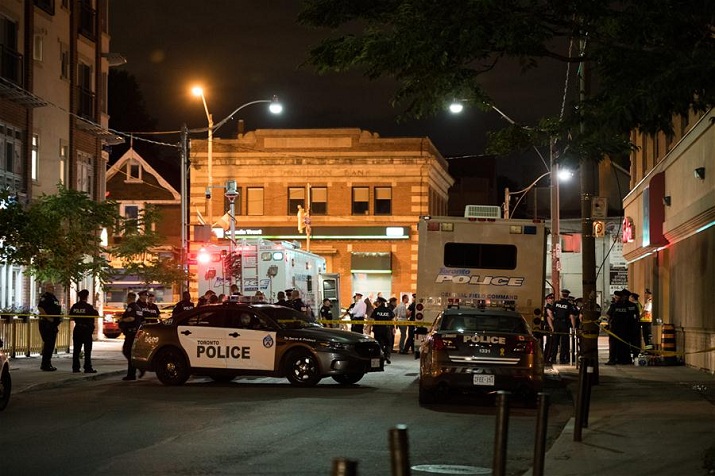 Police officers gather at the crime scene in Toronto on July 23 (XINHUA)
An 18-year-old female university student and a 10-year-old girl were killed, and 13 others injured when a gunman opened fire in a busy Toronto street at night on July 22.
The suspected shooter, a 29-year-old Toronto man, also died. Toronto police said he used a handgun to shoot and exchanged gunfire with police before he died of a gunshot wound.
Police are investigating to determine whether the suspect was killed by police or died by suicide.
The tragedy happened around 10:00 p.m. on July 22 near Danforth and Logan Avenues in Toronto's east-end Greektown neighborhood.
Canadian Prime Minister Justin Trudeau expressed condolences on Twitter, calling the shooting a "terrible tragedy."
Toronto Police Chief Mark Saunders told a press conference on July 23 that it's too early to say what motivated the shooting.
He said police don't know what prompted the attack, acknowledging that there are concerns about ongoing gun violence in Toronto.
Media reports said police are investigating whether the gunman was working alone or had accomplices in planning or carrying out the shooting, what he may have been reading or talking about online, and how he obtained his gun.
Toronto Mayor John Tory on July 23 described the shooting as "an unspeakable act" and further evidenced that stricter gun control regulations are needed in the city.
Tory, who has previously called for gun law reform, said he plans to push the provincial and federal governments for action on the issue.
"This city has a gun problem, in that guns are far too readily available to far too many people," said the mayor.
(Xinhua News Agency July 23, 2018)