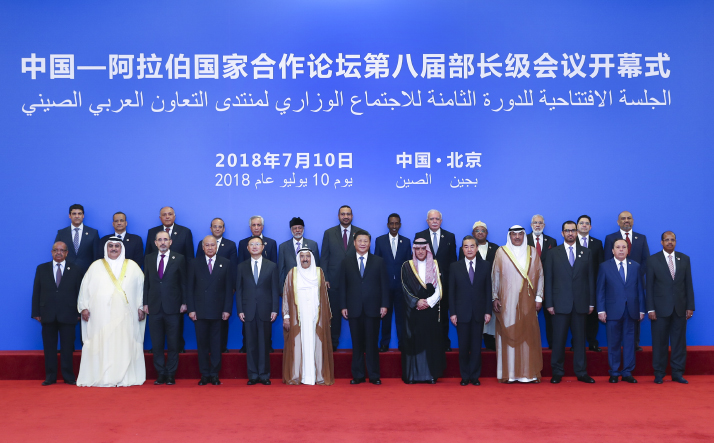 Chinese President Xi Jinping poses for a group photo with heads of delegations to the eighth ministerial meeting of the China-Arab States Cooperation Forum at the Great Hall of the People in Beijing on July 10 (XINHUA)
The eighth ministerial meeting of the China-Arab States Cooperation Forum (CASCF) was held in Beijing on July 10, focusing on cooperation and promoting peace. With the concerted efforts of China and Arab states, the forward-looking meeting achieved fruitful outcomes. The following is an edited excerpt of a news report from Xinhua News Agency on the event:
Chinese President Xi Jinping delivered a speech at the opening ceremony of the eighth ministerial meeting of the CASCF at the Great Hall of the People on July 10, where he announced China and Arab countries had agreed to establish a Sino-Arab future-oriented strategic partnership of comprehensive cooperation and common development.
Calling Arab states China's natural partners in Belt and Road cooperation, Xi said the collaboration had energized every dimension of Sino-Arab relations and propelled Sino-Arab all-round cooperation into a new phase. China stands ready to work with the Arab side to coordinate development strategies and actions, Xi said.
"We must strive to uphold peace and stability in the Middle East, safeguard fairness and justice, promote common development and learn from each other as friends do," Xi continued.
He also said that China and Arab states need to strengthen strategic trust, stay committed to dialogue and consultation, uphold the principle of sovereignty, champion inclusive reconciliation and fight terrorism. The meeting gathered nearly 300 attendees from China and Arab League member states.
In terms of helping each other realize dreams of rejuvenation, China and Arab states must stay focused on connectivity, energy cooperation needs driven by both oil and gas and low-carbon energy, and financial cooperation in tandem with collaboration on new and high technology, Xi stressed, announcing that China will set up a China-Arab states bank consortium.
The Chinese president also proposed the two sides achieve win-win outcomes, noting that China is committed to deepening reforms in all respects, continuing its fundamental policy of opening up and pursuing development with its door wide open.
"China looks forward to the participation of Arab countries in the first China International Import Expo in Shanghai this November," he said.
With the aim to promote inclusiveness and mutual learning, Xi revealed a series of policies to enhance mutual understanding between the Chinese and Arab people and the official launch of a China-Arab press center.
As important players in the international political arena, China and Arab states should make concerted efforts to find a new path toward full rejuvenation of the Middle East, Xi said, stressing the importance of respecting the different national circumstances of regional countries and their independent choices, and upholding the principles of treating each other as equals and seeking common ground while setting aside differences.
"We must together pursue common, comprehensive, cooperative and sustainable security," Xi said.
He also expressed his hope that all relevant parties would abide by international consensus and handle issues related to Palestine in an impartial way. "It is imperative to build on the two-state solution and the Arab Peace Initiative, and bring the Palestine-Israel peace talks out of an impasse as soon as possible," Xi said.
He also called on the two sides to work tirelessly toward the goals of rejuvenating the two great cultures and building a China-Arab community with converging interests and a shared future.
After Xi's speech, Kuwaiti Emir Sheikh Sabah Al-Ahmad Al-Jaber Al-Sabah, Saudi Foreign Minister Adel bin Ahmed Al-Jubeir and Arab League Secretary General Ahmed Aboul-Gheit delivered speeches.
Hailing their traditional friendship and cooperation potential, they said Arab states would collectively participate in the Belt and Road Initiative, and expressed agreement with Xi's notion of building a community with a shared future for China and Arab states, as well as for mankind.
Calling China a trustworthy partner, they spoke highly of China's adherence to the purposes and principles of the UN Charter, and its important role in international affairs.
As the Middle East is confronted with severe challenges in peace and stability, the Arab side expected to strengthen communication and coordination with China to jointly promote peace and stability as well as development and prosperity in the region.
Eighth Ministerial Meeting of the CASCF Outcomes
At the meeting, the two sides signed three documents: the Beijing Declaration; the implementation of the plan for CASCF events in 2018-20; and an action declaration for joint implementation of the Belt and Road Initiative, presenting a clear, systematic and complete blueprint for the development of China-Arab states relations in the near future.
The Beijing Declaration expounds on the contents of the China-Arab States strategic partnership; reaffirms support for each other's core and major interests; summarizes shared proposals on such international and regional issues as the Palestinian issue, counter-terrorism and UN Security Council reform; and defines the direction for the development of China-Arab states relations and joint cooperation.
The implementation of the plan for CASCF events in 2018-20 stipulates new projects and new measures for cooperation in nearly 20 areas, including trade, economy, industry, energy and culture; and gives full play to activities such as Center for China and Arab States Reform and Development Studies workshops, the BeiDou Forum, energy cooperation conventions, entrepreneur conventions and art festivals.
The action declaration for joint implementation of the Belt and Road Initiative highlights the leading role of the initiative and aims to realize connectivity in policy, infrastructure, trade and capital. It also seeks to bring people closer under the Silk Road spirit of peace and cooperation, openness and inclusivity, mutual benefit and win-win outcomes, and mutual learning. The two sides also agreed on the key areas and priorities where actions and measures will be taken to further promote the Belt and Road Initiative.
(Source: Ministry of Foreign Affairs)
Copyedited by Rebeca Toledo
Comments to yulintao@bjreview.com