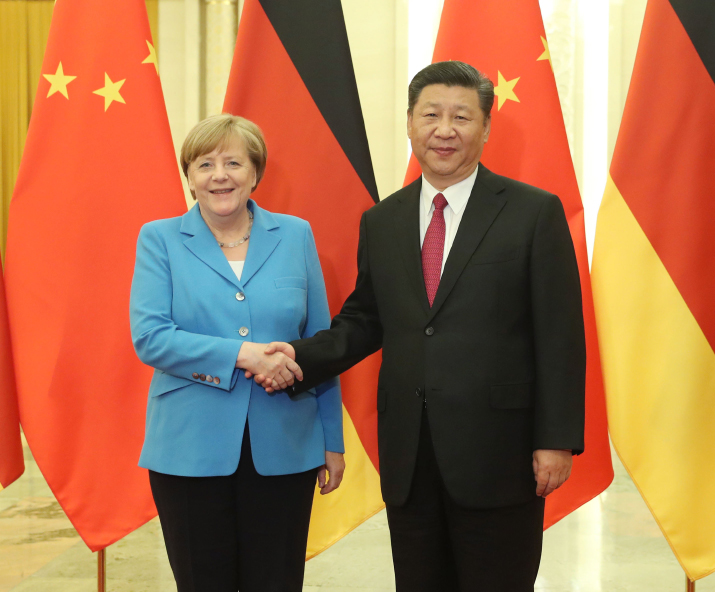 Chinese President Xi Jinping meets with visiting German Chancellor Angela Merkel at the Great Hall of the People in Beijing on May 24 (XINHUA)
German Chancellor Angela Merkel, the most frequent official Western guest to China, has visited China 11 times in her 12 years in office, which has earned her a reputation as one of the world leaders who know China best.
Merkel's most recent trip to China on May 24-25 was her first since the start of her fourth term earlier this year as she aims to deepen bilateral trade and economic cooperation with the world's second largest economy, and to safeguard a multilateral, rules-based system of free trade in a world of growing uncertainty.
A symbolic choice
During her previous 10 trips, Merkel visited an array of Chinese cities, including Beijing, Nanjing, Tianjin and Hefei. This time, she chose the southern city of Shenzhen in Guangdong Province as the first leg of her journey to China before arriving in Beijing.
As the innovation hub of China, Shenzhen is home to Tencent, Huawei, BYD Auto and several other tech giants. According to Li Chao, a researcher assistant with the China Institutes of Contemporary International Relations, Merkel's visit to Shenzhen evinced her interest in the development of China's technology industry and also indicated that emerging sectors, such as artificial intelligence, new-energy vehicles and driverless technology, are to become key fields of cooperation between the two countries in the future.
Yang Xiepu, the Director of China-Germany Cooperation Center of the Chinese Academy of Social Sciences, told Beijing Review that future cooperation in innovation would provide fresh impetus to bilateral economic ties and could help shift the economic relationship between the two countries beyond what was once a simple buyer-seller model.
Shenzhen also stands at the forefront of China's economic restructuring. Merkel's visit showed Germany's willingness to further participate in China's modernization drive, according to Yang. China has reiterated its commitment to expanding reform and opening up, with certain steps already underway in the form of import tariff cuts for cars and components that are creating new opportunities for foreign companies in countries like Germany.
Benefits and doubts
Economic and trade cooperation is the ballast of Sino-German ties, with China being the largest trading partner of Germany since 2016. Throughout this time Germany has also been among China's five largest trading partners, with bilateral trade volume hitting $168.1 billion in 2017, up by 11 percent year on year.
Trade between China and Germany is complementary and balanced, according to Li. Besides increasing trade volume, bilateral economic cooperation has been evolving from the low-end manufacturing industry to advanced technology, he added. Chinese investment in Germany reached $10.8 billion in the first half of 2016, almost twice the total over the previous decade. And unlike the past, China's current investment mostly focuses on high-end sectors such as technology, business and financial services.
However, with more Chinese capital entering the country, suspicion and mistrust have begun to emerge in Germany. According to a Rheinische Post report on May 5, the Federal Ministry for Economic Affairs and Energy plans to tighten restrictions on Chinese investment, requiring scrutiny of any transaction in which a Chinese investor attempts to purchase a stake worth over 20 or 15 percent in a German company's capital, a stricter threshold than the current 25-percent standard.
"Such problems can be partly ascribed to a lack of understanding between the two countries due to the huge differences in their political and economic systems, culture and history," said Yang.
Meanwhile, some in Germany are not yet accustomed to the rapid emergence of China as a major economy and the increasing exchanges between the two countries. According to Yang, both parties should address these problems with a calm and objective attitude necessary for increasing communications.
Li also stressed that dialogue and cooperation are the best ways to tackle mistrust and suspicion. Considering the huge volume of bilateral trade, which accounts for a third of that between China and the European Union (EU), healthy trade and economic ties remain the defining feature of Sino-German relations.
As part of efforts to tackle suspicion, Li suggested that the two countries could work together to build pilot programs which could serve as models to dispel German doubts. He also pointed out that Chinese enterprises could make more effort to understand local regulations and laws, so as to better facilitate cooperation. Germany should also treat Chinese businesses as equal and trustworthy partners, and offer a fairer environment for Chinese investment in Germany.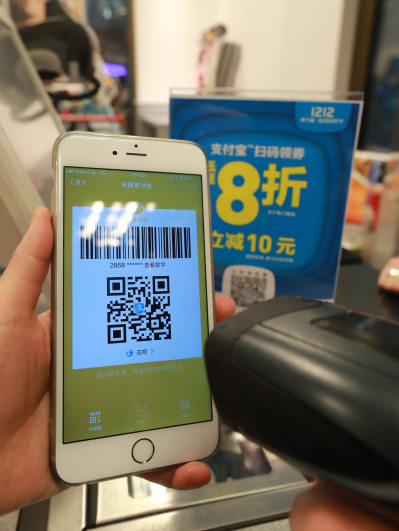 A customer uses a QR code to purchase goods via Alipay at a Rossmann supermarket in Frankfurt, Germany, on December 11, 2017. Over 2,000 Rossmann supermarkets across Germany now allow cusotmers to check out Alipay (XINHUA)
United front
Prior to her departure from Berlin, Merkel recorded a podcast setting out expectations for her visit to China, emphasizing the importance of upholding multilateralism. Given current uncertainties around the world, China and Germany face similar obstacles in trade and other critical areas, underlining the importance of bilateral dialogue and exchange toward promoting multilateralism.
Germany's relations with its formerly close ally, the United States, have frayed as a result of the White House's trade protectionism and unilateralism on critical global issues, Li told Beijing Review.
Besides criticizing Germany for taking advantage of the United States by spending less on NATO, Washington has also threatened to introduce additional tariffs on European steel, aluminum and auto exports. In unilaterally abandoning the Iran nuclear deal, the United States disregarded the security concerns of its Atlantic allies. These moves have eroded the relationship between the EU and the United States, and deeply affected Germany's international outlook.
According to Li, the long-term stability of Sino-German relations was high on Merkel's agenda during her recent visit to China.
Both countries share common ground on many issues such as globalization, trade and climate change, which can provide the basis for deepening cooperation.
As two of the world's biggest exporters, China and Germany are the guardians of free trade. Defending the World Trade Organization system is the common goal of both parties, said Yang. China has vowed to join the EU in advocating multilateralism and safeguarding the global economic system to liberalize and facilitate trade and investment.
Copyedited by Laurence Coulton
Comments to wenqing@bjreview.com