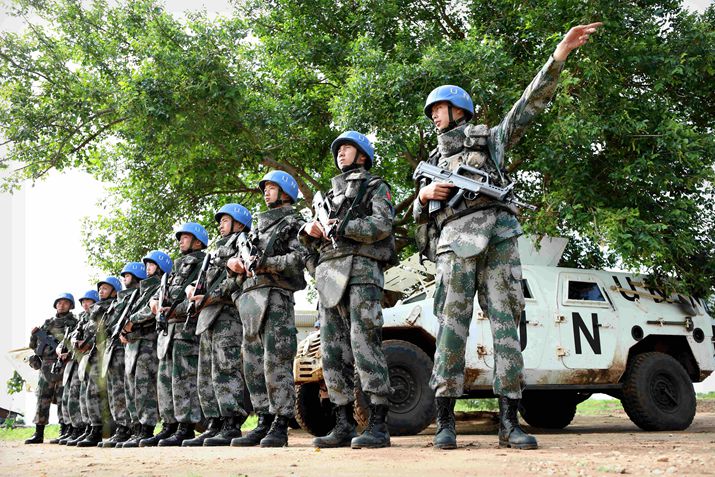 Chinese peacekeepers on patrol in Juba, capital of South Sudan, on April 29, 2018 (XINHUA)
Panelists agreed that UN reform is necessary but needs to address the new challenges of a changing world at a forum titled, 21st-Century UN Reform: Advancing Peace and Security. The event was hosted by the Center for Global Affairs of the New York University (NYU) School of Professional Studies in New York City, on May 3.
"Times change and global challenges continue to change, and the organization needs to try to adjust itself in order to deliver its value more effectively," said Tamrat Samuel, UN Assistant Secretary-General, adding that reform was natural and necessary.
Paige Arthur, Deputy Director of the NYU Center on International Cooperation, put the UN reform in the context of three factors. First, the changing nature of conflict itself, which is the main focus; second, the shifting role of peace operations because of the changing nature of conflicts; and third, the shifting ground of geopolitics reflected in the different divisions that have effectively emerged in a multi-polar world.
Arthur cited the UN and World Bank report, Pathways for Peace, published in March, saying that the world the UN is now facing is extremely challenging. Civil wars are messy and very complex and are resistant to traditional solutions. There are also stronger regional and transnational dimensions to conflicts, both in terms of illicit flows of weapons and drugs and migration. Another issue emphasized in the report, according to Arthur, is the mobilization of grievances in driving conflicts and the need for the UN to address these issues.
"Piecemeal approaches or just security-focused approaches simply don't work in resolving these kinds of conflicts. You really need more integrated approaches and a more integrated UN," said Arthur. "You also need integrated responses in terms of partnerships, and stronger partnerships outside the UN as well."Samuel said there is greater recognition among UN member states that its three main pillars—human rights, development, and peace and security—are very much integrated, although there isn't a complete unity of views.
UN Secretary-General António Guterres reiterated the four reform goals for its peace and security pillar in a report to the UN General Assembly in March. They are:
•Prioritizing prevention and sustaining peace;
•Enhancing the effectiveness and coherence of peacekeeping operations and special political missions;
•Addressing fragmentation and moving away from the emphasis on working through separate departments and moving toward a single, integrated peace and security pillar with two closely linked departments; and
•Aligning the peace and security pillar more closely with the development and human rights pillars in order to create greater coherence and cross-pillar coordination
As for reform challenges, Samuel indicated that the first goal makes prevention of conflicts a priority, saying that although every member state agrees that prevention is better than dealing with the aftermath of conflict, it's "easier said than done."
"Prevention is in many ways much more difficult because there is resistance to any kind of international intervention, particularly when it's an internal conflict," he said.
The second challenge is resources, said Samuel. What the UN spends on peacekeeping missions is bloated, much bigger than the regular budget, and will only continue to grow. In addition, the peacekeeping budget is completely separate from the regular UN budget.
Arthur agreed that resource challenges are critical, highlighting the fact that there is not just a need for more resources and more strategic allocation of resources, but also a need to streamline the budget, since having different budgets causes many complications.
During the discussion, Arthur also mentioned that China, as one of the five permanent members of the UN Security Council, has increased its level of peacekeeping forces and its contribution to the peacekeeping budget while the U.S. is cutting its share.
Chinese President Xi Jinping introduced a series of initiatives during a summit celebrating the 70th anniversary of the UN in 2015, which included building a standby peacekeeping force of 8,000 troops and $100 million in military aid to the African Union.
At a Security Council debate on UN peacekeeping reform in September 2017, Chinese Foreign Minister Wang Yi said China supports the UN in its efforts to make reasonable and necessary reforms on the basis of broad consensus of its members.
(Reporting from New York)
Copyedited by Rebeca Toledo
Comments to yushujun@bjreview.com