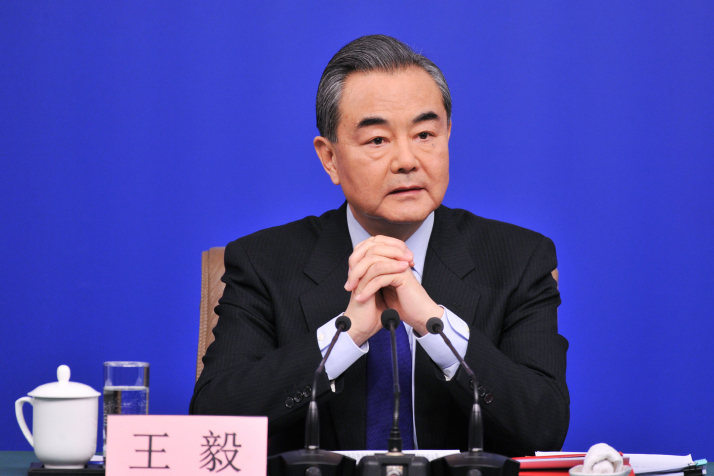 Foreign Minister Wang Yi attends a press conference on China's foreign policy and international relations on March 8 in Beijing (Wei Yao)
On March 8, Foreign Minister Wang Yi responded to questions on China's foreign policy and international relations at a press conference on the sidelines of the First Session of the 13th National People's Congress. Edited excerpts of his answers follow:
Major-country diplomacy
In his report to the 19th Party Congress, General Secretary of the Communist Party of China (CPC) Central Committee Xi Jinping emphasized that the CPC will strive for both the well-being of the Chinese people and human progress. To make new and greater contributions to humanity is our Party's abiding mission.
A committed and responsible China will adopt a more visionary foreign policy. While securing an enabling environment for its own development, China will be concerned with the welfare of humanity and partner with other countries to build a community with a shared future. Our vision is to forge a new type of international relations that features mutual respect, fairness, justice and win-win cooperation and to build an open, inclusive, clean and beautiful world that enjoys lasting peace, universal security and common prosperity.
We will also have a broader mind. No matter what stage of development the country reaches, China will stand for the equality of all countries, big or small, and will respect different civilizations and systems. China will put the greater good before its self-interest, and oppose the practice of the strong bullying the weak. China will stand up for small and weak countries, and help less developed countries achieve better growth.
We will also play a more active role. China will strive to meet growing international expectations and approach global governance on the basis of extensive consultation, joint contribution and shared benefits. China will be more active in helping to reform and improve the global governance system, find more constructive ways to settle regional and international issues by political means, and forge more effective partnerships to address various global challenges.
An ancient Chinese classic teaches that "when justice prevails, the world will be one community." We are determined to uphold our country's sovereignty and dignity. We are determined to be on the side of international justice and human progress. We are determined to build world peace, contribute to global prosperity and uphold the international order.
Head-of-state diplomacy
Head-of-state diplomacy, as the highest form of state-to-state interaction, plays a pivotal role and is of irreplaceable strategic value. Since 2012, President Xi Jinping has been the chief architect of China's distinctive major-country diplomacy. He was personally involved in the planning and conduct of head-of-state diplomacy, which by all accounts has been brilliant. To date, President Xi has visited 57 countries in different parts of the world and received more than 110 foreign heads of state. These important visits and meetings go a long way toward deepening the world's understanding of China, enhancing China's profile and influence, and facilitating the solution of many global problems. President Xi's leadership and charisma has earned him­—and his country—many friends among foreign leaders who represent a diverse range of cultures and social systems.
In the coming year, President Xi will host four diplomatic events, and he will also attend the BRICS Summit in South Africa, the APEC Economic Leaders' Meeting in Papua New Guinea and the G20 Summit in Argentina. We believe that President Xi's personal diplomacy will make a positive and responsible contribution to the well-being of his people, the interests of China and the welfare of the world. It will write a new chapter of major-country diplomacy with Chinese characteristics in the new era.
Belt and Road Initiative
The Belt and Road is a transparent initiative launched by China. It follows the "golden rule" of extensive consultation, joint contribution and shared benefits. Belt and Road cooperation aims to be equal-footed, inclusive and beneficial to all. The planning and implementation of Belt and Road projects have been discussed by the participants in the open. No country is dominating the process; all parties have an equal say. There is no back-room deal; everything is transparent. There is no "winner takes all"; every project delivers win-win results.
As a global public good, the Belt and Road Initiative of course abides by international rules. As a platform for international cooperation, it naturally follows market principles. The joint communiqué of last year's forum committed to this and emphasized the importance of the economic, social, fiscal and environmental sustainability of projects. We sincerely ask for ideas from all parties, so that we will together make a success of the Belt and Road Initiative. Our goal is not only to strengthen the physical connectivity of infrastructure, but also to improve the institutional connectivity of policies, rules and standards. Belt and Road projects must be high-standard as well as results-oriented, high-quality as well as economically viable and beneficial to the world as well as to China.
Contribution to global development
For decades, the West has made all kinds of assessments and predictions about China. To some Westerners, China is either "collapsing" or "threatening." As China continues to grow, the first theory has collapsed and become an international laughing stock. Meanwhile, proponents of the second theory have conjured up new versions, which find dwindling support because facts speak louder than words.
What are the facts? For years, China has been the leading engine of global growth. At more than 30 percent, China's annual contribution is bigger than that of America, Japan and the eurozone combined. China accounts for more than 70 percent of poverty reduction worldwide, a marvel of human history. As the largest source of peacekeeping personnel among the permanent members of the Security Council and the second largest contributor to the UN peacekeeping budget, China is bearing a weighty responsibility for maintaining world peace. Not to mention that in the last five years, with its Belt and Road Initiative and other major proposals, China has come to the fore in championing global governance, free trade and an open global economy.
From these facts, those who do not have bias or practice double standards will see in China not a threat, but plenty of opportunities. It's time the "China threat theory" was laid to rest.
China-Russia partnership
We have great confidence in the future of China-Russia relations. Our confidence comes from the strong friendship and trust between our presidents, which is fundamental to the further growth of our relationship. It also comes from the deepening of our cooperation in so many fields, our firm support for each other's core interests, our close coordination on international affairs and the growing exchanges between our two societies. In short, the China-Russia comprehensive strategic partnership of coordination is as unshakable as a mountain. I ask you to convey this to our friends in Russia: the sky is the limit for Sino-Russian cooperation, and we must continue to make the relationship even better than it already is.
China-U.S. trade
China and the U.S. agree that we share broad interests and important responsibilities for global peace, stability and prosperity. Our two countries are to carry out broad cooperation on the basis of mutual benefit, manage our differences on the basis of mutual respect, deepen mutual understanding and friendship between our people, and work together to address major regional and global challenges. We ought to work for the sustained, healthy and steady growth of our relations.
As for our trade frictions, history teaches that a trade war is never the right solution. In a globalized world, it is particularly unhelpful, as it will harm the initiator as well as the target country. In the event of a trade war, China will make a justified and necessary response. The bottom line is, as the world's largest economies, China's and America's interests are deeply entwined. We must bear in mind not just the interests of our own people, but also the well-being of the world. When all is said and done, we hope China and America will have a calm and constructive dialogue as equals, and find a win-win solution.
China-Africa cooperation
In our new endeavor to build a global community with a shared future, Africa is an indispensable partner. China welcomes our African brothers and sisters to continue their ride on China's fast train of development. The Forum on China-Africa Cooperation summit scheduled for September will bring together Chinese and African leaders again, 12 years after their last gathering in Beijing. They will discuss China-Africa cooperation in the new era and focus on jointly advancing the Belt and Road Initiative and turning China and Africa into a community with a shared future. By aligning the Belt and Road Initiative with the UN's 2030 Agenda, the AU's Agenda 2063 and the development strategies of individual African countries, we will give wings to China-Africa cooperation to help it soar to greater heights.
China-EU ties
Global governance has emerged as a new dimension of such cooperation, China and the EU have a joint responsibility to safeguard the global free trade system, and negotiation needs to be expedited to conclude a China-EU investment agreement.
There are also some disagreements between China and the EU. But both sides have realized the need to put oneself in the other's shoes and to be more open, tolerant and understanding of each other. China has always appreciated the importance of Europe. We support European integration and have confidence in Europe's future. Given all the uncertainty around us, China is ready to partner with Europe to provide more stability and make the world a better place.
No outdated mindset
It seems there is never a shortage of headline-grabbing ideas. They are like the sea foam in the Pacific or Indian Ocean: they may get some attention, but soon will dissipate. Contrary to the claim made by some academics and media outlets that the "Indo-Pacific strategy" [pursued by the U.S., Japan, India and Australia] aims to contain China, the four countries' official position is that it targets no one. I hope they mean what they say and their action will match their rhetoric. Nowadays, stoking a new Cold War is out of sync with the times and inciting confrontation will find no market.
Copyedited by Laurence Coulton
Comments to yulintao@bjreview.com