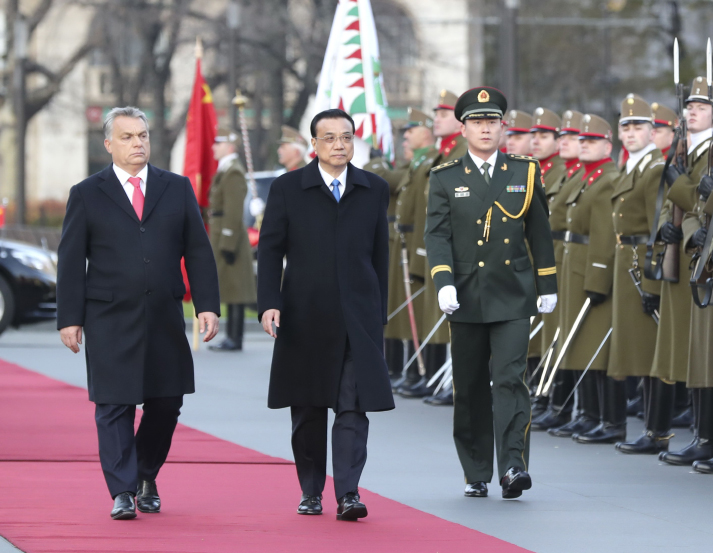 Hungarian Prime Minister Viktor Orban holds a welcome ceremony for Chinese Premier Li Keqiang before their talks in Budapest, Hungary, on November 28 (XINHUA)
Leaders from China and 16 Central and Eastern European countries (CEEC) launched the 16+1 cooperation mechanism five years ago in Warsaw, Poland. Over the years, along with the constant advancement of the China-proposed Belt and Road Initiative, cooperation between China and CEEC has maintained sound momentum and made remarkable headway.
Proposed by Chinese President Xi Jinping in 2013, the Belt and Road Initiative aims to build trade and infrastructure networks connecting Asia with Europe and Africa both on and beyond the ancient Silk Road routes. It comprises the Silk Road Economic Belt and the 21st-Century Maritime Silk Road.
Now the 16+1 cooperation mechanism and the Belt and Road Initiative are gradually forming two pillars of China-CEEC cooperation, and the two sides' bilateral pragmatic collaboration is speeding up.
In late November, the Sixth Summit of Heads of Government of China and CEEC was held in Budapest, Hungary. The latest meeting witnessed the signing of dozens of fresh cooperation deals between the two sides, including memorandums of understanding between China and Estonia, Lithuania and Slovenia on promoting the Belt and Road Initiative, which means that all 16 CEEC nations have agreed to align with the initiative.
The cooperation deals, for which both sides have made great endeavors, have laid foundations to swiftly carry out pragmatic cooperation in relevant fields, said Liu Zuokui, a researcher on CEEC studies at the Institute of European Studies, Chinese Academy of Social Sciences.
Growing ties
In the past five years, China-CEEC cooperation has already reaped remarkable early harvests. The two sides have established more than 20 mechanisms for exchanges in the fields of trade and economy, agriculture, healthcare, tourism and so on. They also implemented over 200 concrete measures to deepen their cooperation.
According to China's Ministry of Commerce, Chinese investment in CEEC is now over $9 billion, while CEEC has invested $1.4 billion in China. And statistics from China's General Administration of Customs show that bilateral trade between China and CEEC hit $58.6 billion last year, a year-on-year increase of 4.3 percent, marking a remarkable boost, while China's trade with Europe and the world as a whole dipped in the same period. The China-CEEC volume increased to $49.1 billion in the first nine months of this year, up by 14.1 percent compared with the same period last year. China's imports from CEEC rose 21.9 percent on an annual basis in the first three quarters of this year.
In Poland, a large LED lamp factory with $100 million of investment from China's Hongbo Group is now well in operation. Also in the country, after acquiring the machinery unit of Poland's Huta Stalowa Wola five years ago, China's Liugong Group remade it into a profitable joint venture that has paid about $68 million of taxes and dues during the past four years in addition to creating jobs.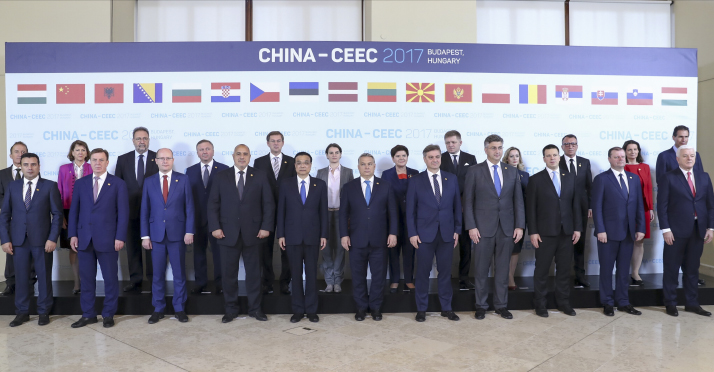 Leaders participating in the sixth meeting of heads of government of China and CEEC have a group photo taken on November 27 in Budapest, Hungary (XINHUA)
Eight months after Chinese HeSteel Group poured investment into the Smederevo Steel Mill, a renowned Serbian plant, the facility finally started to make profit by the end of 2016 after seven years of losses, and is now set to become one of the most competitive steel mills in Europe.
In terms of cooperation in infrastructure improvement between the two sides, there are a number of flagship projects underway, including the Hungary-Serbia high-speed railway, the China-Serbia Friendship Bridge across the Danube in Belgrade, and highway projects in Macedonia and Montenegro. The first phase of Expressway E763 in Serbia, built by a Chinese company, is expected to be completed by the end of the year.
In the financial sector, China established a $10-billion China-CEEC Investment Cooperation Fund in 2016, which has already invested in 12 projects in five CEEC nations. Hungary, Lithuania and Poland, meanwhile, have participated in China's bond market.
At a think tank conference held in November in Budapest to evaluate and discuss the 16+1 cooperation, Chinese Ambassador to Hungary Duan Jielong hailed the current ties between China and CEEC as being at their best in history, adding that the two sides have made great achievements in policy coordination, economic cooperation, cultural exchanges and many more fields in the past five years.
Liu, who has been studying the 16+1 cooperation mechanism since it was first established, said that to promote greater implementation of the Belt and Road Initiative in the Central and Eastern European region, China and CEEC nations need to explore new areas of cooperation under the initiative.
According to Liu, CEEC nations are promising emerging markets, but at the same time, their market sizes are relatively small, with comparatively low demand.
Based on current circumstances, Liu suggested the two sides focus their cooperation more on agricultural products, e-commerce, tourism and technology.
Chen Yurong, Director of the Department for European-Central Asian Studies at the China Institute of International Studies (CIIS), echoed Liu, saying that the two sides have achieved much progress in infrastructure construction and production capacity cooperation in the past five years; and while maintaining the cooperation momentum in these fields, they also need to tap the potential of their collaboration in e-commerce and high technology.
Mutually-needed cooperation
When addressing the sixth leaders' meeting in Budapest, Chinese Premier Li Keqiang proposed five initiatives to further advance the 16+1 cooperation.
First, Premier Li called on the two sides to expand the scale of economic and trade relations and boost trade and investment liberalization and facilitation. Second, he encouraged the countries to speed up major projects on connectivity, promoting links via land, sea, air and the Internet. Third, the premier suggested that the two sides explore cooperation modes such as industrial parks in the areas of production capacity, energy, logistics and agriculture. Fourth, Premier Li called for strong financial support for the 16+1 cooperation. Last, he called on the countries to conduct more cultural and people-to-people exchanges, enhance cooperation on tourism, and start cooperation between young people in the areas of traditional Chinese medicine, sports and protection of women and children.
Stressing that the 16+1 cooperation does not mean simply to add up the 16 bilateral ties, Premier Li said he believes that with the joint efforts of the 17 countries, the 16+1 cooperation will yield more results and reach a new level.
"The 16+1 cooperation is not a geopolitical tool, but an incubator for pragmatic trans-regional cooperation. The cooperation is conducive to the balanced development of China-EU relations," said Premier Li.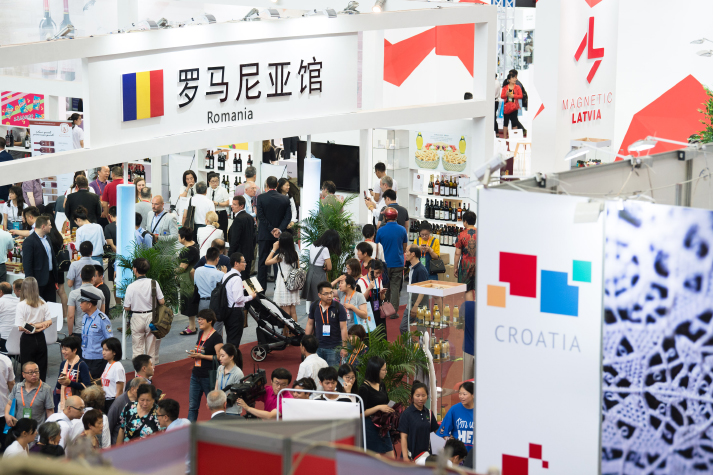 Products from CEEC nations are displayed at the Third China-CEEC Investment and Trade Expo in Ningbo, east China's Zhejiang Province, on June 9 (XINHUA)
CEEC leaders agreed with Li's initiatives, vowing to make full use of the platform to promote 16+1 cooperation, implement their consensus on cooperation, explore new potential and strengthen practical cooperation.
As the chair of this year's China-CEEC meeting, Hungarian Prime Minister Viktor Orban said the 16 CEEC nations take cooperation with China as an opportunity and will participate in the Belt and Road Initiative. He said a better environment will be created for Chinese enterprises to make investments and to promote long-term development of China-CEEC exchanges.
Orban said that the CEEC region is in need of external technological and financial resources, including from China, to grow. "European resources are in themselves insufficient. For this reason, we welcome the fact that as part of the new world economic order, China sees this region as one in whose progress and development it wants to be present," said the Hungarian prime minister.
In an article recently published in the People's Daily overseas edition, Zhang Jian, Director of the Institute of European Studies under the China Institutes of Contemporary International Relations, wrote that China's development achievement in recent decades has triggered strong interest in CEEC nations in cooperating with China, while China also sees the CEEC region as an important part of the Belt and Road Initiative. Thus, there is still huge potential for China-CEEC cooperation in the future.
Shen Dingli, Deputy Dean of Fudan University's Institute of International Studies, stated that China and CEEC enjoy a sound foundation for cooperation due to their economic complementarity. Now, the 16+1 cooperation mechanism has developed into a new stage and will surely scale new heights in the near future.
A role model for China-Europe relations
In a signed article published in the newspaper The Hungarian Times before attending the sixth China-CEEC leaders' meeting, Premier Li wrote that "being a part of China-Europe cooperation, the 16+1 cooperation has not only boosted the development of CEEC themselves, but also promoted a balanced development for Europe as a whole, which is conducive to the European integration process."
Among the 16 CEEC nations, 11 are EU members, while some others are planning to join the bloc. As the 16+1 cooperation mechanism flourishes, some EU politicians have begun to show anxiety and viewed China's upgrading relations with CEEC as buying political influence from these countries and undermining EU unity.
Chen of the CIIS said that the 16+1 cooperation mechanism is not a zero-sum game political group, and the mutually beneficial character of the 16+1 cooperation shows it is a role model for China-Europe economic and trade cooperation.
"After the international financial crisis, the global economy is still weak. In the face of this plight, it is reasonable for EU members to look for new cooperation partners and development opportunities outside of the bloc," Chen said.
Actually, the CEEC region is commonly seen as a new potential growth point for Europe. Against the backdrop of financial problems and growing bottlenecks in Europe, the 16+1 mechanism has injected momentum into the development of the region, which will also boost the development of Europe.
In the view of Ambassador Duan, instead of conflicting with China-EU relations, 16+1 cooperation actually supplements China-EU relations and gives a specific drive to China-EU cooperation.
Copyedited by Chris Surtees
Comments to yulintao@bjreview.com