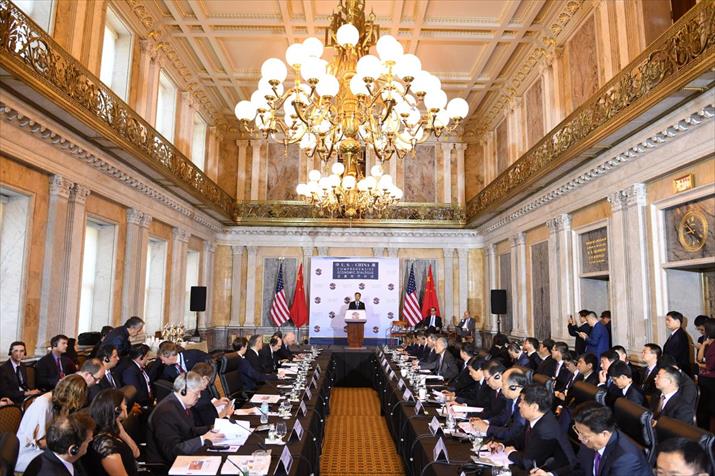 The first China-U.S. Comprehensive Economic Dialogue is held in Washington on July 19. Chinese Vice Premier Wang Yang who co-chaired the meeting called for cooperation between China and the U.S. instead of confrontation to address their differences (XINHUA)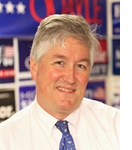 U.S. President Donald Trump's 12-day tour of Asia is the most consequential foreign trip of his presidency. Given the length of the trip—the longest visit to Asia by a U.S. president in 25 years—perhaps Trump and his advisors finally recognized both the importance of the region and, more to the point, the prominence of China. The U.S. believed that China was central to the trip, hence Trump's visit to Beijing was deliberately positioned as the middle stop of his five-nation tour. Trump's visit to Beijing and his meeting with Chinese President Xi Jinping can be rightly viewed as the centerpiece of his Asia tour. Trump's state visit showed China's sincerity in enhancing China-U.S. ties through more effective and flexible diplomacy.
Benign interaction
During Trump's three-day visit, the two leaders held a series of frank exchanges on a host of issues related to the nations' bilateral relations, including trade, investment, intellectual property, technology transfer requirements for joint ventures, cultural concerns, and people-to-people exchanges. In addition, Xi and Trump engaged in comprehensive discussions on major international and regional subjects of mutual interest which focused on combating terrorism and piracy, the South China Sea, the Belt and Road Initiative, cross-Straits relations, cybersecurity, and the return of the U.S. to the Paris Agreement on climate change.
A major objective of Trump's visit was to reduce the uncertainty that he has created in China-U.S. relations. That appears to have been achieved. Trump appeared to understand the need to support a consensus on the major-power relations principles of non-conflict, non-confrontation, and win-win cooperation put forward by China.
Frankly, my expectations for the Xi-Trump meeting were rather modest, given Trump's interest in pursuing protectionism, economic nationalism, and a "Blame China First" economic policy. As was expected, Trump tried to demonstrate that he's somehow both strong and in charge of things in the U.S. in the face of obvious political weakness. Trump pressed Xi on his concerns about the alleged unfairness of the China-
U.S. trade deficit, the Korean Peninsula, and the South China Sea. While Trump made his points on trade, Xi for his part rightly and firmly pressed back.
I'm not sure that after the various meetings and discussions with Xi on trade that Trump's opinion has changed. Trump should have heeded Xi's pre-visit statement in which he said that China's opening up "is not zero-sum, but win-win cooperation." The businessman-turned-president would have been better prepared for his discussions with Xi had he recalled another Xi quote: "Deal or no deal, the trust remains. China will not implement a one-sided clause or take advantage of others." Trump's views on China-U.S.
trade relations, which he consistently characterized as unfair and unbalanced, are unfortunate, because pushing back on China's perceived behavior will spark a useless trade war and will not improve the U.S. economy, direct investment, or jobs.
That said, while there were expected differences on certain issues related to trade and international relations, the Xi-Trump meeting demonstrated that there is genuine interest on the part of both leaders to cooperate and work together on a broad range of issues of shared concern. There appeared to be some willingness by Trump to understand the global impact of China's deepening of reforms.
For his part, President Xi showed that China values a more reciprocal diplomatic approach in dealing with China-U.S. relations. Xi proved China's willingness to work with the U.S. in order to understand each other's interests and concerns, resolve differences and contradictions, promote China-U.S. cooperation, and achieve a win-win situation for China-U.S. relations.
Optimism and concerns
In the run-up to Trump's state visit, I had two hopes and three fears regarding his meetings with Xi. My first hope was that a meaningful deepening of a dialogue of consensus would occur, thereby assisting in efforts to reduce tensions on the Korean Peninsula. That appears to have occurred, with consensus arrived at by Xi and Trump that the two nations will pursue closer cooperation and consultation between themselves as well as with other countries in order to resolve the Korean Peninsula nuclear problem.
My second hope was that Trump would recognize that support for China's fulfillment of deepening reform and opening up in the new era of socialism with Chinese characteristics means much greater demand for U.S. goods in China. In other words, Trump needed to state that support for reform in China means increased trade and jobs in the U.S.—a win-win bargain. Unfortunately, he did not do that in a very clear or forceful manner.
One of my fears before the Xi-Trump meeting was a concern that Trump would be the confrontational figure that we have seen both before and after his election to the U.S. presidency. Fortunately, Trump behaved himself and did not do any lasting damage to China-U.S. relations by engaging in impertinent or inflammatory comments regarding the Korean Peninsula, the South China Sea, cross-Straits relations, or any issue related to the internal affairs of China.
There were two additional fears that I had. Unfortunately, neither has been resolved. The first was whether the importance of the issues raised in the dialogue between Trump and Xi on a wide variety of topics actually sunk in with Trump. Did Trump actually understand the Chinese perspective, show a level of respect to China, and begin to pursue win-win cooperation as a result? This remains to be seen. The second additional fear that I had, which I believe is still on the cards once Trump returns to the U.S. because he faces increasing political pressure, is that he will immediately launch a trade war by announcing punitive trade measures that are designed more to placate his political supporters than to constructively reach a consensus on bilateral trade. Hopefully someone will remind Trump that there is a tremendous interdependence between the Chinese and U.S. economies. Actually, someone did so regularly during Trump's visit: President Xi Jinping.
Trump's meeting with Xi underscored the belief that China-U.S. relations can always be improved. For all of the personal and cultural aspects of Trump's visit, there was ample evidence that China-U.S. relations need to be improved in the era of Trump. More importantly, the U.S. needs to recognize that China is no longer a rising power. It is a co-equal superpower which requires both bilateral respect and forthright dialogue.
During his meetings with Trump, Xi confirmed that it is necessary for China and the U.S. to have a better understanding of each other's strategic orientations, particularly in the context of geopolitical cooperation for mutually beneficial results. One important result was that the consensus reached at the Mar-a-Lago Summit in April was strengthened by Trump's state visit to China.
The world's most important bilateral relationship is that between China and the U.S. What happens on a host of issues between the two nations has global consequences and must be managed both carefully and consistently. While relations between China and the U.S. may have their ups and downs, Trump's visit reinforces my optimism for the future because for over 40 years both nations have recognized the long-term significance of good relations. While differences remain after the Xi-Trump meeting, in the spirit of mutual respect the two leaders did much to successfully extend the process of reconciling divergent views between China and the U.S., which will do much to maintain long-term healthy relations.
As the world's two preeminent political, economic, and military powers, China and the U.S. have a special responsibility to provide stable bilateral relations. The Xi-Trump meetings suggest that both nations are willing to put aside their bilateral differences and look at things from a global perspective. A closer relationship between China and the U.S. within the framing principle of a new type of major-power relationship is essential in forging closer economic, political, and military ties. President Xi and President Trump showed that the China-U.S. relationship can be collegial, with almost any issue resolved through patient negotiation and dialogue in order to avoid conflict.
The author is a professor of political science and chair of the Department of Political Science at the University of St. Thomas in Houston
Copyedited by Chris Surtees
Comments to yulintao@bjreview.com