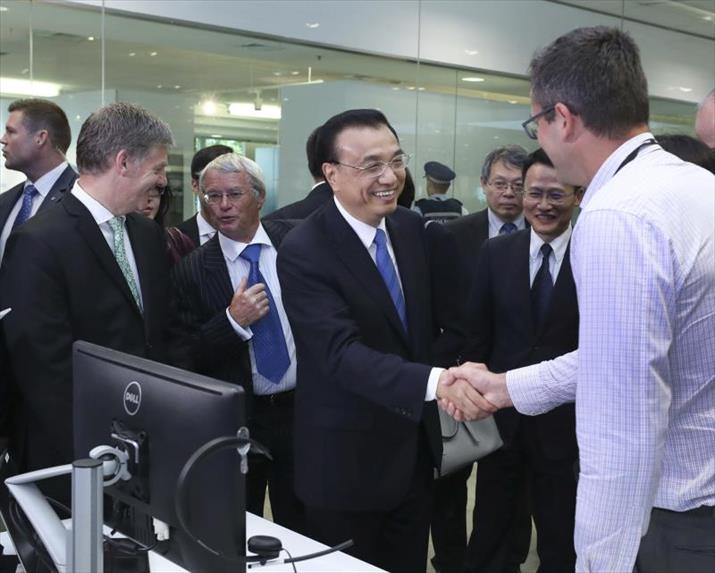 Chinese Premier Li Keqiang and his New Zealand counterpart Bill English visit a Chinese-owned research and development center in Auckland, New Zealand, on March 28 (XINHUA)
Besides their geographic proximity and status as developed Western nations, the Oceanian states of Australia and New Zealand are largely synchronized in their stance over relations with their Asian neighbor—China. This is attributable in some respects to the similar economic and social structures of the two countries, as well as their shared history as former British colonies. Both Australia and New Zealand are sparsely populated, export-oriented economies with rich natural resources, hi-tech industries, and well-developed agriculture and animal husbandry. China, in the meantime, is the largest trading partner of both nations.
At the end of March, Canberra and Wellington, respectively, hosted Chinese Premier Li Keqiang. These visits are important not merely because they were the first of their kind in 11 years, but also because they took place at a time when the United States is appearing to pursue a policy of isolationism since Donald Trump took office.
Trump has advocated an "America First" approach, stating his intention to renegotiate the North American Free Trade Agreement with Mexico and Canada, while the 12-year-old U.S.-Australia free trade deal could also be reviewed. Immediately after taking power in January, the new U.S. president pulled his country out of the Trans-Pacific Partnership (TPP)—the largest proposed free trade deal in history—effectively killing the accord in its current form. Trump's moves have worried U.S. traditional allies, most of which are long-time beneficiaries of liberal trade.
At the same time, China has signaled its willingness to play a bigger role in promoting global free trade. When addressing the annual meeting of the World Economic Forum in Switzerland this January, Chinese President Xi Jinping delivered a robust defense of globalization and underlined China's firm stance on promoting trade and investment liberalization. Australia might expect China to assume such a role. After the U.S. pulled out of the TPP, it was reported that Australia floated the possibility of inviting China to join the initiative, despite some suggestions that the TPP was initially promoted by Washington to counter China's growing economic influence in the Asia-Pacific region.
China is offering clear alternatives in the wake of the stalling free trade mechanisms and the emergence of protectionism. When meeting Australian officials in Canberra, the Chinese premier also reiterated China's firm support of free trade, stating, "We believe that to resolve trade imbalance we need to continue to expand trade. That is the solution. We cannot close our doors." Turnbull echoed Li, saying that protectionism is "not a ladder to get out of the low-growth trap," but "a shovel to dig it deeper."
Pushing free trade forward
During China's Two Sessions, which were held in early March reviewing government work and pointing out future tasks, the Australian Financial Review published an article, Why China's Work Report Is More Important Than Australia's Federal Budget, indicating that China's economic stability matters a lot to Australians' wallets. Despite China being far away from Australia and New Zealand, their economic ties are remarkably close. This builds a robust foundation for the continuous growth of China-Australia and China-New Zealand relations.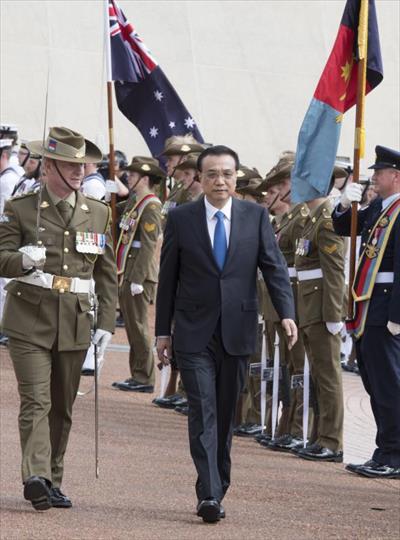 Chinese Premier Li Keqiang attends a welcome ceremony held by Australian Prime Minister Malcolm Turnbull in Canberra on March 23 (XINHUA)
China and Australia are highly complementary in their economies. About 70 percent of Australia's agricultural products, 80 percent of its resources and approximately 20 percent of its manufactured goods are for export. China, a recognized big market, overtook Japan to become Australia's largest trading partner in 2007 and has been the Oceanian nation's largest export destination for eight years in a row. As China is pursuing a transition to a consumption- and service-led economy, while Australia boasts fine agricultural products and rich natural resources, areas such as services, agriculture and infrastructure construction have turned into new growth points of cooperation between the two countries in recent years. Services have witnessed the greatest change in two-way trade, rising 20 percent in the 2015-16 fiscal year.
Benefiting from the comprehensive implementation of the China-Australia Free Trade Agreement (FTA) signed at the end of 2015, bilateral trade has exceeded $105 billion, while bilateral investment reached $100 billion last year. Australia's exports of milk powder, red wine and dietary supplements to China have witnessed more than 50 percent year-on-year growth, becoming one of the most sought-after overseas products for Chinese consumers.
During Li's visit, heads of the two governments witnessed the signing of agreements that will expand their free trade pact and the two countries pledged to work harder to usher in a new era of FTA-driven boom. As part of the outcome of Premier Li's visit, cooperation in energy, resources, infrastructure, agriculture, animal husbandry, and scientific and technological innovation will be expanded. China also agreed to expand its market for Australian beef exporters. Turnbull remarked that the result of China and Australia's outward-looking cooperation on trade has been "30 years of rising living standards."
In a similar way, New Zealand also benefits from developing sound relations with China and is a pioneer in China-West cooperation: It was among the first countries to acknowledge China's full market economy status; to reach a bilateral FTA; and to join the Asian Infrastructure Investment Bank (AIIB). With the bilateral FTA taking effect in 2008, China has leaped from New Zealand's sixth largest trading partner to the largest one in 2014. At present, China is also the country's largest export destination and import source, while bilateral trade exceeded $14 billion last year. Now, the two countries are working toward the goal of topping $21 billion in 2020, set by leaders of both sides.
Premier Li's latest visit to Wellington witnessed the signing of a series of documents in economy and trade, culture, science and technology, education, customs services and tourism. China also agreed to a deal on frozen New Zealand meat to be exported to China under a six-month trial. According to New Zealand Trade Minister Todd McClay, the agreement has the potential to be worth hundreds of millions of dollars to farmers, exporters and the wider New Zealand economy.
The two countries have agreed to start talks on upgrading their FTA in late April. The negotiations will touch on investment, service trade, quarantine of animals and plants, economy and technology, e-commerce, and policy coordination. New Zealand Prime Minister Bill English remarked during Li's visit that the China-New Zealand FTA has been a huge success, resulting in trade between the countries tripling, while an upgrade to the agreement would expand trade further.
Along with ever expanding economic ties, China-New Zealand people-to-people exchange has also grown. China has been New Zealand's largest source of international students for more than a decade, with 60,000 Chinese students studying in various educational institutes last year. Three Confucius Institutes and 30 Confucius classrooms have been established in New Zealand under the cooperation of the two countries. Additionally, more than 300 primary and middle schools in the country offer Chinese courses, with more than 40,000 primary and middle school students learning Chinese.
New opportunities
Among the cooperation deals signed between China and New Zealand during Li's visit, one of the most prominent is the agreement on the Belt and Road Initiative. It is the first of its kind signed between China and a Western country. The initiative, which comprises the Silk Road Economic Belt and the 21st-Century Maritime Silk Road, was put forward by President Xi in 2013. It involves a vast series of investment programs and infrastructure projects, stretching from Central Asia to Europe, and across South East Asia, South Asia, and Africa, to facilitate interconnectivity and promote trade and investment. New Zealand can be seen as a "natural extension" of the Maritime Silk Road.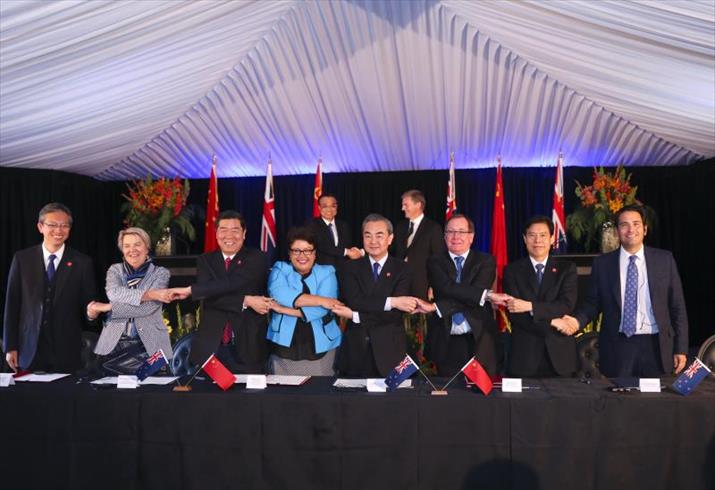 Chinese Premier Li Keqiang and his New Zealand counterpart Bill English witness the signing of a cooperation agreement on the Belt and Road Initiative between the two countries in Wellington on March 27 (XINHUA)
For New Zealand, participation in the China-proposed initiative offers, on the one hand, the opportunity of trade facilitation brought about by better regional connectivity; and on the other hand, the initiative also provides huge opportunities for exploring third-party markets. Prime Minister English told reporters that New Zealand supports China's Belt and Road global infrastructure investment plan because of the business opportunities for his own country. Paul Goldsmith, New Zealand's regulatory reform and innovation minister, will attend the Belt and Road Forum for International Cooperation in Beijing in May.
Australian officials and pundits also showed interest in this Chinese development initiative, and especially in the potential for alignment with Australia's vision for developing northern Australia over the next 20 years. The region accounts for 40 percent of Australia's landmass but is sparsely populated. In interviews with Chinese media, Jan Adams, Australian Ambassador to China, has said that the Belt and Road Initiative and the northern Australia development plan are highly complementary on a strategic level, and that the two sides have achieved consensus on aligning the two strategies.
Australian Trade Minister Steve Ciobo said recently that Australian businesses have a keen interest in, and want to be part of, the Belt and Road Initiative. Ciobo told media during Li's visit that Australian companies would be well positioned to take part. "Obviously Australia has a high degree of expertise both in relation to execution but also financing of infrastructure," he said. "So there certainly will be scope for Australian businesses in the future to be involved in the Belt and Road Initiative projects."
No need to take sides
Compared with the recent vibrancy of interaction with China, the relations of the two Oceanian countries with the Trump administration seem a little chilly. After taking power, Trump has reversed many policies of the Obama administration, some of which concern its Oceanian allies. His announcement to withdraw from TPP has deeply discouraged and disappointed Canberra and Wellington.
Another issue is the Australian-U.S. refugee deal brokered by the Obama administration, which involved the resettling of refugees on Manus Island and Nauru. It was reported that Trump told Turnbull that the resettlement agreement was "the worst deal ever" when the Australian leader attempted to secure confirmation that the United States would follow through with its promise. The U.S. Government eventually confirmed that it would receive 1,250 refugees but would apply "extreme vetting" to those seeking asylum.
Trump even terminated the call in which they discussed these issues after a mere 25-minute conversation, despite the call being scheduled for an hour. Thereafter, some media comments claimed that Canberra may turn toward Beijing and away from Washington. However, such an assertion seems a little far-fetched. As a country with a proven track record of consistency, Australia is unlikely to reorient its diplomacy due to the recent change in the White House. A stable Australia-U.S. security alliance has long been a national consensus of the nation. China recognizes Australia's security concerns and the importance of this alliance for Australia, thus, it has no intention of driving a wedge between Australia and the United States.
In the meantime, Australia's development of an amicable relationship with China is based on its own strategic interests.
In future years, it is foreseeable that there will be stable advancements in relations between China and Australia as well as New Zealand based on mutual benefits.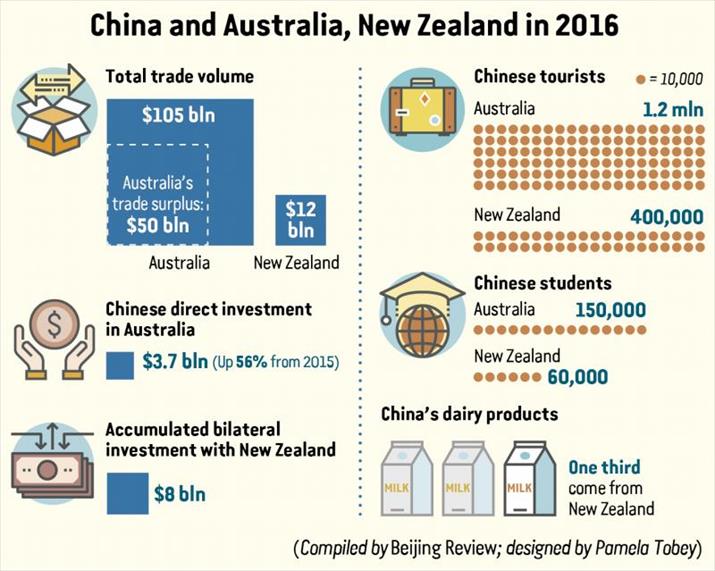 Copyedited by Dominic James Madar
Comments to yulintao@bjreview.com