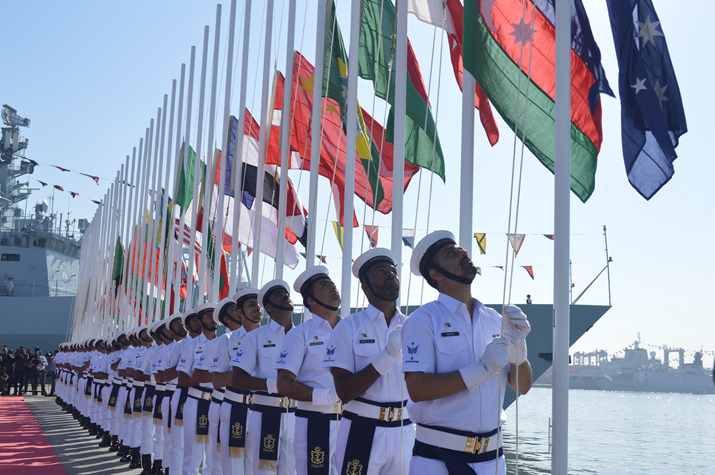 Pakistan Navy sailors conduct the flag raising ceremony of exercise Aman 2017 in navy base of Karachi on February 10 (BAI SHI)
Maritime forces from more than 30 countries in Asia and other parts of the world begin the fifth iteration of the multinational exercise AMAN series in Karachi, capital of south Pakistan's Sindh Province, on February 10.
Multinational naval exercise AMAN 2017, sponsored by the Pakistan Navy, is designed to enhance interoperability with regional and extra regional navies. The first of such exercise was held in March 2007.
It is also a display of united resolve against terrorism and crimes in the maritime domain (AMAN means peace in Urdu).
This year's joint exercise is schedule to last until February 14. As a sideline event, an international maritime conference is set to be held in Karachi on February 11 to promote exchanges and cooperation on maritime security in the Arabian Sea region.
"I hope that exercise Aman-17 will provide a common forum for information sharing, mutual understanding and identifying the areas of common interests to achieve our mutual goal of maintaining peace and stability in the maritime commons," Commander Pakistan Navy Fleet Vice Admiral Syed Arifullah Hussaini said in his welcome speech at the opening ceremony of exercise AMAN 2017 in Pakistan Navy base in Karachi.
"Pakistan is cognizant of its responsibility to ensure maritime security in the region, which is of great importance for the entire globe," Hussaini said.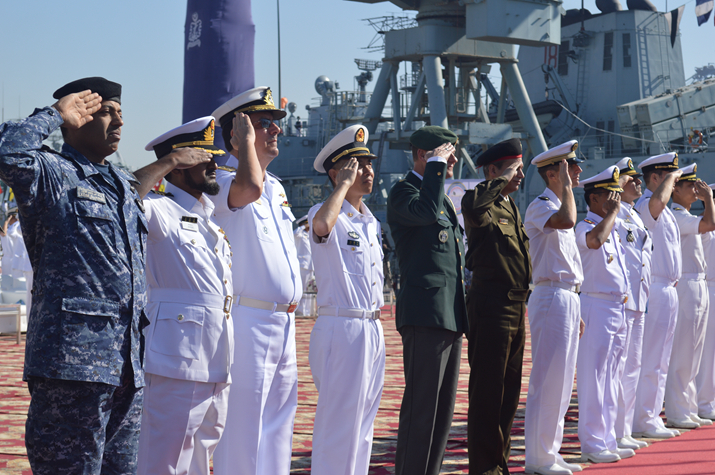 Delegates of navies participating with the exercise salute during the flag raising ceremony of exercise Aman 2017 in navy base of Karachi on February 10 (BAI SHI)
In addition to the Pakistan Navy, which organized the event, Australia, China, Indonesia, Japan, Malaysia, Maldives, Russia, Sri Lanka, Turkey, Britain and the United States are participating with ships, aircraft, task forces or marine teams in this exercise. And 60 observers also attended the event.
A Chinese Navy fleet, composed of missile destroyer Harbin, missile frigate Handan and supply ship Dongpinghu, participated in AMAN 2017 on invitation, after accomplishing an escort mission for civilian navigation in the waters of the Gulf of Aden. The fleet set sail to carry out the mission last August.
Since Somalia's pirate threat aroused international concern in 2008, China has dispatched naval fleets a total of 25 times, working together with international maritime forces to protect the security of international waterways in Aden Bay.
Captain Yu Tao, commander of the Chinese Navy destroyer Harbin told Beijing Review at the ceremony that this is the destroyer's second participation in the exercise in Pakistan.
"The multinational exercise provides a good chance for the Chinese Navy to sharpen skills in a number of ways and promote exchange with other navies," Captain Yu said.
"The Chinese Navy and the Pakistani Navy always maintain good relations. Through participating in joint exercises in recent years, the two navies have improved interoperability in maritime security and rescues," he added.
(Reporting from Karachi, Pakistan)