Chinese President Xi Jinping and his wife Peng Liyuan enjoy tea and conversation with Swiss President Doris Leuthard and her husband Roland Hausin in a special train on their way from Zurich to Bern on January 15 (XINHUA)
Befitting its out-of-the-box national personality, Switzerland is often branded as highly innovative, an appropriate image given not only the country's top global ranking in the number of patents per capita, but also its relations with China. When most Western countries adopted a hostile attitude toward the newly-born People's Republic of China (PRC) in the 1950s, Switzerland was among the first of them to establish diplomatic relations with the PRC. While the United States, the EU and Japan violate WTO rules and still refuse to recognize China's market economy status, Switzerland acknowledged China as a market economy as early as 2007. In addition, the Alpine country was the first continental European state to ink a free trade agreement with China and was also among the first European countries to join the Asian Infrastructure Investment Bank, a China-initiated multilateral institution aiming to provide financing for infrastructure improvement in Asia.
On the basis of this solid foundation for bilateral relations and the shared goal of development, China and Switzerland established an innovative strategic partnership during Swiss President Johann Schneider-Ammann's state visit to China in April 2016. Less than one year on, Chinese President Xi Jinping made a reciprocal visit to Switzerland from January 15 to 18, Xi's first foreign trip in 2017 and the first to the country by a Chinese head of state in 18 years. The trip has injected new impetus into Sino-Swiss cooperation and the upgrading of bilateral relations.
Innovation cooperation
Switzerland is the first and so far only innovative strategic partner of China. The central European nation is seen as one of the most innovative countries in the world, with scientific research personnel accounting for 12 out of every 10,000 people. According to Cui Hongjian, Director of the Department for European Studies at the China Institute of International Studies, though Switzerland is not a large nation in terms of territory or population, its scientific and technological research is very strong, and the country has world-leading chemical engineering and machine-manufacturing sectors.
Chen Fengying, a senior researcher with the China Institutes of Contemporary International Relations, said retaining its own style while absorbing the quintessence of other countries is the valuable experience of Switzerland, which can be learned by China for reference.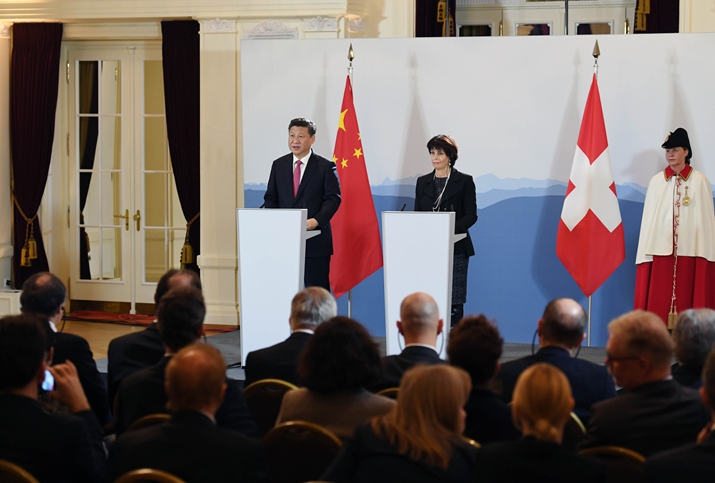 Chinese President Xi Jinping and Swiss President Doris Leuthard meet the press after talks in Bern on January 16 (XINHUA)
Under the pressure of slowing economic growth, China has made innovation the top priority among its five development concepts in its 13th Five-Year Plan (2016-20) period, the other four being coordination, eco-friendliness, opening up and sharing. By promoting economic growth via innovation, China aims to transform its economy gradually from an investment- and export-led model to one driven by consumption and services.
Against this backdrop, innovation has become a new growth point for Sino-Swiss cooperation. The two countries have established a joint working team on scientific and technological cooperation for regular dialogue and assessment of achievements in bilateral exchanges. The mechanism provides a sound platform for docking China's innovation-driven development strategy with Switzerland's innovation advantages. At present, the two countries are actively promoting innovation cooperation in hi-tech and emerging industries such as renewable energy, energy conservation, environmental protection and medicine.
Professor Wang Yiwei at Renmin University of China in Beijing said the word "innovation" precisely defines the direction of future development of the relations between China and developed countries.
In a speech given by Xi at the welcome ceremony held in his honor at the Federal Palace in Bern, the Chinese president told members of the Swiss Federal Council, akin to a cabinet, that he is looking forward to enriching the meaning of the two nations' innovative strategic partnership.
China and Switzerland agreed during Xi's visit to strengthen the alignment of the Made in China 2025 plan and Switzerland's Industry 4.0 strategy, two innovation-oriented initiatives guiding the economic growth of the respective countries over the coming decades.
The two strategies both emphasize improving efficiency through information technology and the creation of intelligent factories. Consequently, potential for cooperation between the two nations in the field will be great.
In addition, the two governments also signed a series of cooperation agreements covering diplomacy, free trade, energy, customs, intellectual property rights, culture, education, sports and others.
Sino-Swiss innovation cooperation is not only based on the current reality, it also focuses on the future, and its value is of strategic significance, according to Chen.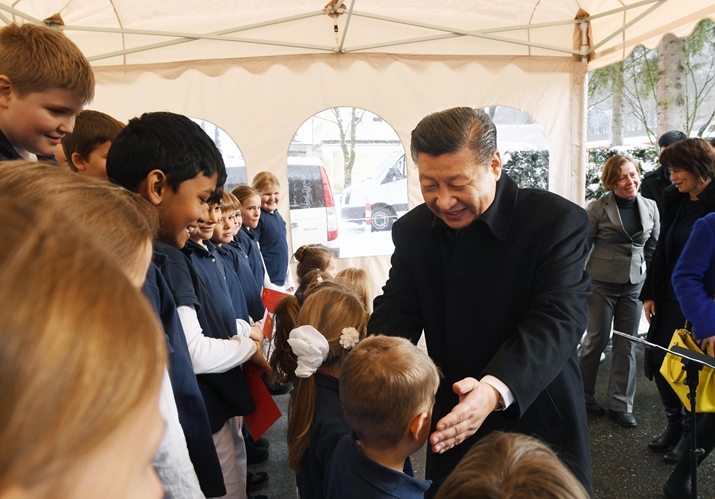 Chinese President Xi Jinping greets members of a Swiss children's choir after watching their performance in Bern on January 15 (XINHUA)
Promoting free trade
Against the backdrop of the global economy's sluggishness and gloomy outlook, trade protectionism is on the rise in some European countries and the United States. In the meantime, "black swan" events such as Brexit and Donald Trump's U.S. presidential election win demonstrate the upward momentum of populism and the de-globalization trend.
In these circumstances, maintaining the confidence of the international community in global free trade is of vital importance for worldwide economic growth.
China and Switzerland, respectively the world's second largest economy and one of the top globalized countries, share a similar position on trade liberalization. They have also set a good example of free trade for the whole world.
Following on from the implementation of the Sino-Swiss Free Trade Agreement (FTA) in July 2014, the two nations agreed during Xi's visit to upgrade their FTA and signed a memorandum of understanding on joint research to facilitate free trade between the two sides.
During talks with his Swiss counterpart Doris Leuthard, Xi said, "The two sides should increase communication and coordination in international and regional issues, safeguard the process of global free trade, jointly oppose trade protectionism, and contribute to the implementation of the 2030 Agenda for Sustainable Development." Leuthard stressed that the Swiss side is willing to make joint efforts with China to safeguard open global trade and oppose protectionism in trade and investment.
The two leaders have agreed to work together to push for a just and equitable global governance system.
Cui said that in the context of the changing world trade and investment situation, China and Switzerland upgrading their FTA can serve as a model for international free trade.
In an interview with Xinhua News Agency, Chinese Ambassador to Switzerland Geng Wenbing said, "In the current changing international situation, when the world economic recovery is still weak, the enhancing and deepening of Sino-Swiss relations will not only benefit the development of both sides, but also have a profound and positive impact on the entire region and the world."
During his Swiss stay, Xi also attended the World Economic Forum (WEF) annual meeting in Davos and visited the UN Office at Geneva, headquarters of the World Health Organization in Geneva and headquarters of the International Olympic Committee in Lausanne. These visits, observers said, demonstrated that China now has increasingly high aspirations to participate in global governance and take a lead in international cooperation.
Professor Wang said Xi's attendance of the WEF annual meeting has boosted confidence in globalization and guided the process in a more open, inclusive and balanced direction that benefits all.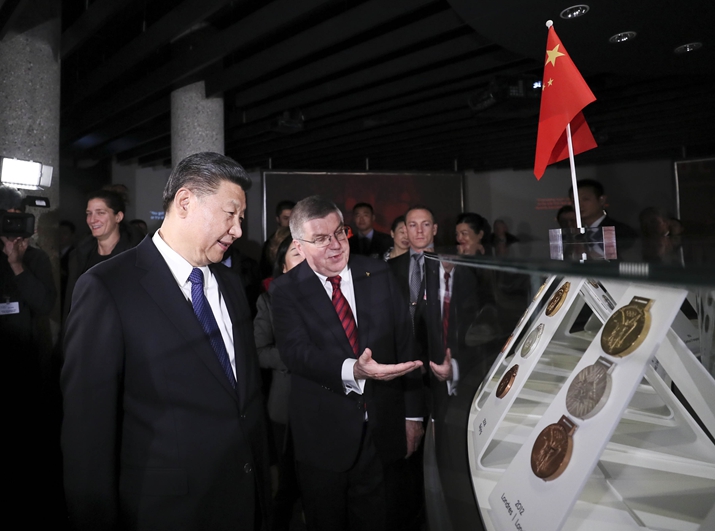 Chinese President Xi Jinping, accompanied by International Olympic Committee President Thomas Bach, views a medal exhibition at the International Olympic Museum in Lausanne on January 18 (XINHUA)
Key Points on Deepening Sino-Swiss Engagement
-Maintaining high-level exchanges. We should leverage the dialogue and consultation mechanisms at various levels and show mutual understanding and support on issues concerning each other's core interests and major concerns.
-Breaking new ground in practical cooperation. The newly established Sino-Swiss High-Level Innovative Dialogue will enable us to promote collaboration between our companies, universities and research institutes and in energy conservation, environmental protection, climate change, intellectual property rights protection, financial services, eco-agriculture and social security. We may also increase coordination and cooperation at the UN and other multilateral organizations and in international affairs, work for the peaceful settlement of international disputes and promote stability in the world.
-Expanding people-to-people exchanges. With the signing of the new cultural cooperation agreement, the establishment of the Chinese cultural center in Bern and the launch of the Year of Tourism, we are well placed to expand people-to-people and youth exchanges, facilitate personnel visits, and beef up cooperation in tourism, winter sports and vocational education and at the subnational level. All this will help cement public support for China-Switzerland relations.
-Improving our free trade area. We may actively explore the possibility of upgrading the free trade agreement, and set a good example of promoting the free and open international trade and investment system. We may also step up China-Europe cooperation on the Belt and Road Initiative through the Asian Infrastructure Investment Bank and the cooperation mechanism between China and Central and Eastern European countries.
(Source: President Xi Jinping's signed article published in the Swiss newspaper Neue Zurcher Zeitung on January 13)
Copyedited by Chris Surtees
Comments to yulintao@bjreview.com