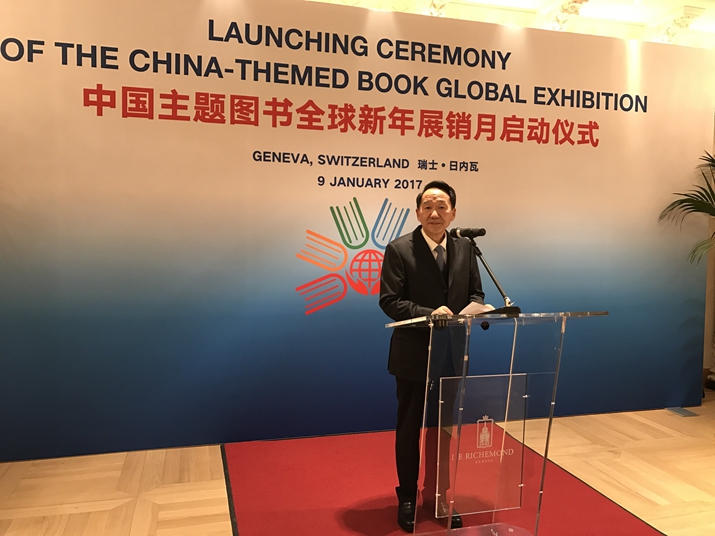 Jiang Jianguo, Minister of the State Council Information Office of China, addresses the opening ceremony of a China-themed book fair in Geneva on January 9 (XINHUA)
Before Chinese President Xi Jinping's first visit to Switzerland as head of state in mid-January, a series of cultural exchange activities has been held in the European country, including a book fair, a photo exhibition and a media dialogue session.
When addressing the opening ceremony of the book fair on January 9 in Geneva, Jiang Jianguo, Minister of the State Council Information Office, said it was the first China-themed book fair held in 2017, with the aim to assist Swiss readers in learning more about China and advance Sino-Swiss exchanges.
According to one of the book fair's organizers, the China International Publishing Group, the event displayed more than 100 titles of Chinese books in different language editions, covering a wide range of topics including Chinese politics, economy, culture, society and arts. The books showcase China's traditional culture, the latest developments in China, and friendly exchanges between China and Switzerland.
Visitors attend a photo exhibition on Sino-Swiss relations in Geneva on January 10 (XINHUA)
The Sino-Swiss media dialogue attracted dozens of Chinese and Swiss media groups for communication. Representatives from some other Western media outlets, including Bloomberg News and Reuters, also participated. While delivering a keynote speech at the event, Minister Jiang expressed his desire for media from Switzerland—and other countries—to pay more visits to China. He quoted an old Chinese saying that "it is better to see for oneself rather than to hear for many times," hoping more and more foreign friends will get to know the real China on trips to the nation themselves.
The Swiss Confederation Government attaches great importance to Xi's visit. In a media release posted on its official website, it said Xi's state visit to Switzerland is a sign of the ever closer political and economic ties between the two countries. In a recent interview with Beijing Review, Jean-Jacques de Dardel, Swiss Ambassador to China, said the upcoming visit of the Chinese president will undoubtedly contribute to upholding the rapidly growing momentum of bilateral relations.
In a joint interview with Chinese media, Chinese Ambassador to Switzerland Geng Wenbing said Sino-Swiss partnership have already become a model of relationship between China and European countries and that between China and the Western world as a whole. The two countries established an innovative strategic partnership during Swiss President Johann Schneider-Ammann's state visit to China in April 2016, which has pushed bilateral relations to new heights. Under such circumstances, Geng stressed that Xi's visit will further enrich the Sino-Swiss partnership, promote an upgrade of their all-round pragmatic cooperation and guide China-Europe relations to a higher level.
Chinese and Swiss people browse books at a China-themed book fair in Geneva on January 9 (XINHUA)
During Xi's trip, he will also attend the annual meeting of the World Economic Forum (WEF) in Davos. It will be the first time that a Chinese president participated in the event. The WEF annual meeting is seen as a weather vane of the world economy. In the context of the global economy still experiencing a weak recovery and a rising tide of anti-globalization, the presence of the Chinese president underlines the shot in the arm provided by China that the global economy is in much need of.
According to Ruan Zongze, Vice President of the China Institute of International Studies, President Xi's participation in the WEF annual meeting highlights China's role as a stabilizer in the world economic arena and shows China's confidence in the world economy. Ambassador Dardel said the move demonstrates China's proactive attitude toward international governance and is significant to boost the world economy.
Copyedited by Dominic James Madar
Comments to liuyunyun@bjreview.com