Former Argentinian President Cristina Fernandez inspects an imported train carriage, built by China Southern Locomotives, in the port city of Buenos Aires on March 5, 2015 (XINHUA)
China and Latin American and Caribbean (LAC) countries have held a series of high-level business leader, think tank, and government official forums over the past two months.
The collaborative interaction between China and LAC countries has showcased a dynamic and continually strengthening relationship. At the recent think tank forum on November 7-8, observers pointed out that despite the economic growth of some LAC countries slowing sharply and a slight decline in China-LAC trade, economic relations continue to improve against the backdrop of the sluggish global economic recovery. Experts say the way cooperation is carried out in practice is gradually changing and production capacity cooperation is becoming central to China-LAC economic relations.
Trade transformation
Trade has long dominated China-LAC economic cooperation. Statistics from China's National Bureau of Statistics show that since 2000, the China-LAC bilateral trade volume has increased about 22-fold, reaching $269 billion in 2014. China has become LAC's second largest overall trading partner and the largest for some individual states, including Brazil and Chile.
This recently began to change following the global economic downturn and commodity price decline. China-LAC bilateral trade fell to $236.5 billion in 2015 and growth in the first half of this year has remained negative.
However, economic ties have never weakened as the two sides are now seeking new growth potential in other areas and eying up the future. Previously, bilateral trade focused heavily on energy and resource exchange. But now, China's huge market and long-term stable demand have attracted more and more exporters of high-end agricultural products from the region. Beef from Argentina and Brazil, coffee from Colombia and Jamaica, Chilean salmon and red wine, and Mexican beer are becoming more common on Chinese dining tables.
According to Sui Pengfei, Director of the international department under China's Ministry of Agriculture, agricultural trade between China and LAC countries reached $33.4 billion in 2015, of which exports to China make up 93.4 percent. And LAC agricultural products have accounted for 27 percent of China's total agricultural imports.
Jorge Heine, Chilean Ambassador to China, told Chinese media during the 10th China-LAC Business Summit in mid-October that Chile's agricultural sector, which benefits from large Chinese demand, grew 6 percent last year--three times faster than its overall economic growth. In the first half of this year, Chilean agricultural exports to China increased 20 percent.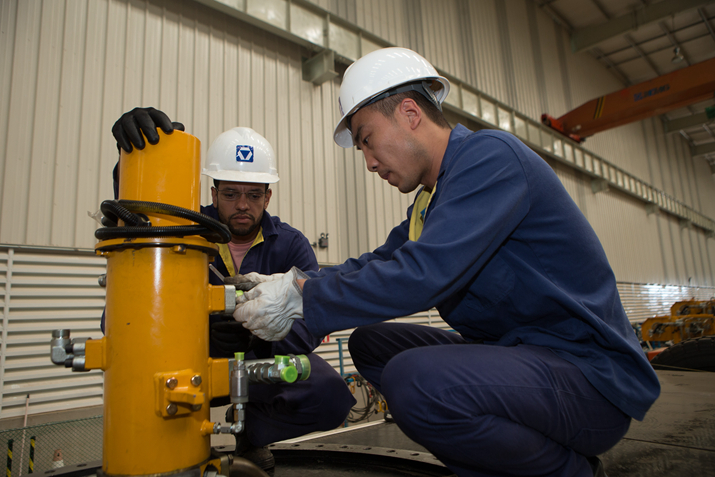 A Chinese technician from XCMG Group, an equipment machinery manufacturer, shows his Brazilian counterpart how to install spare parts on a crane in the Brazilian city of Pouso Alegre on June 4, 2015 (XINHUA)
More production capacity cooperation
Investment is becoming one of the most dynamic fields of China-LAC economic cooperation. In the November forum's key note speech, Yue Yunxia, a researcher on Latin America studies with the Chinese Academy of Social Sciences, pointed out that, though China-LAC trade in the past two years has been under expectation, Chinese investment in the region has been on the rise.
Data provided by the China Council for the Promotion of International Trade shows China's non-financial direct investment in the LAC region reached $21.46 billion in 2015, with year-on-year growth of 67 percent. According to Yue, China has signed agreements on free trade, investment protection, and the avoidance of double taxation with multiple LAC countries. Therefore, capacity cooperation is becoming a new focal point of China-LAC growth.
"Meanwhile, the establishment of the China-LAC Cooperation Fund (CLCF) has provided financial support for such cooperation," Yue said.
Yao Shumei, a director at the Foreign Economic Institute of China's National Development and Reform Commission, shared a similar view. Yao said, against the backdrop of a prolonged and weak world economic recovery, China-LAC economic relations are also undergoing a substantial evolution with much effort dedicated to manufacturing industry, transportation, communication and water conservancy projects and so on.
"Currently, many LAC countries face the tasks of readjusting their industrial structure and seeking fresh economic impetus. Simultaneously, China advocates international production capacity cooperation especially through its Belt and Road Initiative, which entails linking China's expanding overseas investment strategy with the demand of LAC countries for foreign funds and technology."
Yao suggested LAC countries learn from Chinese experiences of establishing industrial parks, and attempt to improve infrastructure and attract foreign investment. During his visit to the region in 2015, Chinese Premier Li Keqiang raw material trade is not the only area China and LAC countries can cooperate.
To build an upgraded version of China-LAC relations, Li proposed a "three times three" pattern of cooperation during the trip.
The mode advocates the joint construction of three passages for logistics, power transmission, and information sharing, so as to achieve interconnection on the South American continent. This follows market economy rules in a bid to achieve sound interaction among the three entities of the private sector, society and the government, and jointly facilitate the construction of their cooperative projects by expanding three financing channels, namely funding, credit loans and insurance.
During that trip, the Chinese premier also announced the establishment of a special $30 billion fund for promoting China-Latin America cooperation in production capacity and equipment manufacturing. Li said the fund will be channeled directly to projects with no political strings attached.
When delivering a keynote speech during the think tank forum, former Jamaican Prime Minister Bruce Golding stressed that China-LAC production capacity cooperation can help strengthen the competitiveness of LAC countries, and China's active role embodies its willingness to share its development fruits, which is conducive to bilateral relations.
"China is helping us to find a better position. We need to seek the opportunity to advance Jamaica's logistic infrastructure construction. I hope bilateral production capacity cooperation can further development," said Golding.
In February this year, a toll road, built by China, opened on Jamaica. This new road, known as the North-South Highway, directly connects the Jamaican capital of Kingston in the south with the resort beach city of Ocho Rios in the north, reducing a two-hour drive to 45 minutes. According to a report of the local media The Gleaner, various businesses are expected to be constructed along the highway by the Chinese also, and Omar Davies, the country's Minister of Transport, Works and Housing, said Jamaican businesses should seek to get a piece of the economic pie. "I don't expect local entrepreneurs to be able to put up $700 million like this project is going to cost, but there are a lot of spin-offs that they need to get themselves ready to exploit," he said.
When addressing the opening ceremony of the think tank form, Chinese State Councilor Yang Jiechi said, China-LAC relations have entered a track of comprehensive and rapid development to achieve shared prosperity.
Copyedited by Dominic James Madar
Comments to yulintao@bjreview.com