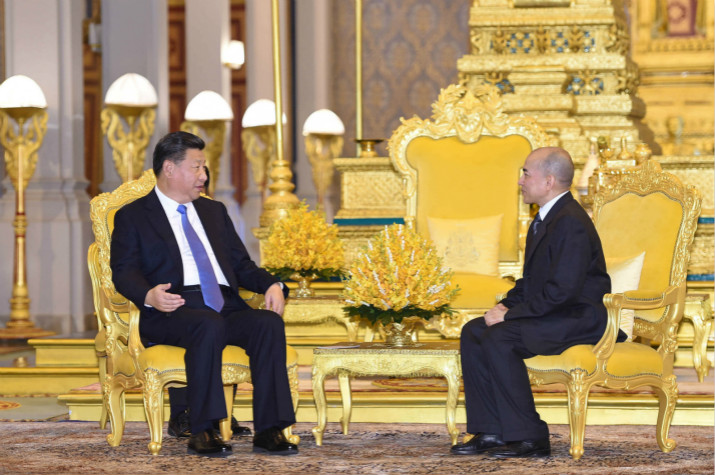 Xi's visit adds new impetus to China-Cambodia friendship
China and Cambodia advanced their relationship during Chinese President Xi Jinping's recent visit to the Southeast Asian nation.
During the two-day trip on October 13-14, Xi and Cambodian leaders exchanged views on deepening the bilateral partnership. They also reached a broad consensus on international and regional issues of common concern.
Xi said that China-Cambodia friendship serves as a model of friendly treatment and sincere cooperation between countries.
After talks between Xi and Cambodian Prime Minister Hun Sen on October 13, 31 cooperation documents were signed in a wide range of fields covering economy, technology, infrastructure, efforts to curb human trafficking, taxation and maritime cooperation.
Two major deals, a memorandum of understanding on the implementation of bilateral cooperation under the China-proposed Belt and Road Initiative (Silk Road Economic Belt and 21st-Century Maritime Silk Road) and a concessional agreement on the development of a new international airport in northwest Cambodia's Siem Reap Province, featured among the documents.
Tang Qifang, an associate research fellow at the China Institute of International Studies (CIIS), told Beijing Review that the 31 documents are the materialization of the bilateral partnership and will add new momentum to it.
China and Cambodia decided to accelerate the alignment of China's Belt and Road Initiative and 13th Five-Year Plan with Cambodia's Rectangular Strategy and Industrial Development Policy 2015-25, according to a joint statement released on October 13.
Also, both countries agreed to boost trade with the objective of raising the bilateral trade volume to $5 billion in 2017. Statistics from China's Ministry of Commerce show that two-way trade between China and Cambodia reached $4.43 billion in 2015, a growth of 17.95 percent over the previous year.
"To achieve the target, China and Cambodia need to maintain development momentum against the backdrop of increasing global protectionism, learn from and promote successful cooperation practices, such as making use of existing bilateral and multilateral trade platforms, and explore new areas of collaboration," Tang said.
As the flagship project of China's Belt and Road Initiative in Cambodia, development of the Sihanoukville Special Economic Zone in Preah Sihanouk Province has caught the attention of both sides. The 5-square-km zone was established in 2008 to bring infrastructure, jobs and skills and to enhance productivity. More than 100 factories from China, Japan, the United States, France, South Korea, Ireland, Viet Nam and Thailand are operating in the zone and have created more than 11,000 jobs. "We predict that the zone will receive up to 200 factories in the next three years," Zhou Haijiang, President of China's HoDo Group, the developer of the zone, told Xinhua News Agency in June. Hun Sen holds high expectations for Sihanoukville—desiring it to become Cambodia's answer to Shenzhen, the economic powerhouse in south China's Guangdong Province established as the country's first special economic zone in 1979.
China-Cambodia ties date back 1,000 years, since they are close geographically and culturally connected. Located in the heart of the Indochina Peninsula, Cambodia is an important transportation hub of Southeast Asia as well as a key stop along the ancient Maritime Silk Road.
Zheng He, a navigator in China's Ming Dynasty (1368-1644), visited Cambodia several times during his oceangoing voyages, praising Cambodia's fertile land and its salt. His visits are honored by the Sanbao Temple (Zheng He was often called Sanbao) on the outskirts of Kampong Cham in east Cambodia.
The two countries established diplomatic relations in 1958 and a comprehensive strategic cooperative partnership in 2010.
Tang said, "The two countries need to conduct closer cooperation and facilitate development. This will push the relationship to new heights."
Liu Xuecheng, a senior fellow at the CIIS, agreed with Tang in describing Xi's visit as a major diplomatic initiative. As Cambodia's largest trading partner and source of foreign investment, China is helping Cambodia rapidly develop its economy and measurably improve its people's livelihoods, according to Liu.
"This will set a good example to all Southeastern Asian countries that China is not a threat, but a power that brings benefits to its neighbors," Liu said. "Since Cambodia is a member of the Association of Southeast Asian Nations (ASEAN), Xi's visit will also drive the sound development of China-ASEAN relations."
Copyedited by Dominic James Madar
Comments to liuyunyun@bjreview.com