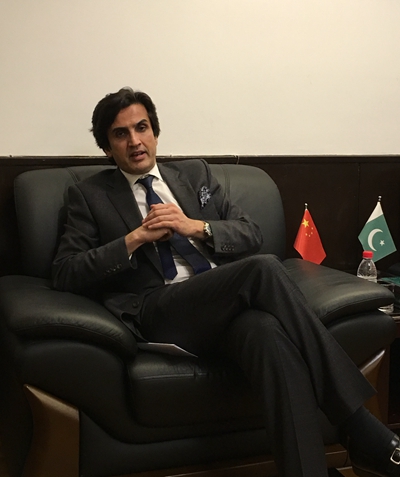 Makhdum Khusro Bakhtyar, Pakistani Special Envoy on Kashmir to China (LIU YUNYUN)
Pakistan is willing to negotiate with India on the Kashmir issue and has called for international organizations such as the Geneva Human Rights Organization to bring India to the negotiating table, said Makhdum Khusro Bakhtyar, Pakistani Special Envoy on Kashmir to China.
In an interview with Beijing Review, Bakhtyar rejected India's accusation regarding a recent attack in Uri, part of Indian-administered Kashmir, blaming India for jumping to conclusions not backed up with evidence.
On September 18, four militants attacked a military base in Uri, killing at least 17 Indian soldiers and injuring 30 others. The four attackers were reportedly shot dead by Indian forces.
India blamed Pakistan for the attack, which it termed "the worst" in two decades, but Pakistan refutes the allegation.
"Whenever something happens in Kashmir, the Indian side will accuse Pakistan," said Bakhtyar, who also urged India to allow international investigators to inspect the attack site and determine the truth.
Chinese Foreign Ministry spokesperson Lu Kang said on September 19 at a press briefing that China has been watching closely the volatile relations between India and Pakistan and events in Kashmir in particular. The Chinese Government has always maintained that problems must be resolved through peaceful and friendly negotiations by all parties involved and that all sides must be responsible for safeguarding regional peace and security.
China has pledged to invest $46 billion in constructing the China-Pakistan Economic Corridor (CPEC)—part of China's Belt and Road Initiative. The plan revolves around developing infrastructure connections between Kashgar in China's Xinjiang Uygur Autonomous Region and Gwadar Port on Pakistan's Indian Ocean coast. When completed, the corridor will drastically reduce cargo transit times. Energy supplies from the Middle East are expected to take around 10 days to reach the China-Pakistan border compared with the 45 days currently needed to transport such shipments by tanker via the Straits of Malacca.
The CPEC plan includes expressways linking the two nations that will pass through the Pakistani-administered part of Kashmir, something to which India has repeatedly expressed opposition.
With the intention of resolving the long standing conflict in Kashmir, the Pakistani Government is calling on the international community to dispatch a "fact-finding" team to Kashmir with the aim of eventually settling the regional dispute peacefully on the basis of the local populace's right to self-determination.
New Delhi claims that Pakistan supports terrorism in Kashmir and has labeled Burhan Wani, the 21-year-old who was killed by India, a terrorist. Wani used social media as his tool to protest against Indian rule in Kashmir. Islamabad disagrees and has called Wani, whose funeral in July was attended by more than 200,000 local people, a "Kashmiri leader."
Bakhtyar and Alam Dad Laleka, both Pakistani Special Envoys to China, held talks with Chinese Vice Foreign Minister Liu Zhenmin and members of the Chinese People's Political Consultative Conference National Committee on September 28. They told Beijing Review that their dialogue with the vice foreign minister was "frank and constructive."
Copyedited by Chris Surtees

Comments to liuyunyun@bjreview.com