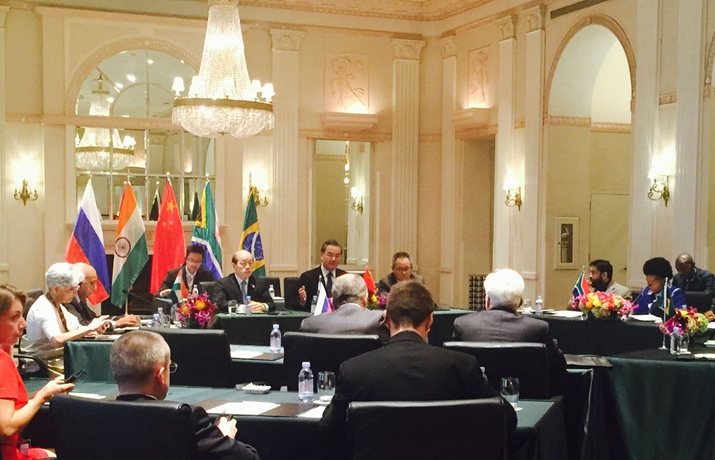 The BRICS foreign ministers' meeting on the margins of the 71st Session of the UN General Assembly in New York City on September 20, 2016 (DING YING)
Foreign ministers of the world's leading emerging economies--Brazil, Russia, India, China and South Africa (the BRICS)--have expressed their determination to continue to contribute positively to the maintenance of peace, security and stability.
At a meeting on the margins of the ongoing 71st Session of the UN General Assembly, the ministers exchanged views on BRICS cooperation as well as global and regional issues.
According to a press release, the ministers recalled the wide-ranging cooperation in BRICS and noted with satisfaction the progress made by the New Development Bank and the Contingent Reserve Arrangement. They also welcomed China assuming the BRICS chair in 2017 and expressed confidence that intra-BRICS cooperation will be further strengthened.
On the issue of terrorism, the ministers reiterated their strong condemnation of terrorism in all its forms and manifestations. They urged concerted efforts to counter terrorism on a firm international legal basis under the auspices of the UN and expressed their conviction that a comprehensive approach was necessary to ensure the effective fight against terrorism.
At the meeting, the ministers congratulated China on its successful hosting of the G20 Hangzhou Summit. They acknowledged the significant outcomes of the summit and called for their full implementation, including those related to sustainable development, climate change and innovation and structural reform as drivers of future economic growth.
The ministers appreciated India's chairing of the BRICS in 2016 and the expansion of organized activities. They expressed their commitment to ensuring the success of the forthcoming Eighth BRICS Summit, which will take place in Goa on October 15-16.