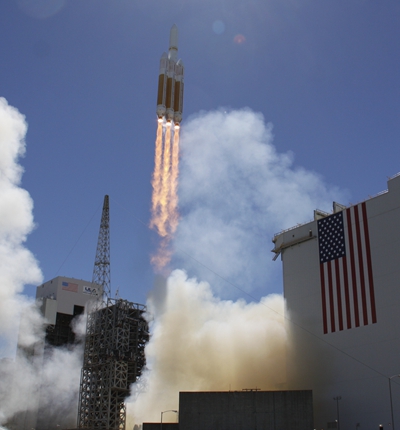 An unmanned Delta IV Heavy rocket lifts off from the Vandenberg Air Force Base in California on August 28, 2013, sending a classified NROL-65 satellite into orbit for the U.S. National Reconnaissance Office (CFP)
The United States may be entering a new space race framed around countering orbital threats, according to experts. A new strategy outlining the superpower's ambitions in space was published on June 17 by the Atlantic Council, underpinning such claims. The Atlantic Council is a Washington-based think tank specializing in the field of international affairs.
The report, titled Toward a New National Security Space Strategy: Time for a Strategic Rebalancing, zeroes in on "proactive prevention" measures which are to be implemented through diplomatic and technological means.
Prevention and preparation
The executive summary of the report says that a proactive preventative strategy aims at "preventing a space conflict while also preparing to win one if need be."
The report comes out on the heels of the country's increasing awareness of its decline in space-borne advantages. Brigadier General Nina Armagno, the U.S. Air Force Space Command's Director of Strategic Plans, Programs, Requirements & Analysis, framed the narrative as a space race at the Space Tech Expo held in Los Angeles in May.
Armagno said that U.S. national security in space is facing a growing number of threats. The new space race won't be led by NASA, but by the Department of Defense, according to Armagno.
A focus of the Atlantic Council's recommendations is to establish better dialogue with other countries to mitigate misjudgments and misunderstandings concerning space security. On November 11, 2015, the Financial Times published an article titled U.S. and China Set up "Space Hotline," which argued, "As fears grow of an orbital arms race, the new communications channel between the United States and China—like the nuclear hotlines of the Cold War—will serve as a diplomatic safety valve. By sharing technical information, officials hope that misunderstandings can be avoided and problems quickly resolved."
At the same time, the new strategy attaches great importance to the protection of the United States' assets in space. Currently, the U.S. military is extremely concerned about the safety of its military and civil satellites from attacks or disruption by other countries, which could lead to communication blackouts or worse.
The proactive prevention strategy will be conducted through diplomatic and technological means, though based on the report, diplomatic approaches will be prioritized. The authors called on the United States to engage in space security dialogues with Russia and China, including conducting negotiations and establishing hotlines. They also stressed that the "elucidation and agreement on multilateral norms or space activities also become paramount, as the way to implement such a strategy."
Technology also plays an important role in the new strategy. "Obviously, diplomacy must be underpinned by technological capabilities, both for deterrence and for hedging against threat breakout. Under a preventative strategy, technological focus would necessarily be put on understanding the environment and deterrence-by-denial capabilities, as well as cooperative opportunities for mutually beneficial activities," the report said.
The report specifically points out those hedging activities, as a component of technological development, should be a secondary priority. As a last resort, technologies designed to execute "deterrence by punishment"—which espouse the Cold War doctrine of mutually assured destruction—can, and should, be launched. With regard to offensive systems, even more caution is required.
A pivot to Asia
The space rebalancing strategy proposed by the Atlantic Council is designed to operate under current geopolitical circumstances.
With the recovery of Russia's aerospace capacity and China's continual growth, the United States has begun regarding the two countries as its main competitors for dominance in space. "China is developing a multi-dimensional program to improve its capabilities to limit or prevent the use of space-based assets by adversaries during times of crisis or conflict," stated the U.S. Department of Defense in the 2014 Annual Report on Military Power of the People's Republic of China.
In March, General John E. Hyten, Commander of the U.S. Air Force Space Command, pleaded for Congress to increase funding for systems protecting military satellites. The move comes as a result of research being carried out by China and Russia into counterspace capabilities and anti-satellite weapons.
Still, the rebalancing is in essence an important part of the U.S. global strategy, which places great emphasis on the Asia-Pacific region. In February, the Defense News website posted a commentary claiming that the era of unchallenged U.S. space dominance is over. "The United States therefore needs to prepare for a war that extends into space—and to prevail nonetheless. Failing to do so risks a capable adversary thinking that it can shatter the American military's glass jaw," it warned.
The piece stressed that Washington is particularly dependent on its space assets to project military power over long distances, thereby reasoning that revamping its capabilities is "precisely what U.S. armed forces need to do to credibly and effectively defend U.S. allies and interests in places like the Western Pacific and Eastern Europe."
Multiple measures
In recent years, Washington has taken initiatives to realign its space strategy with a focus on capacity upgrading, alliance building and technological improvement.
Both U.S. military and civil resources have been tapped to improve its military capacity in this regard. At the U.S. Geospatial Intelligence Foundation's annual symposium in Washington, D.C. in June 2015, then Deputy Defense Secretary Robert Work announced the establishment of the Joint Interagency Combined Space Operations Center. The center was opened in conjunction with the U.S. Strategic Command, Air Force Space Command, and the intelligence community. The new hub is meant to unify efforts and bring together intelligence agencies and foreign allies alongside military services. It also serves to facilitate information sharing across the national security space enterprise, especially to counteract alleged Russian and Chinese threats to U.S. satellites and space-based systems.
Another way that the U.S. has tackled its diminishing advantages is through the formation of space alliances with countries like Japan. In the revised Guidelines for U.S.-Japan Defense Cooperation released in April 2015, the two governments pledged to "share and protect information and intelligence, while developing and maintaining common situational awareness." The program will include enhancing coordination and cooperation among relevant agencies, so as to increase their deterrence abilities.
The United States also places its technological capabilities high on its priority list. In its 2017 budget request, the Defense Advanced Research Projects Agency, a research branch of the Department of Defense, asked for $175 million for its space programs and technology office, significantly higher than the $127-million budget it had allocated for 2016. The budget plan includes a $50-million Experimental Spaceplane (XS-1) project, which hopefully will lower satellite launch costs substantially and, in the long run, address future threats to U.S. satellites.
The shift toward space is not a new notion in essence, but part of the Asia-Pacific rebalancing strategy and an important aspect of Washington's aims to maintain dominance through political, diplomatic and military channels. Nevertheless, the "balance" it pursues is actually an upper hand against its competitors in the strategically important and infinite playing field of space.
The author is a military expert with the Air Force Engineering University of China
Copyedited by Bryan Michael Galvan
Comments to liuyunyun@bjreview.com