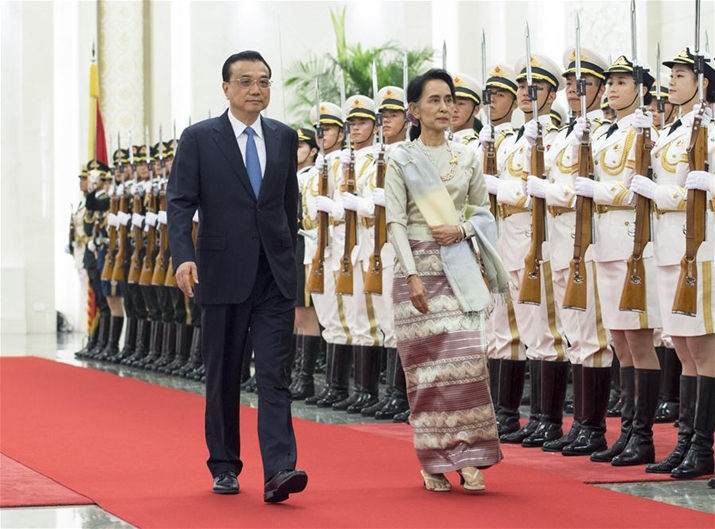 Chinese Premier Li Keqiang (left) holds a welcoming ceremony for Myanmar's State Counsellor Aung San Suu Kyi at the Great Hall of the People in Beijing, capital of China, August 18 (XINHUA)
China and Myanmar agreed to enhance cooperation between energy departments to find a proper solution to the suspended Myitsone dam project.
The agreement came during talks between Chinese Premier Li Keqiang and Myanmar's State Counsellor Aung San Suu Kyi, who started a five-day official visit to China on August 17.
Li said China hopes Myanmar can come up with an appropriate solution to the Myitsone dam project, Chinese Vice Foreign Minister Liu Zhenmin told reporters after the talks, which were held at the Great Hall of the People.
Suu Kyi said Myanmar's new government has decided to set up an investigation committee to find a solution to the Myitsone dam issue that is in both countries' interests, Liu said.
Li called on the two sides to properly promote major projects, including the Myitsone Dam and the China-Myanmar oil and gas pipeline, to improve infrastructure construction and connectivity, according to Liu.
The Myitsone Dam is jointly funded by China and Myanmar, but was suspended by the Myanmar Government in 2011.
Myanmar President U Htin Kyaw decided a week ago to form a new commission for reviewing all proposed hydropower projects on the Irrawaddy River, including the Myitsone Dam.
Although the move does not necessarily lead to a final resumption of the project, it is a positive signal that the new leadership in Naypyidaw is handling its relations with Beijing in a prudent and pragmatic manner, analysts said.
Suu Kyi is the first Myanmar leader to visit China since the Southeast Asian nation's new government was formed in late March. She visited China in June 2015 as chair of the National League for Democracy (NLD).
"Choosing China as the first country to visit outside ASEAN (Association of Southeast Asian Nations) after taking office as the State Counsellor shows the high importance you and the Myanmar Government have attached to relations with China," Premier Li said to Suu Kyi during the talks.
Expressing China's appreciation, Li spoke highly of the deep "pauk phaw" ("fraternal" in the Myanmar language) friendship between the two countries and said he hopes the visit will help drive development of bilateral ties.
During the talks, Li said China and Myanmar have always respected each other and treated each other as equals on the basis of the Five Principles of Peaceful Coexistence.
China supports Myanmar's choice of development path and its efforts to promote national reconciliation, economic growth and well-being, Li said.
"We are willing to work with Myanmar to consolidate political trust and strengthen communication and cooperation in various fields to promote bilateral ties in the new era," said the premier.
The pragmatic cooperation between China and Myanmar aims to benefit the people of two countries and gain win-win results, he said, noting that China is ready to integrate development strategies with Myanmar and plan cooperation in key areas.
He called on the two countries to boost cooperation in the economy, trade and agriculture, and to expand exchanges in culture, education and health.
Echoing Li's remarks, Suu Kyi said the Myanmar-China friendship has a strong foundation among the public.
The new government highly values ties with China and is committed to consolidating bilateral relations, said Suu Kyi, who is also foreign minister.
Myanmar is willing to maintain high-level contacts with China, enhance political mutual trust, promote energy cooperation, expand exchanges in border trade, agriculture, health, education and other areas, maintain stability in border regions and boost people-to-people ties to realize common development, she said.
China is Myanmar's most important trade partner and one of its main sources of foreign direct investment.
"Presently, China is promoting the Belt and Road Initiative and is further opening up to the outside world. If Myanmar can realize domestic peace, it can take a free ride on China's rapid development," said Lei Zhuning, a researcher with the Yunnan Academy of Social Sciences.
"This is the outcome that we hope to see the most," he said.
This year marks the 25th anniversary of the China-ASEAN dialogue relationship. Li said China supports the building of the ASEAN community and values Myanmar's role as an important member of the association.
China is ready to cooperate to create a closer China-ASEAN community of shared destiny, he said.
Suu Kyi said Myanmar wants to promote continued development between ASEAN and China.
Regarding northern Myanmar, Li said China respects Myanmar's sovereignty and territorial integrity and will play a constructive role in promoting Myanmar's peace process.
China and Myanmar share a 2,200-km border and citizens of both nations living on the border are closely linked.
Suu Kyi spoke positively of the communication and coordination between the two countries in Myanmar's peace process, expressing her willingness to further coordinate with China on the issue.
Li also said he hopes the 21st Century Panglong Ethnic Conference, to be held in Myanmar's capital, is "a success."
Myanmar's government has decided to allow non-signatory armed groups to the Nationwide Ceasefire Accord (NCA) to participate in the 21st Century Panglong Ethnic Conference to be held on August 31.
After the talks, the two governments signed an agreement on bilateral economic and technological cooperation and an exchange of feasibility research notes for the Kunlong Bridge in Myanmar. The two leaders witnessed the signing ceremony.
Prior to the talks, Li held a welcoming ceremony for Suu Kyi in the north lobby of the Great Hall of the People.
(Xinhua News Agency August 18, 2016)