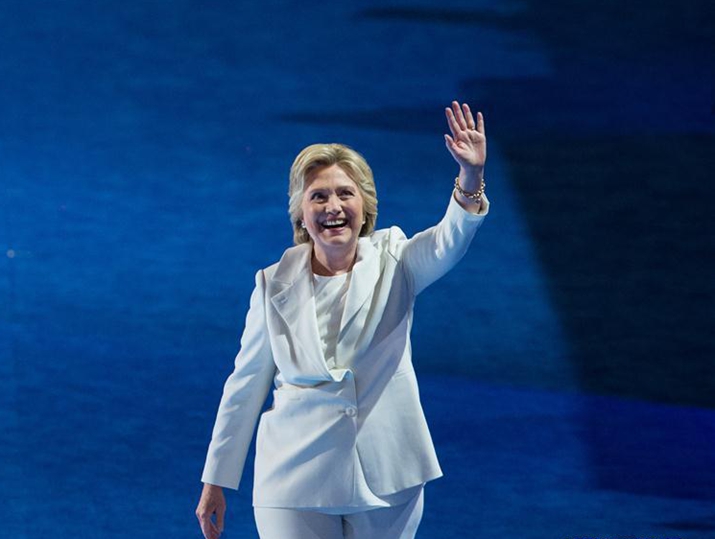 U.S. Democratic Presidential Candidate Hillary Clinton gestures to spectators on the last day of the 2016 U.S. Democratic National Convention at Wells Fargo Center, Philadelphia, Pennsylvania, the United States, on July 28 (XINHUA)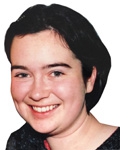 The U.S. Democratic National Party officially nominated former Secretary of State and New York Senator Hillary Clinton as its presidential candidate in late July, making history as the first major political party to nominate a woman for the country's highest office. Despite a divisive convention in Philadelphia, with supporters for rival candidate Vermont Senator Bernie Sanders disrupting the proceedings and an e-mail scandal that led to the resignation of the party chief, Clinton savored her nomination as a "moment of reckoning."
"Today, we've reached a milestone in our nation's march toward a more perfect union: The first time that a major party has nominated a woman for president," Clinton said. "Standing here as my mother's daughter, and my daughter's mother, I'm so happy this day has come."
"Happy for grandmothers and little girls and everyone in between. Happy for boys and men, too, because when any barrier falls in America, for anyone, it clears the way for everyone," she continued. "When there are no ceilings, the sky's the limit."
Family matters
Family and personal life took center stage at the Democratic National Convention (DNC). Former president and the potential "First Gentleman" Bill Clinton told delegates a story of how he wooed and won over his wife; calling her the greatest change-maker he has ever met. From her days at the Children's Defense Fund in Washington D.C., to advocating educational equality in Alabama and Massachusetts, Bill Clinton praised his wife as an effective organizer and dedicated mother.
"She won the Democratic primary by spending years slowly, assiduously building relationships with the entire Democratic Party," Bill Clinton said in his address.
Putting family at the forefront of the convention was an attempt to humanize Hillary Clinton, who is criticized for her wonky attention to policy details over Obama-style hopes and dreams. Her critics see her as an establishment politician, too entrenched in Washington to be a fair and objective leader. On liberal issues such as gay marriage and criminal justice reform, Clinton is seen as a flip-flopper who voted against progressive policy before public opinion shifted left. As someone who has been in the media spotlight for decades, Clinton cannot run as an outsider determined to shake up the political establishment. Instead, she must show herself as a champion of populist causes that knows how to get things done in Washington.
Clinton's daughter Chelsea also sought to portray Hillary as a loving mother and grandmother in her address to Democratic delegates. Through personal anecdotes, Chelsea spoke of Hillary as a "fighter who … believes we can always do better when we come together and work together."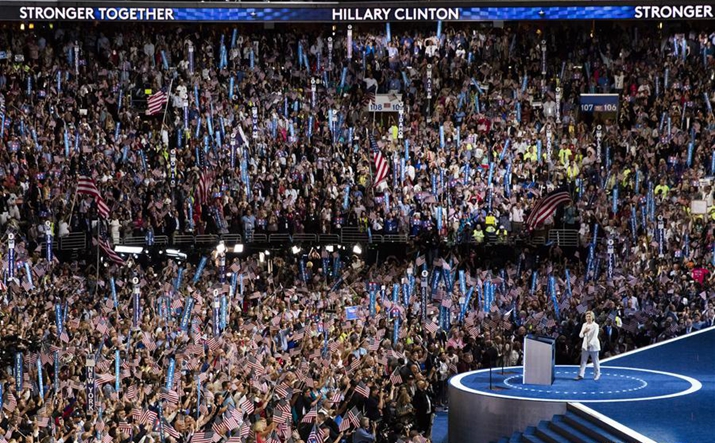 U.S. Democratic Presidential Candidate Hillary Clinton takes the stage on the last day of the 2016 U.S. Democratic National Convention at Wells Fargo Center, Philadelphia, Pennsylvania, the United States on July 28 (XINHUA)
Talking tough
Taking on a more aggressive role against the rise of "Trumpism" at the DNC was President Barack Obama and Vice President Joe Biden.
Biden, who ruled out a presidential bid earlier this year, came onstage to the theme of "Rocky" appealed to blue-collar voters, telling them Hillary Clinton has "always been there" for working families. Most of his time, however, was spent aiming his rhetorical guns at the Republican candidate. Donald Trump is "a man who seeks to sow division in America for his own gain, and disorder around the world," Biden said. "We simply cannot let that happen as Americans. Period."
A more measured, but just as devastating, address was delivered by Obama. He took Trump's tagline "Make America Great Again" and flipped it into a rallying cry for patriots. He called on Americans to reject fear and cynicism by echoing Republican icons like Ronald Reagan.
"America is already great," Obama said. "America is already strong. And I promise you, our strength, our greatness does not depend on Donald Trump."
Suspicious hacking
On the eve of the DNC a computer network used by the Clinton campaign was hacked and a trove of emails were released through WikiLeaks and traced back to Russian intelligence services according to an initial investigation by the FBI.
WikiLeaks founder Julian Assange refused to answer questions about whether a foreign government leaked the DNC emails to the group. "It's an interesting speculative question for the press," he told NBC's Meet the Press. Clinton said the leak raises "serious issues about Russian interference" and criticized Trump for encouraging Russian President Vladimir Putin to commit cyber espionage.
Putin has spoken favorably about Trump in the past, and Trump has made headlines for suggesting the U.S. would not honor its treaties with NATO allies if he were president and for softening the Republican platform on arming Ukraine against more Russian incursions. Trump also appealed to Russia to find 30,000 "missing emails" deleted by Clinton's private server used when she was Secretary of State, though he later said he was being "sarcastic."
"For Trump to both encourage that and to praise Putin despite what appears to be a deliberate effort to try to affect the election I think raises national security issues," Clinton said in an interview with Fox News.
(Reporting from New York City)
The author is a New York-based contributing writer to Beijing Review
Comments to liuyunyun@bjreview.com