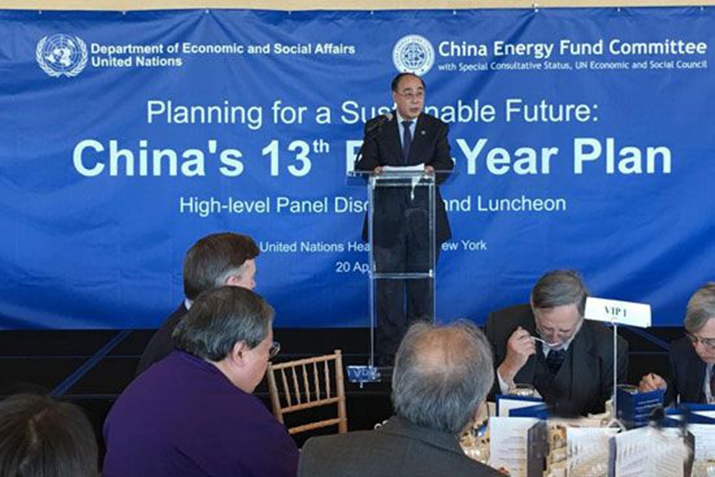 Chinese researchers and scholars displayed the country's 13th Five-Year Plan (FYP) to the world during an annual seminar at the UN headquarters in New York on April 20 (TAKUNGPAO.COM)
Chinese researchers and scholars displayed the country's 13th Five-Year Plan (FYP) to the world during an annual seminar at the UN headquarters in New York on April 20.
Themed as, "building a moderately prosperous society--China's 13th FYP and its new role in the world," this is the fourth "China Story" hosted by the China Energy Fund Committee (CEFC). 2016 is the beginning of the latest FYP, a roadmap for the nation's economic and social development from 2016 to 2020.
"How China achieves this by 2020 is very important," said Lenni Montiel, Assistant Secretary General for Economic Development from the UN Department of Economic and Social Affairs. He stressed that "the challenge is not only for China, but the whole world."
The seminar emphasized five global concerns over the next FYP: Internet expansion to fuel growth; structural adjustment in the energy sector; military reform; the environment and Chinese diplomacy.
"China's economic development in the 13th FYP will be a great transformation," said Sun Xuegong, a researcher with the National Development and Reform Commission of China. "China is on the right track to an all-round prosperous society. The transformation to an innovative, green, coordinated, open and inclusive economy is the hallmark of the 13th FYP".
He explained that growth would be slower but better: The rate will stabilize but become more balanced; innovation would be enhanced and risks were manageable.
Critically, Sun believed the country's environmental deterioration has reached a turning point. "Today old industries, such as steel and are coal, are struggling, while newer ones, such as the service sector are emerging," he said.
Currently, the service sector (tertiary industry) outpaces the manufacturing sector (secondary industry) and accounts for approximately half of total GDP. Financial services, logistics, industrial design, healthcare, tourism and sport are among the fastest growing services.
Jiang Qiping, a researcher with the Chinese Academy of Social Sciences, said that the FYP faces challenges from the economic transformation and online expansion will have an effect on promoting supply side structural reform. He suggests China continue to implement the Internet Plus Initiative and support online-based innovations.
Moving on to the environment, China should work harder on ecological restructuring, suggests Patrick C.P. Ho, Deputy Chairman and Secretary General of the CEFC. He specified that this would focus on resource conservation, ecosystem protection and promoting ecology.
"Green fields, clean water and clear skies will be the major factors in a beautiful China, which will provide sustainable development for future generations," said Ho.
On military reform, retired Major General Pan Zhenqiang, a senior adviser to the China Reform Forum, stated the objective of "building a prosperous nation and a strong army." This interlinks with the general goals of the 13th FYP.
Though, it is Jia Qingguo, a professor at Peking University, who perhaps provided the most interesting analysis. On the subject of diplomacy and China's world position he said, "China's both a developing country and a developed one, depending on where you are looking. It is both poor and rich, whilst being weak but also strong." The complexity in categorizing China's vast contrasts makes it difficult for other countries to understand what China wants. He therefore stressed that China needs to define its interests with greater clarity.
According to the CEFC, the main objective of these "China Stories" is to provide an opportunity for key actors, such as representatives of member states, UN agencies and international financial institutions etc. to acquire the most up-to-date information on China's policy decisions, social development, market trends, cultural innovations and environmental protection efforts. This should play a critical role in boosting cooperation between them and other countries.
CEFC is a non-governmental, non-profit, civil society organization. It serves as a high-end strategic think tank, and is engaged in energy strategy research, energy and public diplomacy, and the promotion of global energy cooperation and cultural exchange. CEFC aims to advance cooperation between China and countries around the world, holding a special consultative status with the UN. It is the sole sponsor of the Powering the Future We Want Energy Grant.
(Reporting from New York City)
Copyedited by Dominic James Madar
Comments to dingying@bjreview.com