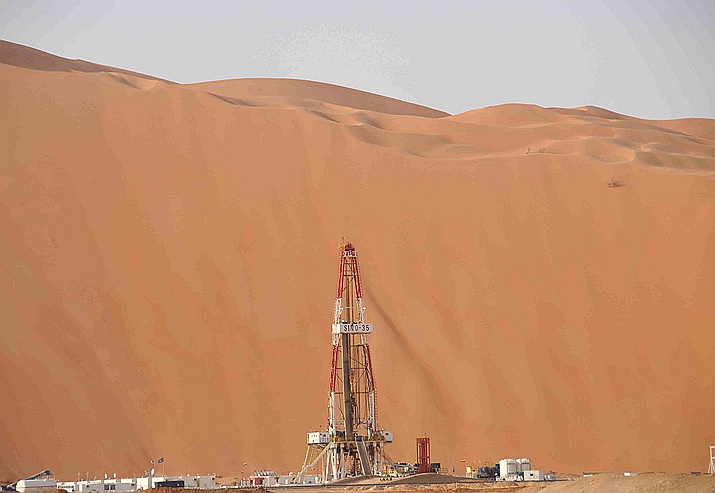 An oil drilling platform of China's Sinopec operates at an oil field in east Saudi Arabia on August 14, 2015 (XINHUA)
When it erupted five years ago, the Arab Spring was expected to bring about massive changes to the political, social and economic systems in the Arab world.
However, after series of violent protests, years of civil conflicts and regime changes, the social situation in the region has for the most part not yet improved. What is more, as a result of the power vacuum, extremist and terrorist forces-the rapid rise of the so-called "Islamic State" group (ISIS) in particular-have taken hold. The "Arab Spring" has since been dubbed by some scholars as the "Arab Winter."
Nevertheless, while the Middle East often gets caught in bouts of chaos, there is support for regional economic cooperation among some countries, and a consensus that the situation must improve. The Silk Road Economic Belt and the 21st-Century Maritime Silk Road proposed by China, also known as the Belt and Road initiative, can provide the Arab world a new impetus for social development and economic revival, as the region lies at the important intersection of the two historic routes.
At a recent seminar on Arab countries' development held at Beijing Foreign Studies University (BFSU), participating Chinese observers claimed that the aspiration for the improvement of people's wellbeing in Arab countries after years of social turmoil is fueling an embrace of the initiative, which has the potential to drive regional economic expansion.
Deep-seated problem
Observers said the prolonged turmoil in the Middle East is rooted in decades of economic stagnation due to their weak industrial bases, which has resulted in high unemployment and severe wealth inequality.
According to an estimate by the International Labor Organization, the youth unemployment rate in the Middle East as a whole will increase to 29 percent in 2016. Yang Guang, Director General of the Institute of West Asian and African Studies with the Chinese Academy of Social Sciences (CASS), said large populations of young people in these countries cannot find a job, which sows seeds of instability in the region.
"Behind the unemployment figures are the weak and incomplete industrial systems of these Arab countries. The agricultural sector is the major source of jobs, but in reality, it is the industrial sector which can provide many more," Yang said. "That's why Arab countries need to develop and upgrade their industrial sectors to create more jobs so as to ease potential social tensions."
According to Yang, some Arab countries have already begun to give top priority to industrial development, Egypt included. After President Abdel Fattah al-Sisi took power, Egypt has successfully completed the construction of the new Suez Canal, an artificial sea-level waterway connecting the Mediterranean Sea to the Red Sea. Along the canal, Egypt plans to establish modern industrial parks in order to advance the country's manufacturing sector. According to local news reports, the development zone will bring in a large number of industrial enterprises covering automobile assembling, electronics, food processing, medicine, textile, chemical products, mining and so on.
The Egyptian Government has unveiled a plan to build a new administrative capital city east of Cairo, which is expected to serve as an economic powerhouse for the country. At present, Egypt is trying every effort to seek wide international cooperation to help with related projects.
In a recent interview with China's Xinhua News Agency, Majdi Amir, Egypt's ambassador to China, demonstrated his interests in seeing China's Belt and Road initiative play a larger role in the economic construction of his country. As Egypt eyes an array of megaprojects to revitalize the economy, China's experiences could certainly help, the ambassador said.
Opportunities for all sides
Against this backdrop, the Belt and Road initiative becomes a good opportunity for these Middle East countries attempting to promote growth.
Professor Wang Suolao of Peking University said the initiative focuses more on improving regional infrastructure interconnection, meeting the practical needs of countries which have been eager to see an economic take-off. Yang Fuchang, a senior researcher on Arab studies and former vice foreign minister and ambassador to Egypt from China, said that Egypt's economy is on the right track. Yet despite strong government support, the country is still confronted with various problems such as funding shortages and a lack of modern industrial technology. Therefore, based on his communication with his Egyptian counterparts, Yang said Egypt can benefit from the Belt and Road initiative.
In addition to Arab countries, Iran has also shown interests in the Chinese initiative. Li Shaoxian, Director of the China-Arab Research Institute at Ningxia University in northwest China's Ningxia Hui Autonomous Region, noted that as much progress has been made on the Iranian nuclear issue and the decades-long international sanctions against Iran are to be lifted soon, the country is in urgent need of international participation in implementing its economic reconstruction.
In fact, China has always been actively involved in the industrialization process of the Middle Eastern countries and providing pragmatic support to them in areas such as financing, technology, labor force, and a growing market for their goods. Vice Minister of Commerce of China Qian Keming said at the China-Arab States Expo 2015 in September that the annual growth of China's imports from the Middle East has maintained above 10 percent in the past five years. Since 2014, China has become the second largest trading partner of the Arab world. The Arab world is China's seventh largest trading partner and the biggest crude oil supplier for China.
In addition to energy cooperation, China and Middle Eastern countries have developed sound economic and trade relations in the fields of electricity, machinery, energy, infrastructure construction, new materials and more. For instance, China and Saudi Arabia have conducted close cooperation in the research and development of new materials, while Chinese IT giants have provided hi-tech solutions for Egypt's telecommunications operators.
Wu Sike, China's special envoy to the Middle East and a former Chinese ambassador to Egypt and Saudi Arabia, respectively, said that infrastructure is greatly needed for economic and social development in the Middle East. Moreover, Chinese companies have been working with Arab countries in this area for a long time, laying a solid foundation for future cooperation.
Modes of cooperation
Speaking at the BFSU seminar, scholars also suggested that China's cooperation with the Middle East countries under the framework of the Belt and Road initiative should vary based on their different conditions. China needs to adopt various ways of collaboration with different countries in the Middle East, said Yang of the CASS. For cooperation with major oil exporters for example, Yang suggested they should build a community of energy security that can ensure a stable market for the export and import of oil.
China tops the world's list of energy consumers, so establishing such a community could guarantee a cornerstone of China's energy resources. Meanwhile, since the oil market has entered "a buyer's market" phase, such community can guarantee the interests of oil exporters, Yang explained.
For populous countries with large economies in the region like Egypt and Iran, Yang suggested China move some of its industrial capacity there to generate more jobs for local communities. For smaller economies, China could assist them in building service platforms such as financial centers, clearance centers, air transit hubs and trade ports.
Copyedited by Mara Lee Durrell
Comments to yulintao@bjreview.com