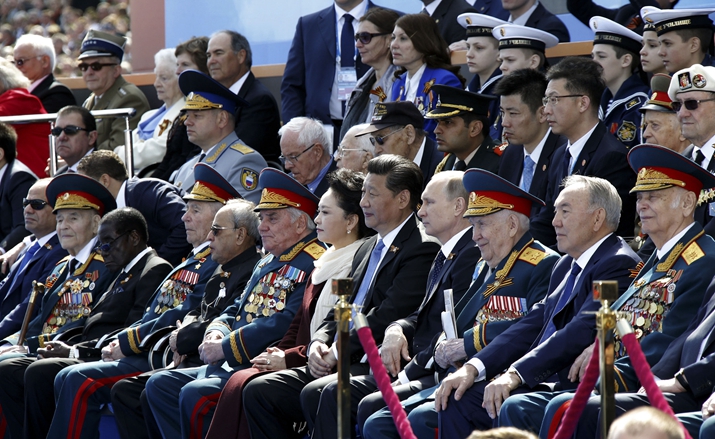 Chinese President Xi Jinping (fifth from right) and his wife Peng Liyuan (sixth from right) are present at the ceremony commemorating the 70th anniversary of Russia's Great Patriotic War in Moscow on May 9 (XINHUA)
After Chinese President Xi Jinping left South Africa on December 6, he had set foot on 14 countries, and attended nine international conferences during eight official visits in 2015. Premier Li Keqiang had visited 10 countries during 2015 when he witnessed the signing of numerous trade contracts between the Chinese and host countries.
The top Chinese leaders' frequency of foreign trips underscored China's efforts to broaden its role in international organizations and help lead among developing nations.
Strategic achievements were made through such diplomatic efforts--the launch of the China-Pakistan Economic Corridor, the cooperation on the construction of the Silk Road Economic Belt and the Eurasian Economic Union, and the conjunction of China's 21st-Century Maritime Silk Road and Viet Nam's Two Corridors and One Economic Circle plans--which in turn lay solid ground for the implementation of the Belt and Road Initiative.
Starting in Asia and ending in Africa, developing countries were a main focus of President Xi's travels, and China is committed to ensuring the fruits of development are widespread. That has led to a series of financial pledges on behalf of the Chinese Government, which in turn provide important opportunities for China to expand its diplomatic efforts and growing international role.
When speaking on the occasion of the 70th anniversary of the establishment of the United Nations (UN) in late September, Xi announced the establishment of an assistance fund with an initial pledge of $2 billion to aid developing countries in implementing the global sustainable development agenda after 2015.
"China will continue to increase investment in the least developed countries, aiming to increase its total to $12 billion by 2030," Xi said. "China will exempt the debt of outstanding intergovernmental interest-free loans due by the end of 2015 owed by the relevant least developed countries, landlocked developing countries and small island developing countries," he added.
China also promised to: establish a 10-year, $1 billion peace and development fund to support the UN's work; join the new UN peacekeeping standby mechanism and build a peacekeeping force of 8,000; and provide the African Union $100 million in military assistance for peacekeeping missions in the next five years.
During his state visit to the United States, Xi made headlines when he announced the establishment of the China South-South Climate Cooperation Fund, with an initial investment of 20 billion yuan ($3.1 billion). The south-south paradigm aims for programs to be initiated by developing countries themselves, as opposed to through the traditional north-south aid model.
In addition, China will provide a $60 billion financial aid package for African countries which includes grants, preferential and concessional loans, a China-Africa industrial cooperation fund and debt relief, Xi said at the summit of the Forum on China-Africa Cooperation in South Africa in December.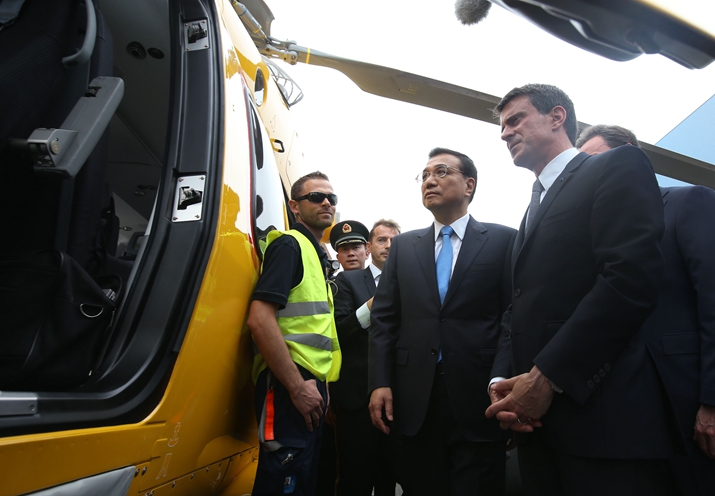 Chinese Premier Li Keqiang (center) visits the French Airbus headquarters in Toulouse during his state visit to France on July 2 (XINHUA)
Global governance
Behind those numbers lies China's resolution to actively contribute to the rebalancing of the world economy and take on more responsibility in global governance.
At a joint press conference at the White House in September, President Obama argued that China can no longer be seen as a "very poor, developing country, as it might have been 50 years ago. It is now a powerhouse. And that means it's got responsibilities and expectations."
Perhaps in response, Xi stated at a seminar on global governance of the CPC Central Committee Political Bureau in October 2015 that, "We should not only consider our own priorities, but also think about the development needs of the world at large."
In 2015, China made remarkable progress in this arena. First, the China-initiated Asian Infrastructure Investment Bank (AIIB) was formally established with 57 founding members. The United States and Japan tried to boycott the establishment of the AIIB, but the international community demonstrated that it values the prominent market and investment opportunities in China and want to become active partners. Second, the Chinese yuan was included into the IMF's Special Drawing Rights basket, becoming the fifth global reserve currency after the U.S. dollar, Japanese yen, British pound sterling and the euro. On December 18, the U.S. Congress approved the long-delayed reforms to increase the representation of emerging market economies in the IMF, in which China's vote will increase to 6 percentbecoming the third largest shareholder.
China now tops the list in terms of trade, foreign direct investment, manufacturing, and foreign exchange reserves. As such, it is impossible to imagine such a country not enjoying a higher position in the international system. China's role in global governance structures and decision-making, ranging from the Group of 20 (G20) to the Asia-Pacific Economic Cooperation Economic Leaders' Meeting, is increasing. The country has also advocated for an inclusive world economy and stable growth by pushing forward the Free Trade Area of the Asia-Pacific (FTAAP) process.
Yet China is quick to calm doubts about its intentions, as President Xi did in a speech in Seattle, Washington on September 22. "China is ready to work with other countries to build a new type of international relations," he said. "China has been a participant, builder and contributor. We stand firmly for the international order and system that is based on the purposes and principles of the UN Charter."
"A great number of countries, especially developing countries, want to see a more just and equitable international system, but it doesn't mean they want to unravel the entire system or start all over again," he continued. "Rather, what they want is to reform and improve the system to keep up with the times."
Analysts tended to accept Xi's arguments in good faith. "Xi's intention is to seize the moral high ground and make China accepted as a responsible player in global affairs," Steve Tsang, head of the School of Contemporary Chinese Studies at Nottingham University in Britain, told the CS Monitor.
Finally, an important milestone happened just as 2015 was coming to a close that showcased the best-case scenario for global cooperation: the ability of world leaders to secure an ambitious, binding climate change deal in Paris. Like the United States, France and Germany, China's leadership was critical to ensuring a successful outcome.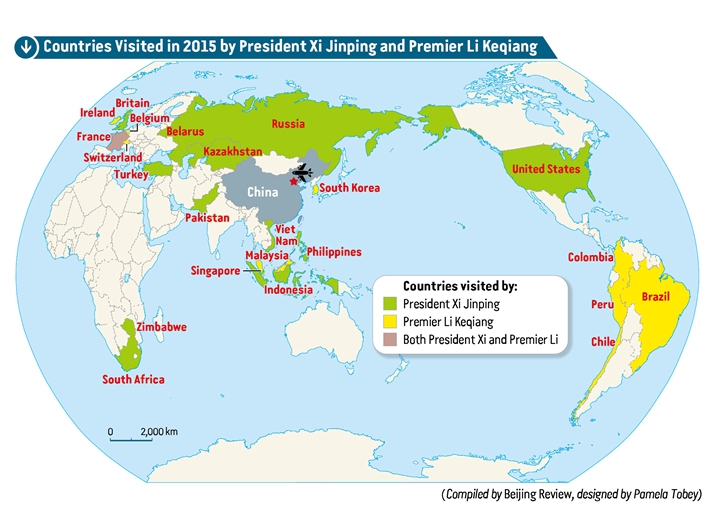 Bilateral engagement
Big-country relationships have always been essential to China's diplomacy. Chinese diplomats carried out this strategy in 2015 by attaching equal importance to both the West and the East, and by advancing its ties with Russia, the United States and Europe.
Xi has visited Russia five times and met with Russian President Putin 14 times since 2013. The two leaders decided to expand and deepen their practical cooperation with a strategic and broad vision in mind, which will not only contribute to their own prosperity but also Eurasia's development and stability.
China's policy toward Russia is to build up a strategic partnership rather than an alliance. As part of this partnership, China's cooperation with Russia on leading the Shanghai Cooperation Organization (SCO) provides a solid foundation to the common security and development of the Central Asia region. In mid-December, under the Chairmanship of Premier Li, the 14th Prime Ministers' Meeting raised SCO's pragmatic cooperation to a new level.
When Xi made his first state visit to the United States in September, the two countries reached a number of agreements. This trip was important in that it was built upon Xi and Obama's previous two meetings--one in the picturesque Sunnylands retreat in California in 2013 and the other at the Zhongnanhai leadership compound in central Beijing in 2014.
Last year, Europe was the highlight of China's top leaders' diplomatic schedule. Both President Xi and Premier Li were warmly welcomed during their respective state visits to European countries such as the United Kingdom and France. Leaders of European countries had also helped lifted bilateral ties during their visit to Beijing. These meetings, plus the support of many European countries of the establishment of the AIIB, signaled that China-Europe relations are entering a "golden era" driven by utilitarianism and idealism.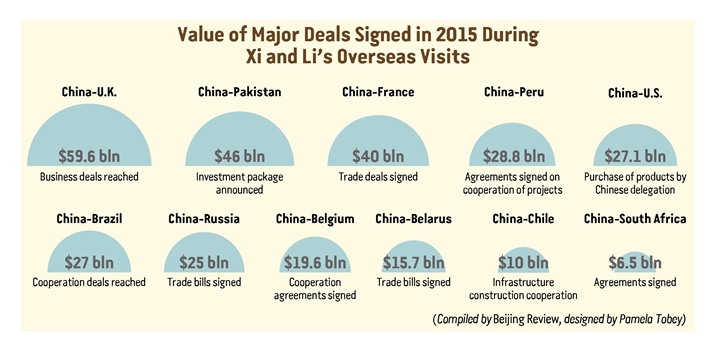 Remaining hurdles
I would be remiss without also acknowledging the challenges--and setbacks--in China's diplomatic relations over 2015.
The first is the China-Japan relationship. It is practically at a standstill due to the dispute over the Diaoyu Islands and their citizens' largely negative attitude toward each other. However, the two sides showed restraint in their high-level exchanges between Xi and Japanese Prime Minister Shinzo Abe during the Asian-African Conference in Jakarta in April and in Paris in November.
On November 1, Premier Li attended a tripartite meeting in Seoul with President Park Geun Hye of the Republic of Korea (ROK) and Abe, restarting the China-Japan-ROK free trade area negotiation after a three-year hiatus. This was important in pushing forward regional cooperation, though the China-Japan relationship itself needs to be improved.
Second is the South China Sea issue. China's speed of construction on the islands and reefs has triggered strong responses from some ASEAN countries and the United States. Meanwhile, though China never recognized its legitimacy, an arbitration award was ruled in favor of the Philippines on matters relating to the South China Sea. The Chinese Government is challenged by the question of how to stabilize the situation and prevent disputes from damaging the relations between China and its neighboring countries--in addition to the United States.
Third is the China-U.S. trust gap. The complicated dynamics of the relationship are the most challenging for China to manage effectively. It is impossible to thoroughly eliminate long-standing disagreements on issues regarding the South China Sea, cybersecurity, and human rights. Xi and Obama have promised to constructively address the divergences and sensitive problems, but with the clock to the 2016 U.S. presidential election counting down, the bilateral relationship is full of variables.
China also needs to draw a clear distinction between traditional and non-traditional security threats, and coordinate strategic and diplomatic resources accordingly. As the second largest economy with a wide distribution of interests, it is hard for China to stay out of international disputes, for example, one between the United States and Russia.
Therefore China's strategic diplomacy and decision-making mechanisms need to be crystalized, so that when difficult events happen--like when four Chinese citizens were killed by international terrorists--China is in a position to act. The same goes for hard choices around the Ukrainian crisis.
Finally, China's lack of experience in how to best play an active, positive role in global governance structure while simultaneously trying to reform them are omnipresent. China played a small role in global governance in the 20th century, and is only now transitioning into a vocal stakeholder.
The Belt and Road Initiative and the AIIB are making enormous progress in helping to lay out clear ways that China can lead in regional integration and infrastructure needs, and China is gaining a bigger say in some international mechanisms like the IMF. Still, Chinese leaders must remain diligent in their efforts to balance Chinese interests of non-intervention and take on additional global governance responsibilities.
Meanwhile, China should remember its commitment to guarding against ultranationalism when making policies. The 2016 G20 summit will be held in Hangzhou in east China's Zhejiang Province. The question of whether China can lead a new trend of "inclusive development" and global governance is outstanding. No matter what, this event will be a critical milestone marking how China's diplomacy can further ensure the country has a clearer and louder voice in world affairs.
The author is an op-ed contributor to Beijing Review and a researcher at the Pangoal Institution
Copyedited by Mara Lee Durrell
Comments to liuyunyun@bjreview.com