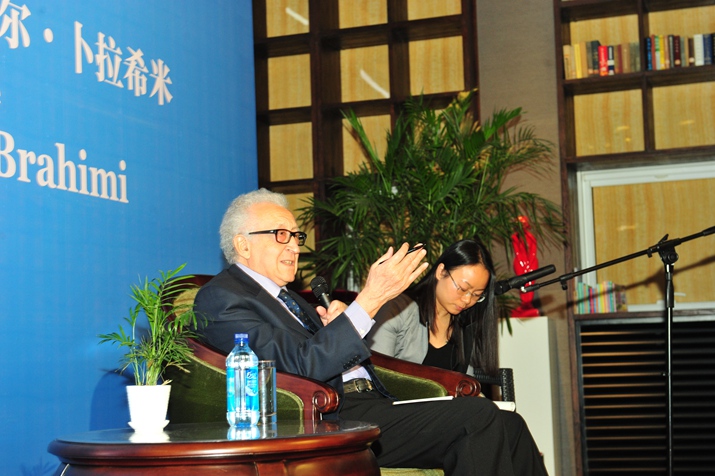 Former United Nations envoy to Syria Lakhdar Brahimi gives a lecture at China International Publishing Group (
SHI GANG)
Speaking at the China International Publishing Group on Monday, the former United Nations (UN) envoy to Syria Lakhdar Brahimi diffused concerns over a possible proxy war brewing between the two former adversaries.
Commenting on the roles which Russia and the United States have played in Syria, Brahimi said that the two major powers are both currently targeting one enemy, the Islamic State (ISIS) in Syria, though they are supporting the opposing sides of the conflict at the same time.
According to the UN High Commissioner for Refugees, there are currently 4.3 million registered refugees from Syria alone while the crisis has claimed the lives of 220,000 people. The situation has become increasingly embroiled as ISIS and Syrian opposition parties fight over control of President Bashar Assad's regime. Rather than focusing on foreign countries' activities, Brahimi claimed that a "parallel" war was the main concern for the parties involved.
As American and Russian-led interventions escalate the conflict, a clear solution to the dilemma becomes increasingly elusive. When asked if there was a possible way to solve the crisis that both of the countries could agree upon, Brahimi's response was vague. Citing the 2011 Arab Spring in Morocco, in which King Mohammed VI successfully placated protesters by reforming the constitution, Brahimi stated that Assad should follow Mohammed VI's example and cease bloodshed.
Meanwhile, Brahimi's predecessor, the former UN Secretary General Kofi Annan sees a chance for peace. "In this situation the role of Russia and the U.S. are key. If the two of them find a way of working effectively together and working with the others, we will find a solution," said Annan recently.
Although Iran's recent inclusion to the peace talks was seen as a positive shift by Brahimi, a clash of interests with Saudi Arabia has muddled attempts to settle the matter. Iran's deputy foreign minister, Hossein Amir Abdollahian, was quoted by the Iranian Students' News Agency as saying that "in the first round of talks, some countries, especially Saudi Arabia, played a negative and unconstructive role," and that "Iran will not participate if the talks are not fruitful."
Speaking to the former Chinese Foreign Minister Yang Jiechi in 2012, Brahimi hoped that "China can play an active role in solving the events in Syria." This time, when asked about China's level of involvement in the region, he conceded that China's careful deliberations are apt as an emerging global power.
Comments to liuyunyun@bjreview.com