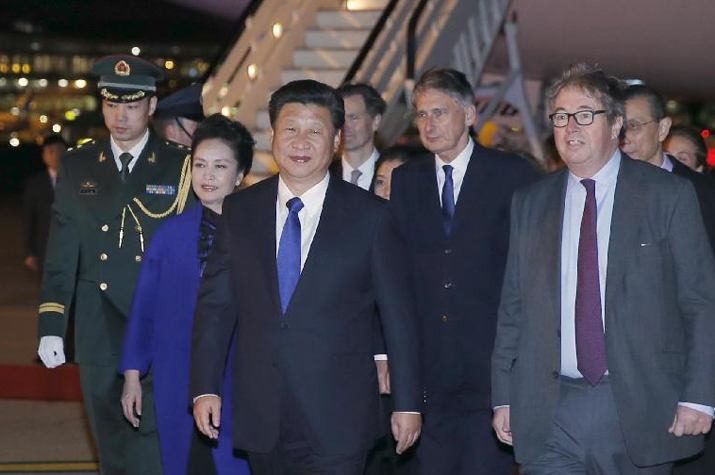 Chinese President Xi Jinping (center) and his wife Peng Liyuan (second left) arrive in London, Britain, on October 19, for a state visit to Britain at the invitation of Queen Elizabeth II (XINHUA)
Chinese President Xi Jinping, accompanied by his wife Peng Liyuan, arrived in London on Monday evening for a state visit to Britain at the invitation of Queen Elizabeth II.
Xi's plane touched down at Heathrow Airport at about 8:00 p.m. local time. The couple were greeted by Viscount Hood on behalf of the Queen and also by British Foreign Secretary Philip Hammond.
"China attaches great importance to growing relations with the United Kingdom," the President said in a written statement upon arrival.
"To deepen China-UK relationship is in the fundamental interests of both countries and peoples and meets the trend of the times," he said.
Xi noted that this year marks the start of the second decade of the comprehensive strategic partnership between the two countries, saying he hopes to have in-depth exchange of views with British leaders on bilateral relations, and major international and regional issues.
The President said he also looks forward to meeting with people from various sectors of the British society to discuss the future of the bilateral relations and draw a "grand blueprint" for future cooperation.
Prior to his visit, Xi voiced his expectations for building "golden" ties with Britain.
"I hope this will chart the course for the future growth of China-UK relations, inject new impetus in practical cooperation between our two countries in all fields and enable us to jointly usher in a 'golden time' for China-UK comprehensive strategic partnership," he said in a written interview with Reuters on Sunday.
Xi's state visit, which will conclude on Friday, is the first by a Chinese President since 2005.
According to China's Foreign Ministry, the Queen will host a welcome ceremony for Xi and invite him for both an informal lunch and a formal dinner.
Xi will hold talks with Prime Minister David Cameron and address a banquet hosted by the Lord Mayor of the City of London.
Besides the capital city, Xi is also scheduled for a trip to Manchester, where the Chinese President will attend a banquet and visit research projects and local businesses.
Tony Blair, former British Prime Minister, said earlier that Britain is "enthusiastic" about developing the ties with China even further and making sure that next decade is a golden decade, noting that most people in Britain support a strong relationship with China.
"I expect President Xi's visit will strengthen the relationships still further between Britain and China at the political level, at the economic level and at the people-to-people level," Blair told Xinhua in a recent interview.
(Xinhua News Agency October 19, 2015)